Truth be told, I NEVER liked pancakes until I went to
Jeremiah's
.
Have you been there?? It's seriously breakfast heaven, located in Ogden, Utah. You get huge portions of ridiculously good, homestyle food. Mmmm…I shouldn't be thinking about it while I'm on a diet. Torture! One day, I took my fork and snagged a bite of my son's pancakes, and it was all over for me. I officially liked pancakes.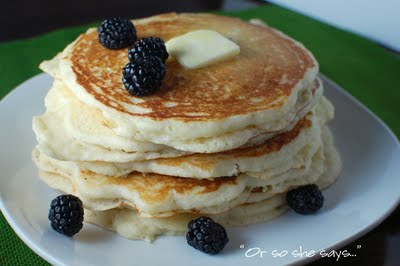 So, I started ordering them here and there, and trying out a few recipes. I soon realized that
I am a pancake-snob.
I was subconsciously comparing them to Jeremiah's pancakes, and nothing was meeting my expectations. Until, I opened up one of my newest cookbooks,
The Family Baking Book
, by America's Test Kitchen (of course, love them!) Right before my eyes was a pancake recipe that looked fairly normal…but, it had buttermilk. I've always thought buttermilk was a magical ingredient, so I wanted to try this. Okay, this is it, people. THIS is everything I hoped for in a pancake, and more. It's not super cake-like and doesn't absorb the syrup in 2 seconds, it has a small amount (small!) of chewiness, it's perfect. Who needs Jeremiah's? Oh, wait. I do…their biscuits and gravy are amazzzzing!
Oh, so the reason I was thinking about pancakes lately is because of Mother's Day. You know, the whole "breakfast in bed" thing. Well, obviously you can't make your own Mother's Day meal, that's why you just print this off and set it on the counter. Make random comments like, "I've been dying for pancakes lately." Or, "it's funny…when I eat pancakes, I seem to get 'in the mood'." That should work.
If not, you still have a mother and mother-in-law to take care of…make them "breakfast for dinner" (since you wouldn't be there in the morning)! They would love to have a day off from cooking. 🙂
Anyway, here's the recipe (I recommend doubling it):
Classic Buttermilk Pancakes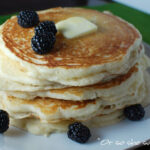 My FAVORITE Pancakes! yummy, yummy, yummy.
Ingredients
2

cups

flour

4

TBS

sugar

2

tsp.

baking powder

1/2

tsp.

baking soda

1/2

tsp.

salt

2

cups

buttermilk

3

TBS

unsalted butter

melted

1

large egg
Instructions
Heat your oven to 200 degrees (to keep your cooked pancakes warm).

Whisk the flour, sugar, baking powder, baking soda, and salt together in a large bowl.

In a medium bowl, whisk the buttermilk, melted butter, and egg together.

Make a well in the center of the flour mixture, pour the buttermilk mixture into the well, and gently whisk together until just incorporated with a few lumps remaining (don't overmix.)

Heat your skillet over medium heat for about 5 minutes before pouring your batter in.

Brush the bottom of the pan with a thin layer of oil.

Cook pancakes until golden brown on both sides.