I have a lot of swimsuits.  A lot.  And, I keep buying more because one of them is too tight, the other is too big, another shows too much boob, the next makes me look like I have no boobs, another looks like 'little girl' print, one is too short in the belly, my rear end hangs out too much on the next one, then there is faded, stretched out, out-of-style, and down-right ugly.  Why do I buy them in the first place??  Trick mirrors?  Maybe it's my ever changing pregnant/not pregnant/aging body?  Maybe I'm OCD?  Maybe I'm too picky/insecure/vain?  Who knows, but I keep buying more.
A long time ago, I told you how I was loving Victoria Secret's Miracle Bra swimsuits.  They do small miracles.  But, there were a few things about the fit I didn't love.  Anyway, I've since run across the Twist Tankini from Hapari.  I'm in love!  This is my new favorite.
Check it out…I love that it's modest (but, still feminine), longer in the torso, and that the twist naturally lifts up my saggy boobs without uncomfortable underwire and serious padding.
I have this white one…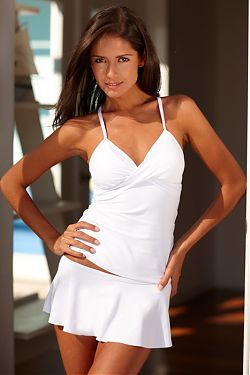 I also got it in black.  There are several cute prints, but lately I'm liking everything solid so that I can mix and match my bottoms with cute skirts or shorts.  I bought the matching skirts, but also found several cute swim shorts at Dillard's, over the weekend.  Another great thing about Hapari's suits is that they have these "Tummy Tuk" bottoms that are high waisted to hold in that belly and nix the muffin-top.  I wish they made skirts with that feature too! 
Oh, another thing I noticed…I think their suits run small.  I had to order a size up from what I normally wear.  But, even still…I'm not big on swimsuits sucking on to my post-baby-stretched-out belly, so I ordered 2 sizes up, just so there was no suctioning going on.  You would think 2 sizes up would drown me, but it doesn't.  Even my skinny-minnie teenage sisters can wear them and look normal. 🙂  But, if you're not trying to add the ruching effect to your suit, probably just 1 size larger. 🙂 
There you have it, my new favorite swimsuit!  I let Hapari know that I loved them and they said they will give me another swimsuit if I tell y'all about the Hapari Swimwear Model Contest.  So, why not?  I could always use another swimsuit.
So, I cannot relate to this feeling.  But, if you think you have what it takes to be a Hapari swimwear model, you're in luck!  They are hosting a contest right now, click on the picture for details.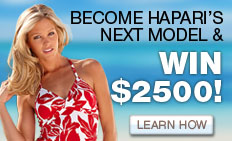 Do you have a favorite swimsuit brand or style??  Please share!