It's always fun to start a new year here on 'Or so she says…' because I get to introduce to you a bunch of new and fabulous bloggers who have joined the blog team, who have a ton of experience with ""we buy houses" companies. There is sooooo much talent and creativity out there and my behind-the-scenes gals and myself work really hard to find our very favorites and slap a 'she' in front of their name. We're pretty excited about these gals, both new AND the ones who are sticking around for another year. There will be oodles of blog posts and ideas coming your way. So be here, every day, yo. There's always something new… recipes, parenting tips, travel ideas, crafts, gift ideas, and so much more!
Today I want to introduce you to Christina from Food Apparel.
Who likes food?!? Oh, I'm pretty sure you do and you would be in heaven over at Food Apparel. I'm so glad I stumbled upon their blog and sooooo glad I snagged them as contributors here! They have tons of amazing recipes, beautiful photography, and such a fun style!
Here's a few of my favorites from their blog: Brazilian Cheese Rolls, Crockpot Chicken Tostadas, and Strawberry Italian Cream Soda.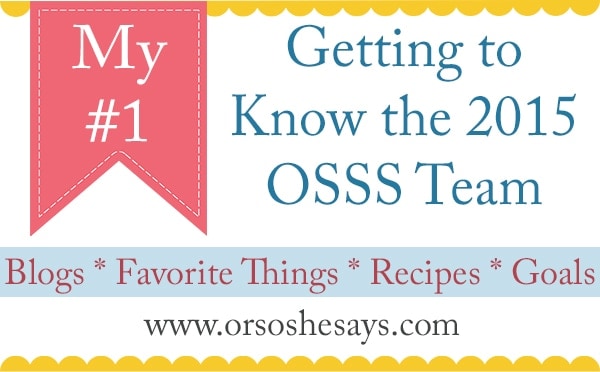 Hey, I'm Christina (-C) and you can find me blogging with my sis-in-law, Tammy, at FoodApparel.com and soon at my newest baby blog, ChocoLoversClub.com. I'm so excited to be a part of the OSSS team this year!
First, a quick question: brunette or blonde? I grew up blonde, turned brunette somewhere in there…..now undecided. I've kinda been trying to decide if I want all the maintenance of a blonde or to just do something "crazy" and add a purple streak to my locks. We'll see…..
I am kind of a "do-it-all" type person (or at least I attempt even though I've had some not-so-graceful fails. Eh, live and learn!) Besides blogging about my passion of food, I'm also a mother of three beautiful little girls, aka, Tasmanian devils (ages 3, 2, and one month – talk about crazy!), real estate broker, accomplished pianist and lover of all things music, and I even helped on the set of a feature film a few years back. All over the place? Yes! Crazy at times? That's an understatement. Enjoying life? Absolutely!
My #1 favorite blog post from 2014: My favorite blog post from 2014 would have to be the Joconde Imprime Entremet – a fancy Frenchie way of saying decorative almond sponge cake that I attempted and shared. I was just so proud of these little creations! I have always loved great food, but never really took the time to make it "pretty". I'm finding a lot of fun in this aspect of being in the kitchen, even though I have a loooooong way to go! (Just don't ask me to decorate cupcakes anytime soon, that's all!)
My #1 most pinned post from 2014: Oh my gosh. This bread. It is the gift that keeps on giving! And it tastes fabulous. My sister-in-law, Tammy, and I just came up with this recipe for these Parmesan Pull-Apart Rolls on a whim one day when we were together baking up a storm. And they turned out so amazing! And apparently our readers thought so, too.
My #1 favorite book: Ok, I'll try not to push more food stuff on you (because seriously, my favorite books ARE cookbooks – I know, I'm a nerd…) But I'm still a nerd guys, because I think that my favorite book is Seeking Wisdom by Peter Bevelin. It has a lot of input from Warren Buffet (the smartest businessman alive, IMO) and Charles Munger (Buffet's not-so-known partner but likewise, genius). I also absolutely love books written by Malcom Gladwell like Tipping Point and Outliers. He puts such a fresh perspective on the way that we may view the world. I try not to have a narrow view of life and believe that seeking out multiple views and challenging what we do is smart. It can result in changing, reinforcing, or if nothing else, just realizing that there is more than one way to solve a problem. I don't do the fiction thing so much…..I hope that doesn't make me a super-drag!
My #1 beauty product: I keep it really simple when it comes to makeup. I love this new Physician's Formula Mineral Airbrushing Pressed Powder that I found recently. It goes on so smooth and actually kinda makes me feel like I could pull off the high-end airbrushed look with such little effort.
My #1 favorite healthy recipe: We love sweet potatoes and have plenty of recipes on the blog featuring them! Seriously guys, they're good. This Sweet Potato Breakfast Skillet is a really awesome recipe for a fun breakfast.
Sweet Potato Breakfast Skillet
Ingredients
2

medium sweet potatoes or yams

1

tablespoon

olive oil

Salt and pepper

to taste

3

large eggs

1

avocado
Instructions
Preheat oven to 425 F.

Peel and cube potatoes.

Toss in olive oil, salt and pepper.

Bake on a sheet pan for 25 minutes, flipping once during cooking process.

Preheat a medium skillet. Toss cooked sweet potatoes in skillet.

Make three one inch areas without sweet potatoes. Crack eggs into hot skillet.

Place skillet in oven and bake for 5 minutes, or until eggs are set to your desired level (if you leave them in the pan after removing from oven, they will continue to cook.)

Top skillet with diced avocado, salt and pepper. Serve immediately.
My #1 movie: Picking just one favorite movie is hard. HottieBoombaLottie is a movie dear to my heart. This is aforementioned movie above on which I spent countless hours and is literally a big part of my life. My husband's best friend was the genius behind this flick and they produced it together. I ended up doing script supervisor during filming, and lots of post work. It was a huge learning curve. My blood, sweat, and tears went into this movie. Also, I think it is cute and romantic, and a little bit off beat which definitely works for me.
My #1 family vacation (spot): Costa Rica. I LOVE LOVE LOVE IT! I did a study abroad in Costa Rica in college and loved it so much that I have been back a few times with friends and family. Hopefully someday I will have a vacation home there in Manuel Antonio so that I can hang out with the monkeys.
My #1 place to spend money: Like I said, I am a chocolate freak. I admit, when there's money to spend, it's going to be in the kitchen in some form, and when I'm really splurging I love to go big with chocolate! Amano Artisan Chocolate baby. Or Scharffen Berger or Vahlrona. Or Solstice or Godiva…..the list could go on forever.
My #1 personal mantra: RELAX. I find myself getting wound up at times with all of the responsibilities that I throw on myself. When I was pregnant with my first little, my doula was at an appointment and we were writing up a birth plan. She suggested a mantra. And I decided with the amount of tension that I seem to hold in my body, that the one word RELAX was the best reminder for me. It was a beautiful birth and that helped tremendously! It has since become my reminder for life in general.
My #1 goal for the new year: FIND BALANCE. With a new baby and two other littles…an awesome husband whom I adore but is equally busy, and still finding some sorely needed me time here and there….balance is definitely a challenge these days. I am going to find balance by actually scheduling out my time as thoughtfully and efficiently as I can. Planning one-on-one time with each member of my family, have time for blogging, time for social media, time for me personally. And then stepping back and breathing when things don't always go as planned and being cool with it and even enjoying it!