I am the Forrest Gump of Valentine's Day. Well actually, the only thing Forrest and I share in that regard is that we are both not very smart men, but we know what love is… and I guess that you could say that past Valentine's Days for my wife were like Forrest's proverbial box of chocolates. She just never knew what she was gonna get…if anything. On Valentine's Days of yesteryear I think I occasionally handed my wife an empty box of chocolates, figuratively speaking, on the international day of love.
I used to think I had no need for Valentine's Day; I had well over a decade of marriage under my belt, and I guess I fancied myself a pretty decent lover. Not that I have ever claimed to be Casanova, but I must have been a bit above mediocre, right? Especially when one considers just how out-of-my-league my wife is. My wife could have had any fish in the proverbial sea. No joking. She could have made off with any swordfish, marlin, sleek-looking-shark, killer whale (not a fish), barracuda… you get the point. Yet, somehow, as I swam past I assume she said to herself "Hey, that's a tasty looking sardine!" I must be one heckuva hunky sardine, because for some reason she has stuck it out with me.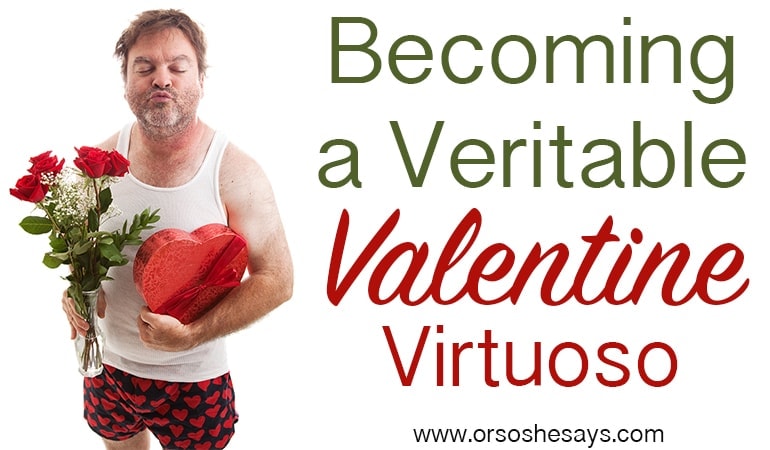 But let's get back to my lack of smarts. Let's talk about Old Dumb Dan (ODD for short) and Valentine's Day. ODD hated Valentine's Day. ODD thought EVERYONE should hate Valentine's Day. When ODD saw the stuffed animals, chocolates, and flowers come out in the stores each year right after Christmas it turned his stomach like a cement mixer. ODD would inwardly and too often outwardly rail on Valentine's Day any chance he got. ODD were dumb.
ODD were so dumb that one year, a few back, he made the suggestion to his wife that they skip Valentines altogether. "Think of the money we will save on flowers, dinner and chocolates!" ODD exclaimed in his excitement. ODD envisioned a holiday where his wife and ODD smartly started a new trend that would bring down the whole Valentines institution. ODD secretly relished the thought of a small army of sappy Valentine card-makers suddenly out of work. ODD thought his wife would hop aboard that train and join him in his disdain of February 14th. ODD was sorely wrong and paid a very steep price for his idiocy. Stupid is as ODD does.
It turns out you just can't hate Valentine's Day. Sure, it's an over-commercialized, over-hyped, obnoxious, money-sucking, fake love promoting, sickening, gag-me-with-a-pitchfork type event that we must painfully endure each and every year, but that gives you absolutely no right to hate it. Trust me on this. Don't hate Valentine's Day. Stop running from Cupid. Embrace him. Become him. Make yourself a large target for his arrows.
I am done fighting for losing causes. For the last several years I have made silly, simple, yet meaningful strides in rectifying certain Valentine Day inequities I had perpetrated against my wife and kiddies over the years. Indeed I have taken upon myself the mantle of St. Valentine himself. Somewhere I am sure he is smiling down upon my efforts.
Here are some suggestions for making Valentine's Day no only bearable, but actually a bit fun. Nontraditional Valentine ideas are the way to go!
* Stop hating it. It's a celebration. We should take any chance we get to celebrate, regardless of how silly the thing we are celebrating. Celebrate your wife, your kids, your friends and your family in your way. It doesn't have to be in the classical Valentine's fashion.
* Don't be afraid to be a bit silly. A couple of years back I would call my wife almost every day for a week before Valentine's Day and in my best (awful) Barry White impersonated voice tell her all the things that her Big Daddy Valentine (BDV for short) was going to do for her. BDV made good on ALL his promises. He was also nice to the kids, he would bring them some cheap V-day goodies home almost every day leading up to the actual holiday. BDV was a hit.
Last year I became "The Luv Tug". I would sing my own stupid lyrics to the "Love Boat" theme at the top of my lungs as I came home from work and doled out V-day cards and treats. I kid you not; the Luv Tug became so popular that I had my whole family doing a conga-line around the house chanting "Luv Tug, Luv Tug OOOOH OOOH!"
This year I have turned into a game-show host. I burst in on the scene after work announcing "Aaaaaand now, it's time for everybody's favorite Valentine's game…. It's BIG….CUPID….LOOO-UUUUUUUUUUUVVVVV!" The game is simple. Everyone gets "prizes," but they have to join in on the game show announcement to win.
*Buy some cheap Valentines and give them to your wife and kids for days before and after the holiday, the stupider and sappier the better. Who doesn't want a Ninja Turtle Valentine that says "UR Turtley Awesome"?
*Try your hand at poetry. Try to be as flowery and Shakespearean as you can be and unless you are a legit poet, don't try to take it too seriously. Recite your poem to your Valentine in obnoxious settings, like at the grocery store, or while you are folding your kid's underwear, it will show your Valentine that you love them even during the mundane moments of life.
*Create a family Valentine post office. Check out the one we have at our house:
The kids enjoy making home-made Valentines and putting goodies into each other's mailboxes. Since boys are rarely tender, one of their Valentines may say something as loving as "Thank you for not farting in my face Valentine." I'm fine with that. It shows appreciation, if not a form of love.
*Find some way to turn a family meal into a Valentine themed one. One year my wife shaped a meat-loaf into a heart shape and drew a ketchup arrow into it. The kids loved squirting ketchup all over their "bleeding heart" meal. We also had strawberry milk and red peppers. Silly? Yes. Memorable? Absolutely!
*Dress up as Cupid, in nothing but a saggy pair of Depends and a red sash and sneak attack your wife and kids with nerf "arrows." Best not do so when their friends are around since you may find yourself on some offender registry list if you do (actually, I have yet to pull of this stunt, but I am giving it some serious thought).
I guess you could say that ever since that day I learned to embrace the holiday, that Valentine's and me was like peas and carrots. Might I recommend you become a Valentine Virtuoso in your own special way?
-Big Daddy Valentine
If you need more help with Valentine ideas, check out these posts on OSSS:
My Favorite Valentine's Day Family Tradition