Hi everyone! I'm Jessie, a new contributor here on OSSS. My amazing hubby and I have two little girls, ages three and one, who love creating, learning, and trying new things. I'm so excited to be able to share some of my preschool-oriented activities with you! Hopefully your kiddos with find these activities as fun and helpful as mine have. So, with Valentine's Day right around the corner, here are five different Valentine activities for preschoolers that your kids will have a blast doing!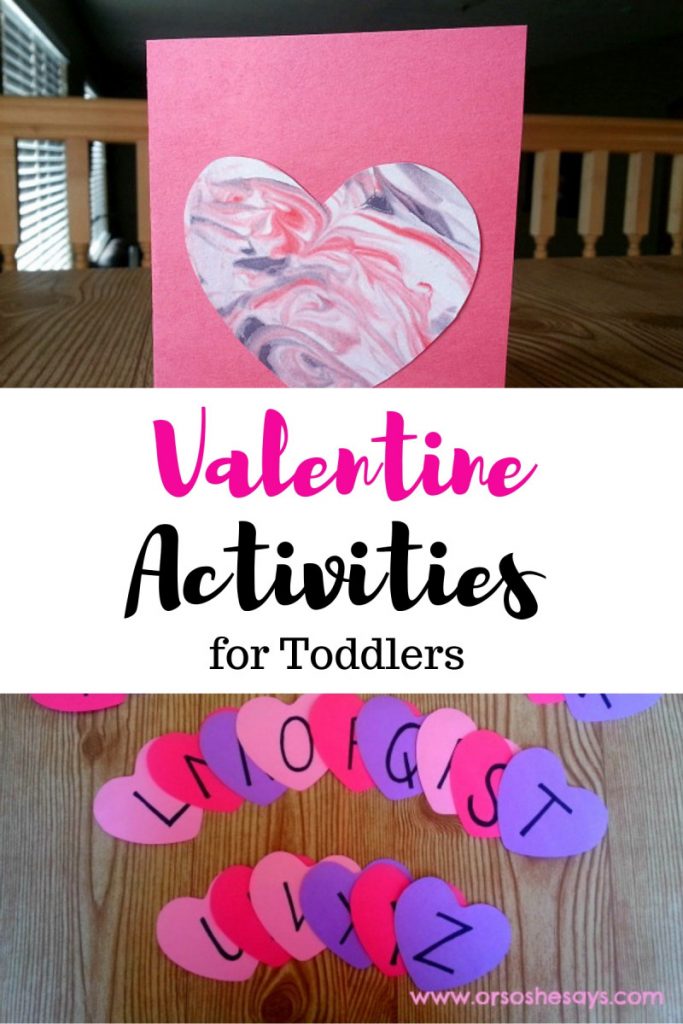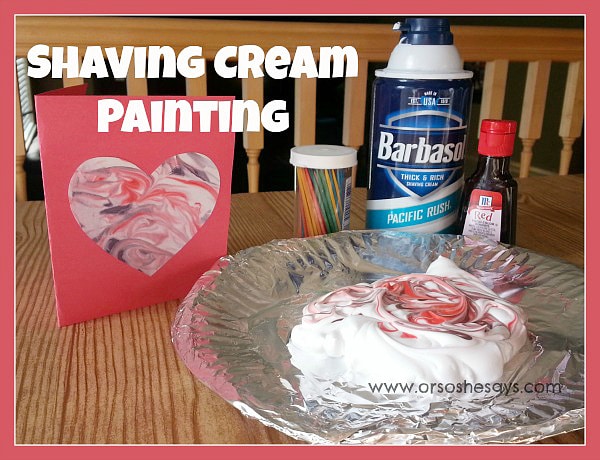 Shaving Cream Painting: This is one of my all-time favorite art projects to do with kids. It can be a little messy, but it's seriously amazing!
Materials:
shaving cream
3×5 note card
food coloring
aluminum foil or a paper plate
paper towels (or an old towel that you don't mind getting stained)
tooth picks
scissors
construction paper
glue
Instructions
Squirt a generous amount of shaving cream onto a sheet of aluminum foil/paper plate.
Add a few drops of each color of food coloring. We used red and purple for ours. I didn't have purple food coloring, so I premixed red and blue in a bowl and then used a medicine dropper to squirt a few drops onto the shaving cream.
Use a toothpick to swirl the color into the shaving cream. Do not overmix! If you swirl it too much, you'll just end up blending the colors and will lose the awesome marble-like effect that you want it to have.
Gently press your 3×5 card onto the shaving cream.
Immediately remove card from shaving cream. Wipe excess shaving cream off using paper towels. Allow card to sit until completely dry.
Cut "painted" note card into desired shape (heart, flower, etc.). Glue onto a folded piece of construction paper. And there you have it: a unique, pretty Valentine's Day card!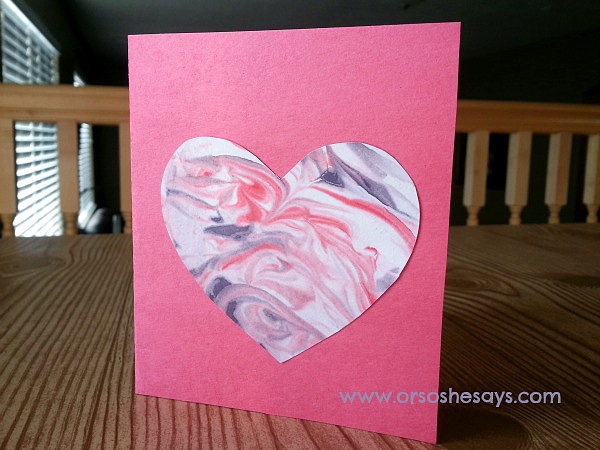 We've also made a giant card out of a folded poster board using the same method. We just squirted the shaving cream onto a big garbage bag. If making a giant card, you might want to try doing your "painting" outside.
We end up making tons of these little Valentine's because my daughter has so much fun with it. She and I are both fascinated by how instantly the note card is dyed and how beautiful the designs turn out. It's a cool art project/science project in one!
Barbasol Original Thick and Rich Cream Men Shaving Cream, 10 Ounce
Oxford Ruled Index Cards, 3
Spice Supreme Assorted Food Colors Red Blue Green Yellow 1.2 Oz
MontoPack Bamboo Wooden Toothpicks 2 X 500 (1000pcs)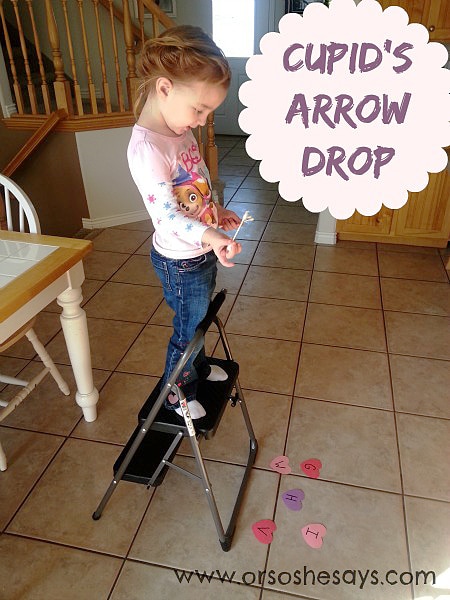 Cupid's Arrow Drop- Alphabet Practice
This game is a fun way to practice letters, letter sounds, capitals and lowercase, etc.
Materials:
Heart-shaped alphabet papers
Q-tips
Chair/foot stool
Picture of Cupid
Before Playing:
Before playing I prepped the game by cutting small hearts (3 or 4 inches) out of construction paper. I then wrote the letters of the alphabet on the hearts, one letter per heart.
Also before playing, I showed my daughter a few pictures of Cupid that I had googled. Then I gave her a very simple definition of who Cupid is. I think I said something like, "This is Cupid. For Valentine's Day, he shoots his arrows at people to make them fall in love. He is only pretend though, not real. For this game, you are going to be pretending that you are Cupid and these [the Q-tips] are your arrows. You are going to shoot your arrows at the letters."
Instructions:
Have your child stand on a chair or a step-stool. (Please use wise judgement while doing this and stay close by your child. We certainly don't want to risk anyone getting hurt.)
Place 4 or 5 of the letter hearts on the floor in front of the step-stool.
Name a letter. Have your child try to drop the Q-tip onto the correct letter.
Assess whether or not your child knew the correct letter by noting her reaction or by asking things like, "Did you get it?" or "Was that right?" Another way to play/assess is to use points. One point if she knows the letter, two points if her arrow hits the correct letter.
When you have finished with a set of letters, switch them out for different letters and keep playing.
This game can be played a variety of ways. You can name the letter, the letter sound, something that starts with the letter, or even show a lowercase letter to see if your kiddo can match the upper and the lower case. Your preschooler will love shooting the arrows will feel very proud of both getting the right answer and hitting her target.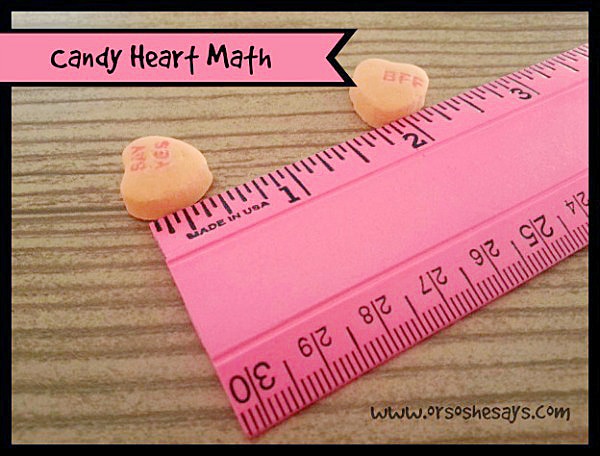 These games are simple, but effective ways of working on numbers with your preschooler and introducing her to basic math concepts. It's not like I want my three-year-old to be a math master, but these are fun ways to help her become familiar with what math is. Using candy hearts adds to the fun and makes for a yummy incentive!
Candy Heart Toss and Measure:
My daughter had us play this game over and over. She even had her dad play with her when he got home.
All you need is two candy hearts and a ruler. Have your child lightly toss (I say "lightly toss" because "throw" is too strong of a word. I learned this lesson the hard way.) a candy heart in front of her. Then, have her try to toss the other heart as close to the first as possible. My kiddo was SO excited when she got her hearts close together. After both hearts have been tossed, take a ruler and help your child measure the distance between the two hearts.
With this activity I was able to introduce my daughter to what an "inch" is and how to use a ruler, as well as help her practice counting (sometimes to two, sometimes to twenty-two—it all depended on her throw).
Candy Heart Stack and Count:
I'm sure many of you have seen this fun "minute-to-win-it" game, but I found that along with being fun, it's also an effective way to practice counting.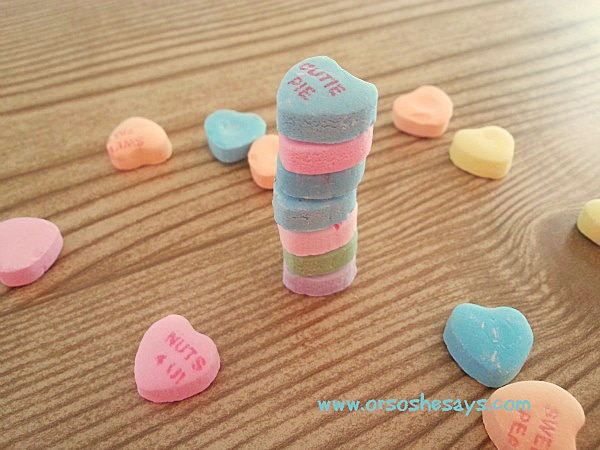 Have your child stack candy hearts as high as she can without them falling. Count with your child every time she adds another heart.
My daughter has numbers 1-10 down, but needs more practice on numbers 11-20. We found, however, that stacking candy hearts higher than 10 is impossible. At least it was for us. So, we each created a stack, then counted how many we had all together. We also counted the pile of hearts we were using to build our stacks. My daughter was way more motivated to count as part of this game than she would be counting just to count.
Candy Heart Addition/Subtraction:
You can also use a bag of candy hearts to teach basic addition or subtraction. Have your child pull out three or four hearts, then teach her how to add the different colors together. It's easy for her to see how two pink and two yellow hearts make four hearts total. It's a fun and tasty way to learn the answer to 2+2.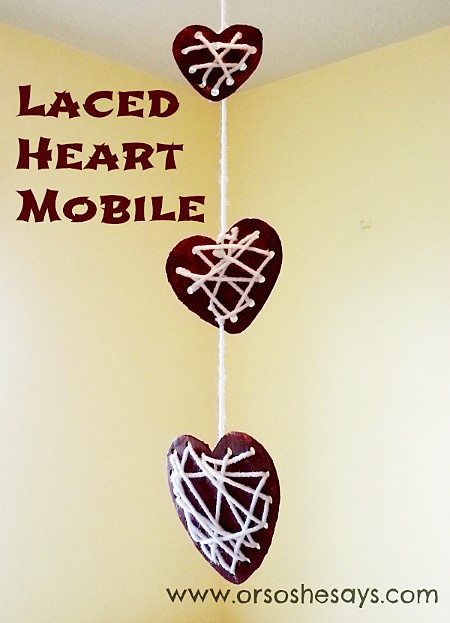 Laced Heart Mobile:
This craft was done with very little help from me, and I think it turned out really cute!
Materials:
Cardboard, thin enough that a hole punch will work on it.
Hole punch
Paint and paint brush
Yarn
Instructions
Cut three different-sized hearts out of the cardboard.
Punch holes around the perimeter of the hearts.
Have your child paint both sides of the hearts.
Help your child lace the yarn through the each heart separately. It doesn't matter if she goes through each hole more than once. It will look better that way. Your preschooler will probably be able to do this mostly on her own. However, you may want to help her keep the yarn from getting tangled, as well as make sure she pulls the yarn all the way through from one side, then all the way back from the other.
After all three hearts are laced, use small pieces of yarn to connect them. Tie a longer piece to the top, and your mobile is complete.
The picture above is of my daughter's mobile. I think it's a pretty good paint job for a three-year-old, and she is very proud of it!
Balloon Stomp Letter Find
I saved my favorite activity for last. This game was an absolute BLAST! Way more fun than I ever anticipated. My daughter has been begging me constantly to play it again.
Set-up:
Before playing, you'll need to blow up several balloons, first placing one candy heart into each balloon. I used water balloons which were the perfect size for this activity, although it was sometimes a little tricky to get the candy into the balloons.
Play:
Spread the balloons out on the floor. Have your kiddo name a letter of the alphabet. (If she keeps naming the same letter over and over, you may need to start suggesting letters for her to guess.) Then, have her pop a balloon and look at the candy inside. If that candy has the letter she guessed, she gets a point. The goal is to get to five points. This can be played as a competition, or you can just be trying to reach the five point goal. Either way, it is so much fun! If we didn't run out of balloons we could have played all day!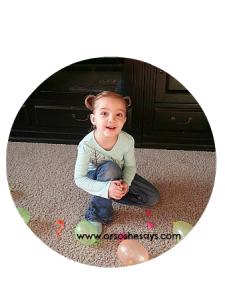 So there you have it! Five ideas to add some extra fun to your family's Valentine's Day.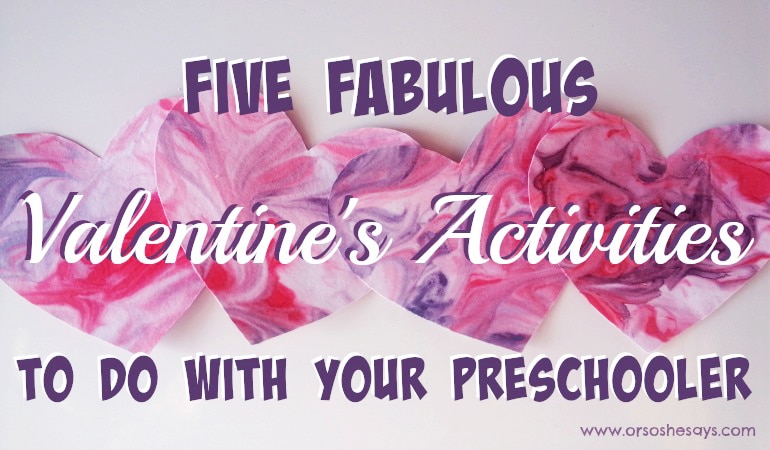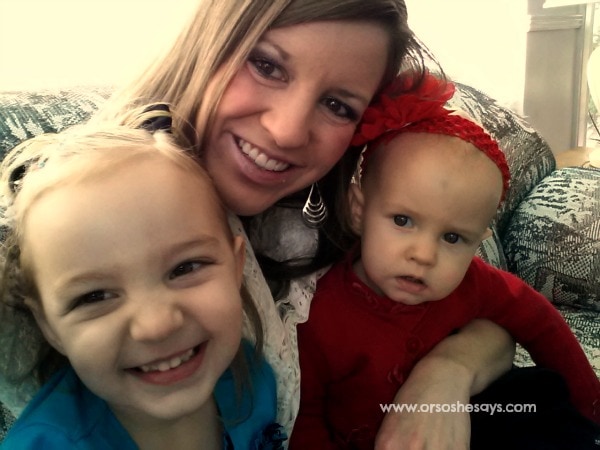 If you're looking for more preschool-aged activities, try these:
ABC Activities for Your Preschooler
DIY Write and Wipe Preschool Worksheets
Animal Necklaces – A Great Craft for Kids
Supplies for Valentine Activities for Preschoolers:
Mira Handcrafts 40 Assorted Colors Acrylic Yarn Skeins with 7 E-Books – Perfect for Any Knitting and Crochet Mini Project
The Original Classic Flavor Necco Conversation Hearts, 3lb Bulk Bag
Swingline 1 Hole Punches, Hole Punchers, 5 Sheet Punch Capacity, Classic, Chrome, 2 Pack (74005AZ)
Barbasol Shave Regular Size 10z Barbasol Shave Cream Regular 10oz pack of 2
AmazonBasics Heavy Weight Ruled Index Cards, White, 3×5-Inch, 100-Count
Food Coloring Liqua-Gel – 12 Color Variety Kit in .75 fl. oz. (20ml) Bottles
Norpro Ornate Wood Toothpicks, 360 pieces
10,000 Count Double Tipped NuValu Cotton Swab 100% Pure Cotton – Wholesale Bulk Lot – 10 x 1000 Count Bag