We go through hot chocolate like mad, at our house. Swiss Miss packets, tubs of Stephen's Hot Cocoa, gone. It's on my shopping list every single week, in the winter time. And, Utah is stinkin' cold right now, without snow. Boo. But, we're being promised a white Christmas. Fingers crossed. So, today was one of those days were the kids were itching for hot chocolate and my cupboards were bare. But, I spotted the Nutella and remembered how people totally use it to make hot chocolate. So, I did and it was delicious…and, now I'll have a stomach ache. It's a milk thing…accompanied by an absence of self-control.
You can make this on the stove, OR whip out your handy hot cocoa maker…makes it easy! I love my Back to Basics Cocoa Grande. These things are nice because it periodically mixes up the cocoa and reheats it, to keep it mixed and at the proper temperature, so it's ready for anyone, any time. I'll fill it up and just leave it sitting on the counter, all the cold day long. The Cocoa Grande holds 60 oz. and the Cocoa Latte is cheaper, but holds less (32 oz.) * The make great gifts for women, grandparents, or as a family gift! And, Amazon has 2-day shipping or overnight available, so you still have time to order one for Christmas.
Back to the good stuff…I just poured 4 cups of milk into the cocoa maker and started the mixer. I slowly added 10 TBS. of Nutella. I would add one, let it mix, add another, let it mix, etc. I didn't want to jam up the mixer with an overload of Nutella. Oh, also…my tablespoons were a little heaping, they don't need to be exact-exact. I let it heat, and that's it!
Nutella Hot Chocolate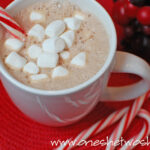 Nutella Hot Chocolate
Ingredients
4

cups

milk

10

TBS.

Nutella
Instructions
Heat and whisk together in a saucepan or use a cocoa maker.

If using a cocoa maker, add Nutella slowly, so as not to jam the mixer.
Love hot chocolate?? Here's another great recipe: Homemade Hot Chocolate