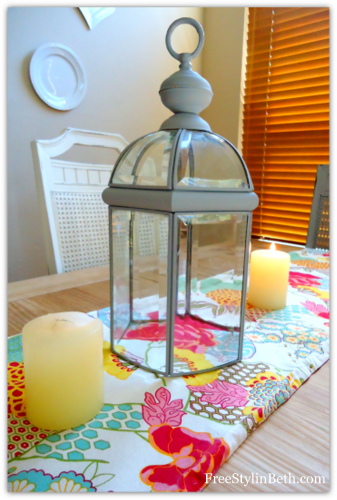 Large lanterns are a decorating trend I'm seeing just about everywhere lately. From Pottery Barn and Ballard Designs, to Williams-Sonoma and Restoration Hardware, lanterns are a popular accessory that look great in just about any room. I especially like the Pottery Barn's Weston Lantern. They are asking $39.50 – $119 for them, though, which is way too pricey for my blood.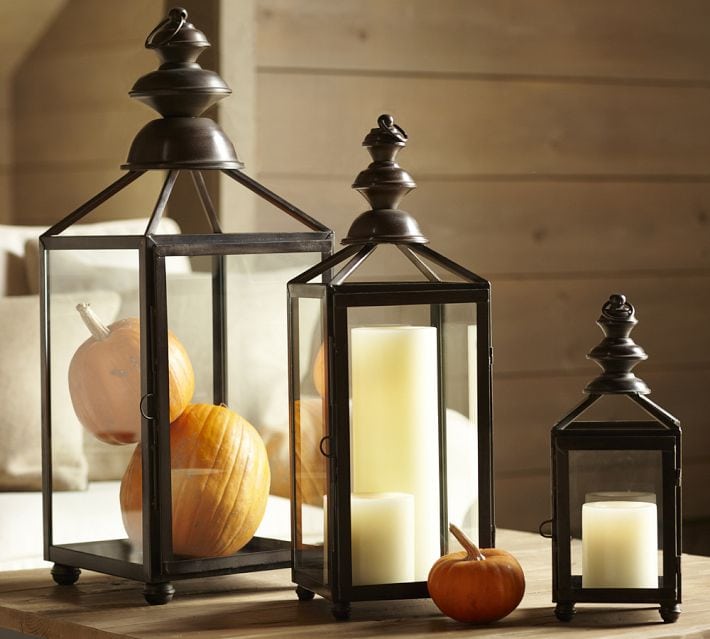 Pottery Barn
Of course, we don't have to pay such crazy prices. For reals. Making one instead is super easy and so inexpensive. I found a lantern at our local Habitat ReStore and paid $3 tops for this brassy beauty. And, if you (or someone you know) is remodeling their home, they may be tossing out their light fixtures, so keep an eye out for a freebie!
To create a knock off version, the lantern was disassembled, with the light guts removed and tossed. I kept the top pieces and laid them out in order so they could be put back together easily.
Because I didn't want to spend any more money on this project, I used paint I already had at my house (a combination of Annie Sloan Chalk Paint in Old White and Graphite that I recently used on our dining room chairs). At first, I started to tape off the glass to keep from painting on it, but it was taking forever. And I can be super impatient. Instead I just carefully painted free hand and used baby wipes to get any spills.
If you don't happen to have chalk paint on hand, there are lots of options to keep this project super FabuLESS and inexpensive. Use one of these products instead: *homemade chalk paint (there are tons of recipes online) *Rub 'n Buff (found at craft stores) *spray paint with primer (already combined in the can or separate…which ever is more cost effective) *paint from your garage This project goes pretty fast…it took just about an hour to paint and let dry. (Ooooo…a nap time project! Awesome!)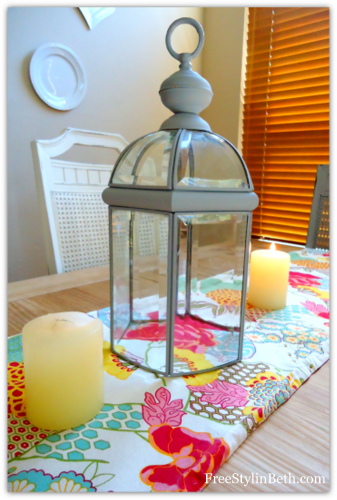 And I love the price: $3 total!
The cute lantern decorating ideas are endless. I'm imagining a collection of lanterns on our porch for Halloween; on top of a bookshelf in the living room; on a table behind the sofa; or a couple of large ones on the floor next to the piano….just to get started. (Watch out…lanterns may soon be taking over our house!) 🙂 Have you seen these cute lanterns around? How would you decorate your home with them?