I have 2 friends who are going into surgery this week… It's awful watching people you love go through things that you have no control over!…and I can't even help by bringing them a shake or a cupcake! All I want to do is just make them some goodies to brighten their spirits (it always works for me!) but no goodies until after surgery. It's killing me! I made sure to let them know that as soon as they can eat again I'm going to dope them up with goodies.:) And these cupcakes just may be first on my list of things to make!
One of my favorite sweet combinations is peanut butter and chocolate. Whoever first came up with combining them IS A GENIUS! We can't get enough of it at our house. And these cupcakes are perfect for the chocolate/peanut butter lovers in your life! Honestly, the peanut butter frosting is beyond amazing! So, just know that when you make these you'll probably end up eating your weight in frosting…you'll be lucky if there's any left for the cupcakes!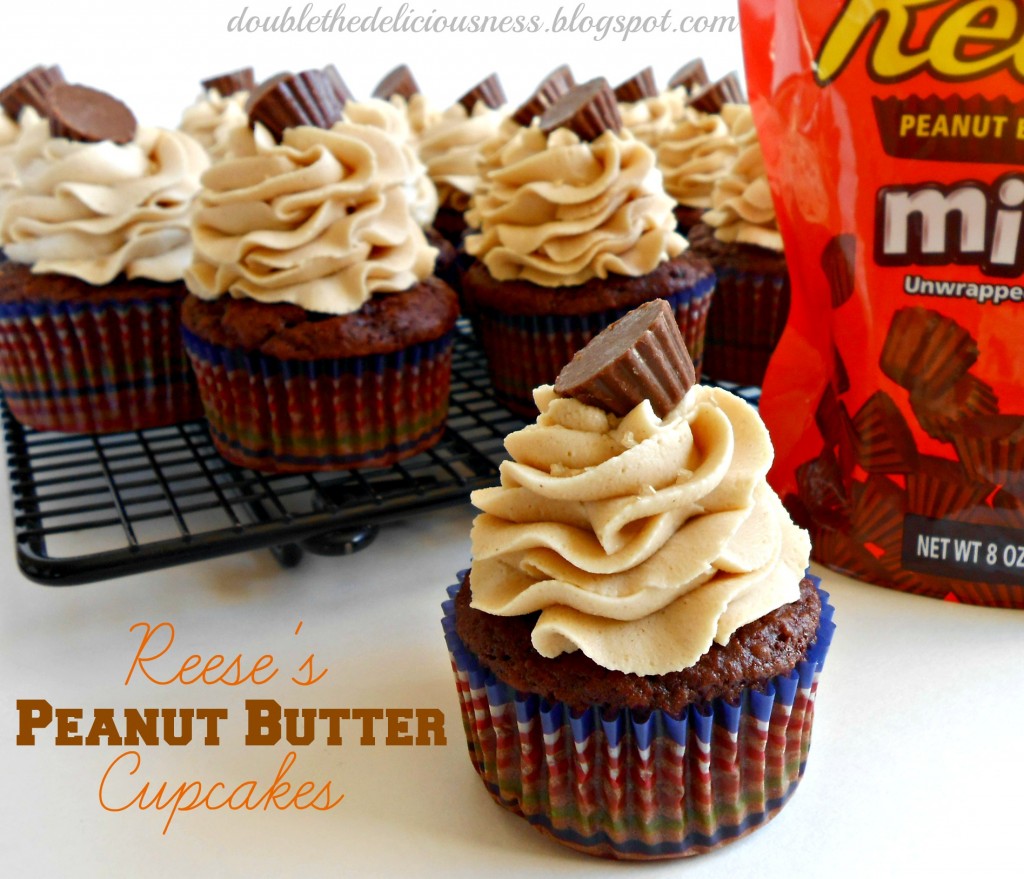 Reese's Peanut Butter Cupcakes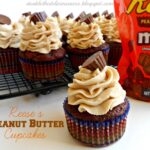 Reese's Peanut Butter Cupcakes
Ingredients
Chocolate Cupcakes:

1

box devil's food cake mix

3

eggs

1/2

cup

oil

2/3

cup

buttermilk

3/4

cup

sour cream

1

teaspoon

vanilla

Peanut Butter Frosting

1 1/2

cups

3 sticks butter, at room temperature

1

cup

peanut butter

41/2

cups

powdered sugar

2

teaspoons

vanilla

3

tablespoons

heavy whipping cream

Reese's peanut butter cup mini's
Instructions
Preheat oven to 350 degrees.

Line 2 muffin tins with 24 cupcake liners.

Mix the cake mix with the rest of the cake ingredients until nice and smooth.

Fill liners 3/4 way full with batter. Use large cookie scoop to make this easier.

Bake for 15-20 minutes or until a knife inserted comes out clean.

Let cupcakes cool completely on a wire rack.

To make the frosting, combine butter and peanut butter and beat until smooth.

Add the powdered sugar one cup at a time and beat until incorporated.

Add in the vanilla and cream and beat on medium high speed until light and fluffy...about 3 minutes.

Place frosting in a pastry bag and pipe onto the top of the cupcakes.

Top with a mini Reese's peanut butter cup and gold sprinkles, if desired.
If chocolate and peanut butter is your "thang" check out these doozies…Reese's Peanut Butter Cup Cake , Peanut Butter Balls, Chocolate & Peanut Butter Whoopie Pies, Peanut Butter & Chocolate Cream Pie, Cereal Candy, & Chubby Hubby Cupcakes. A few of my favorites!