Hello Or so she says…readers!! My name is Tonii and I blog over at Blue Skies Ahead. I am so thrilled to be here with you today! I couldn't be more excited to be a new contributor, and I hope you enjoy some ideas I use in my home to (try!;) to strengthen my family and teach my kids to look for the good in every day. Before we get to all that though, here is just a teensy bit about ME 🙂
A few years ago something really amazing happened to me.
.
I became a mother! My dreams came true! All I had ever wanted was to have children and raise a family. Finally, I had it all!
.
Except…
.
This whole mothering thing was a lot harder than I thought it would be! Some days with my little family were long, monotonous and draining. I would go to bed at night feeling like I had accomplished nothing…and wondering what in the world I was going to do the next day to make it feel any different. I knew I had to be missing SOMETHING…this was not how I had pictured my dream job 😉
.
Finally, I realized what was missing…I had forgotten to make time in my crazy life for ENJOYING my children. While I was trying to do it all…I was letting those little moments pass me by, just surviving the days. SO, I decided to put my creative talents and energy to use, try my hardest to make the little moments matter and look for the good in every day!
.
Whether its making holidays a little more special, doing educational activities with my littles that go along with our weekly themes, trying to make healthy food more FUN, trying out a new craft or getting the kids excited about Family Home Evening…it all comes down to making the most of this precious season in my life.
.
And really…how can you not see Blue Skies Ahead when you get to spend your days with this bunch?!
.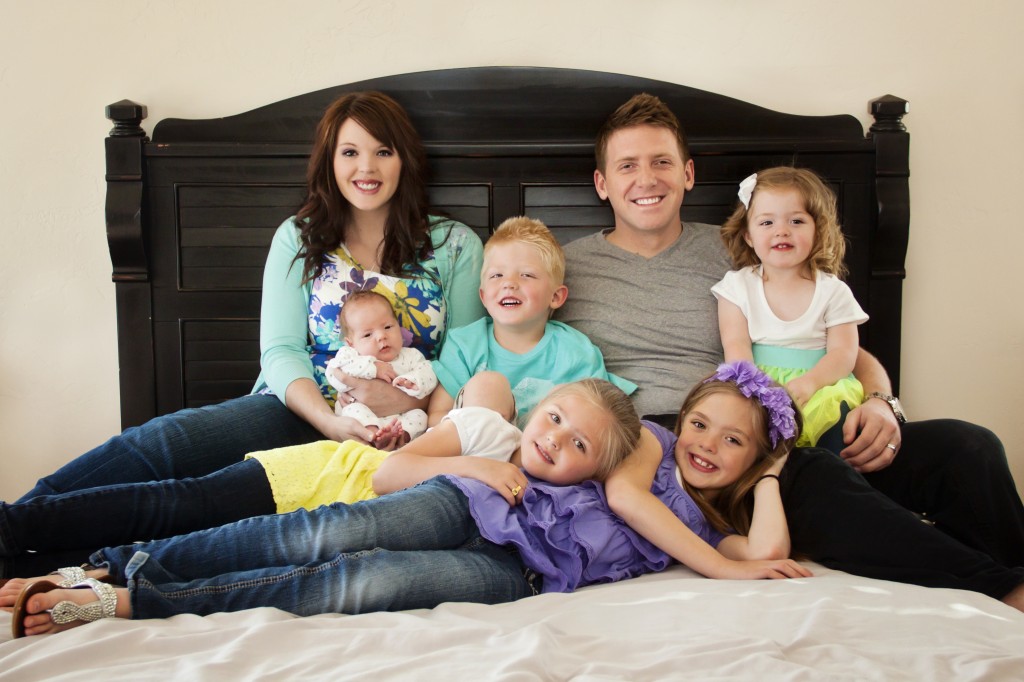 Today I am excited to share with you a Family Night we had all about Respect! As a mother to 5 growing children, I have been realizing lately how important it is to set clear expectations for my family about treating others with respect. I think a great family night that involves everyone and that includes a fun activity is a wonderful way to teach our children in a safe, loving environment life lessons and build family relationships.
To get started I had to think…what does respect mean to me and what do I want it to mean to my children?
I came up with this printable that will hang in our home throughout the week as a great reminder of some of the ways we can show respect in our lives. I just took each letter of the word RESPECT and came up with key words to use as gentle reminders for all of us 🙂
We went through letter by letter, and discussed ways we can be more respectful in our lives. After that it was time for the FUN! First things first…we needed some theme music. And there is only one obvious choice…blasting a little Aretha Franklin 😉 As we listened to that great classic, I got out all the supplies we needed to make our very own… R-E-S-P-E-C-T Sock it to me Sock Puppets!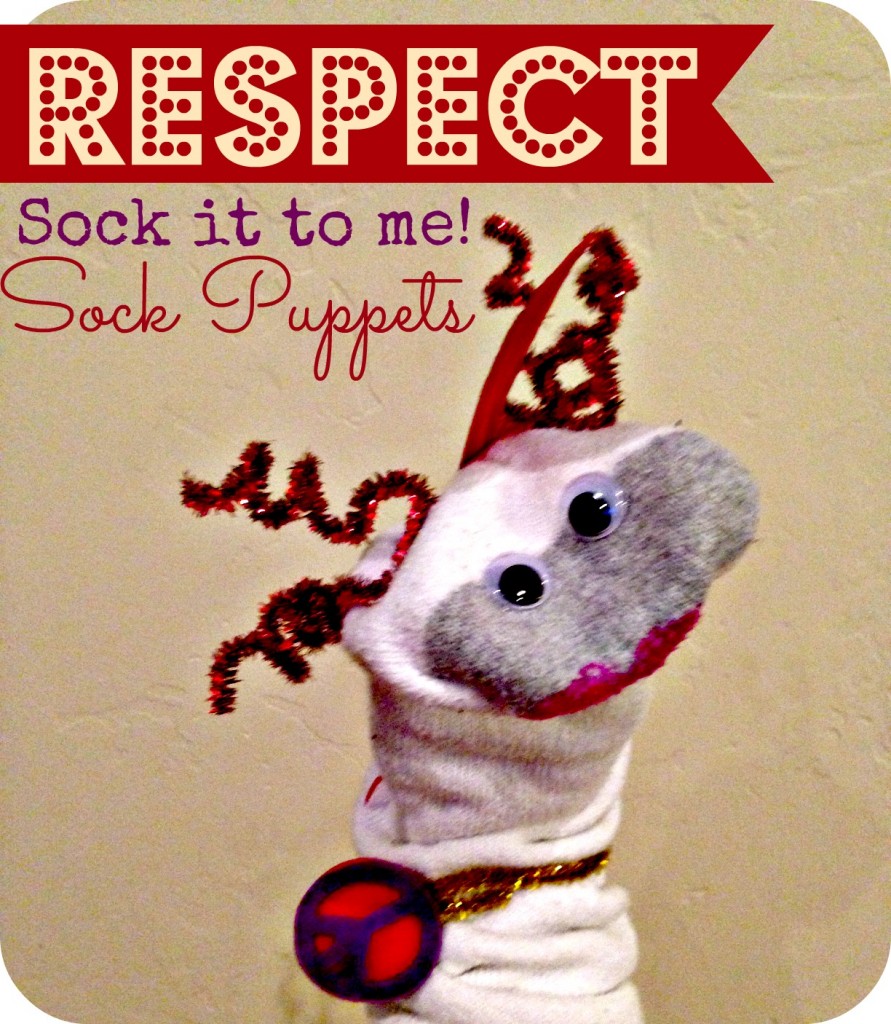 To make our puppets we just got a bunch of old white socks and all the random art supplies we could find! Things like googly eyes, pipe cleaners, pom-poms, feathers and stickers.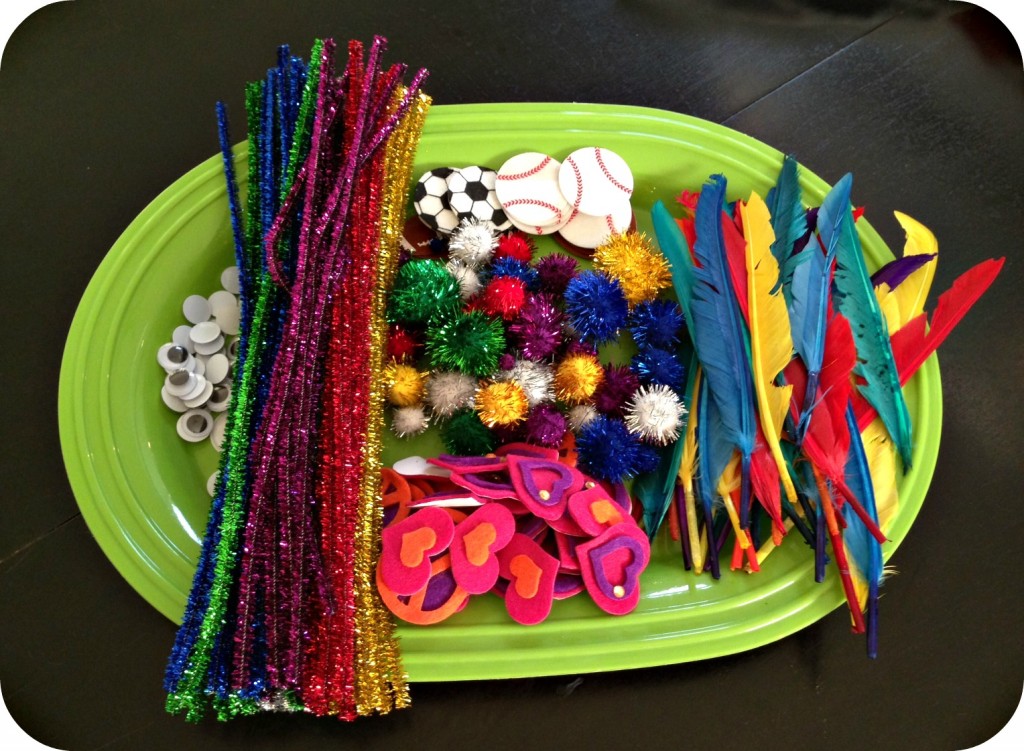 Once you have all your supplies get your glue gun ready and let your kids imaginations go wild!
Now that you have your Sock it to me Sock Puppets ready to go, its time to let your kids really get involved and understand RESPECT in real-life situations.
My kids loved acting out different scenarios where they showed respect for others property, responded to others in a respectful way, and obeyed mom and dad. I think they got a kick out of acting out what-NOT-to-do scenarios too 😉 This is a great way to apply the lessons you just taught to your children, and show them how they can be used in their day-to-day lives.
I sure hope you liked this family night idea, IF you did make sure to hop on over to Blue Skies Ahead to find a great service project you can do this Halloween with your family, "Welcome to the Neigh-BOO-hood!" Thanks again, and remember…there are always Blue Skies Ahead!
FOR MORE FAMILY HOME EVENING IDEAS, CHECK OUT:
The Magic of Kindness ~ Family Night
Love is Contagious ~ Family Night