Who woulda thought that a cheap (or free) app could actually bring a little spark into your relationship!?!  I was pleasantly surprised at the fun romantic apps I found and am anxious to try them all out.   With the click of a few buttons, you'll be sharing poetry, custom coupons, personalized cards, or thumb kisses.  That's right, thumb kisses!!  Read on…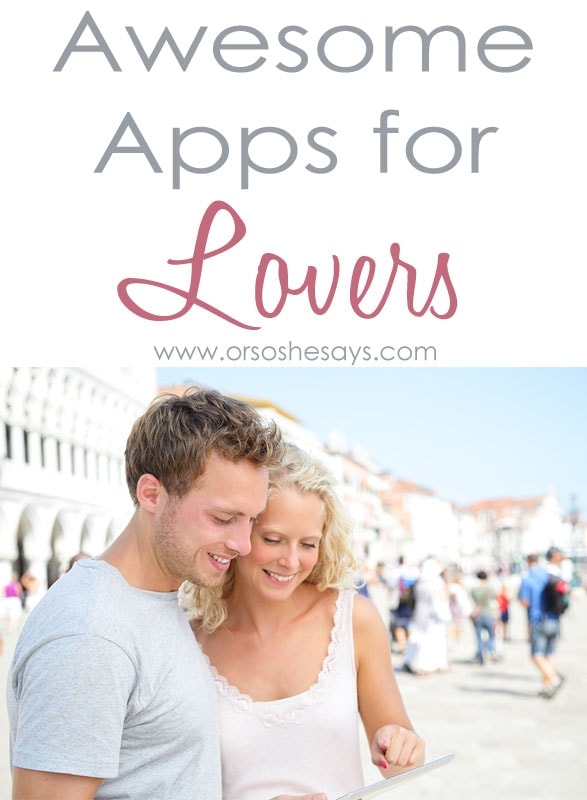 My Favorite Valentine's Day Romantic Apps:
Instant Poetry HD ~ just like your magnetic fridge poetry, now you can create it on your phone and send your naughty romantic poem to your lover.
Kahnoodle – This app sounds way fun!  Both partners download the app, and you have to send each other sweet messages, thank yous, fun coupons, etc. to fill up your love tank.  A full tank can earn you coupons (and a happy spouse!)
Hotel Tonight – The husband and I love getting away for the night, and it's usually a last-minute thing!  This app comes in handy, for that very reason.  It helps you find great last-minute deals on hotels and makes booking super easy.  Also available for Android.
Icebreak for Couples – This is a fun app to keep in touch with your spouse throughout the day and get to know them better.  It's been featured in Time, on MSN, and many more.
Red Stamp – This app makes emailing, texting, tweeting, or even mailing a personalized card SO easy.  Winner of numerous awards!  Also available for Android.
Couple – Okay, the 'thumb-kiss' is all the reason you need to get this app.  Besides the fact that you can communicate with your special someone privately, share important info, etc. If you both place your thumbs on the screen at the same time, your phones will both vibrate… a thumb kiss!  Also available for Android.
Love reading about  great apps??  Check out these past posts: Best Productivity Apps for Keeping Your Goals, Great Apps for Women, Favorite Educational Apps for Kids