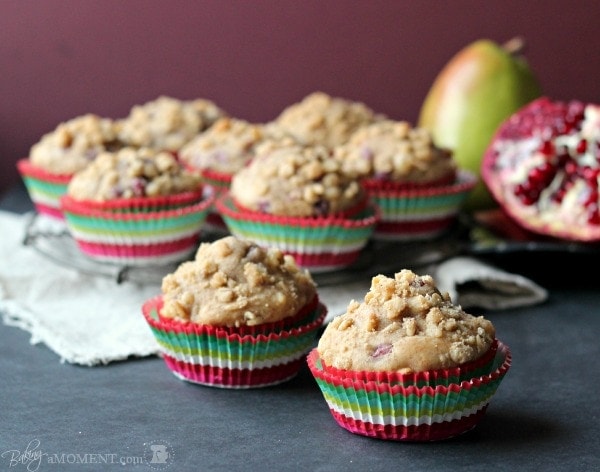 Skinny Pomegranate Pear Muffins with Ginger Oat Streusel
These Muffins are Loaded with Fresh, Seasonal Fruit, and Made with Healthy Whole Grains! Low in Fat and High in Protein, with a Warmly Spiced, Crunchy Sweet Streusel Topping.
Hi there, Or So She Says readers!
I'm Allie, and I'm a baker. I mean, I am a bunch of things, but mostly I'm known around the blogging world as a baker.
I'm also a wife, and a mommy. I have two little boys who give me tons of cuddles and keep me on my toes at all times.
My education and background are in art and design (I used to be an architect). When I was in high school and college I found myself working in foodservice/pastry and I just never lost my passion for it. Once I became a mom, I really fell hard for this whole blogging thing, and it's given me a great excuse to keep whipping up fabulous treats! I normally blog over at Baking a Moment, but I'm so excited for the opportunity to meet all of you guys, as a monthly contributor for Or So She Says!
So here we are. It's January. Ugh. Tough month. Tough month for a desserts blogger, especially. So many of us have over-indulged in the previous months, and we've resolved to do better in the new year. We are not interested in anything sugary or buttery, we just want something nourishing and soul-satisfying, that will power us through our new, or renewed, fitness routines.
These muffins are all that and more. They're also loaded with fresh, seasonal fruit. And they're so quick and simple to prepare. Also, they are increeeeedibly delicious. I mean, you cannot even believe there is so little refined sugar, and no butter or oil (!) in these bad boys. They are so fluffy and moist, and that spicy ginger oat streusel topping is like the crunchy-sweet icing on the cake! (The streusel does contain a small amount of butter.)
If you are familiar with the muffin-making process, then you already know that it's as simple as mixing the wet ingredients into the dry and baking it up in your muffin tin. But this recipe has a couple of healthy twists.
First, a combination of all-purpose and whole wheat flours provide a nutty texture, and enrich these muffins with healthy whole grain and omega-3s.
The butter and oil are replaced with a combination of greek yogurt and pear puree. Maybe you've tried subbing in applesauce for oil before? This is the same basic idea, only the pear puree emphasizes the sweet, seasonal pear flavor. I just used about 1 1/2 packs of strained pears. Yes, I'm talking baby food, friends. It's such a great shortcut ingredient, and so readily available. That being said, applesauce would make a great substitution if you don't feel like making a run to the store 😉
Pomegranate seeds stud these muffins with the most satisfying crunch, and a tart, berry-like flavor. They are loaded with anti-oxidants, and the color is just so gorgeous! Fresh pomegranates are in season during these winter months, and if you don't quite know how to de-seed one, check out this awesome tutorial; it works like a charm. I've also seen little tubs of pomegranate seeds (aka arils) in the produce section of my regular grocery store. That's a really great timesaver!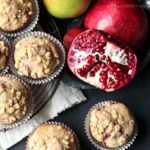 Skinny Pomegranate Pear Muffins with Ginger Oat Streusel
Ingredients
For the Streusel:
1

tablespoon

old fashioned oats

1

tablespoon

brown sugar

light or dark

1

tablespoon

whole wheat flour

1 1/2

teaspoons

finely minced crystallized ginger

1/4

teaspoon

ground ginger

1 1/2

tablespoons

unsalted butter

melted
For the Muffins:
1 1/2

cups

whole wheat flour

1

cup

all purpose flour

1/3

cup

brown sugar

light or dark

3

teaspoons

baking powder

1/2

teaspoon

kosher salt

1/4

teaspoon

baking soda

1/4

teaspoon

ground cinnamon

3/4

cup

milk

I used lowfat

1/3

cup

plain greek yogurt

I used nonfat

1/3

cup

pear puree

3

tablespoons

pure maple syrup

2

large eggs

2

teaspoons

vanilla extract

1

fresh Anjou pear

peeled, cored, and diced

arils from 1 fresh pomegranate

about 1 cup
Instructions
Make the Streusel:
Place all the Streusel ingredients in a small bowl and stir together with a fork. Set a side.
Make the Muffins:
Preheat the oven to 425 degrees F. Prepare a muffin tin with paper liners or non-stick spray.

In a large mixing bowl, stir together the flours, brown sugar, baking powder, salt, cinnamon, and baking soda.

In a smaller mixing bowl, combine the milk, yogurt, pear puree, maple syrup, eggs, and vanilla.

Pour the liquid ingredients into the dry ingredients, and stir just until barely combined. Mixture should be very lumpy.

Fold in the diced pear and pomegranate arils, and place 1/3 cup of batter in each well of the prepared muffin pan.

Top each muffin with a pinch of streusel.

Bake for 5 minutes at 425 degrees F, then turn the oven temperature down to 350 degrees F and bake for an additional 15 minutes, or until a toothpick inserted in the center of a muffin comes out clean.
I just know you and your family are going to love these pomegranate pear muffins! Doesn't it feel so good to be able to offer your loved ones a healthy, homemade breakfast? And this one is just bursting with seasonal fruit and warm spice.
I hope you enjoyed reading about my new favorite muffin recipe! I'm so happy to be meeting all of you! I can't wait to talk to you again next month. I'd love it if you'd stop by Baking a Moment to say hello, and see what else I've been baking up. I hope we'll be good friends!
Here are a couple of my recent seasonal creations, to tempt your tastebuds: