I'll let you in on a little secret. I have been a complete basket-case, lately. I feel completely overwhelmed with everything I have to do. I fantasize about running away for a couple week, do you ever do that? I know you're all busy too, but it would be therapeutic if you would allow me to share at least 10 reasons with you regarding WHY I'm feeling a bit stressed. And, eventually….what I try to do to alleviate it 🙂 Maybe you could even throw ME a bone…and give me some ideas!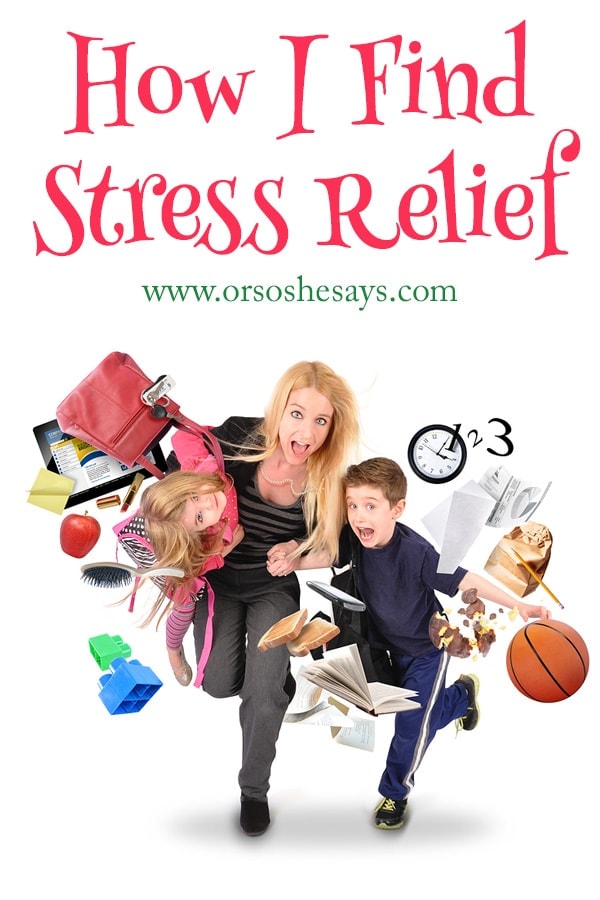 Back to my stress…
One, I have four little kids. I love their stinkin' guts, but they keep me on my toes!
Two, I can't keep on top of all the housework. The laundry is insane! Not to mention, I have spider webs on my ceiling, I need to dust my blinds, scrub my shower….all the "extra" things are piling up! I can barely get past the basic, every day duties…when am I going to get around to these extras??
Three, it's tax time…every year I dread putting things together. It's a serious pain in the rear that I don't have time for.
Four, I have an unfinished dining table and craft room shelves staring at me every day…begging to be stained and painted.
Five, I maintain this blog.
Six, the Beard Man is self-employed in this fabulous economy. I don't think we've uncrossed our fingers in over a year…so far, it's working. But, the "you never know" gets really exhausting.
Seven, I've got a busy calling at church….involving lots of little kids! (UPDATE: That's no longer my calling… now, I have two! I teach a Family History Class and also the women's Sunday School.)
Eight, Spring is coming…my yard is big. The Beard Man does not like yard work…I do, but it's an impossible task for just one!
Nine
, I'm going to home school my kids next year. "What?!?," you say. Yes. I have come up with at least 54 reasons why I need to do this…I might share with you another day. And, truth is…I think it will actually alleviate some other stressful factors in life. But, what's stressful is being NEW to it…getting in the groove, finding a system. (UPDATE: View my
homeschooling adventures!
)
Ten, I'm pregnant. Yes, you heard me. Exciting and scary. I love my children and have always felt like there is another one that is supposed to be part of our family. However, that doesn't mean I'm not totally freaking out over it. 5 kids?!? I'm really counting on the Man Upstairs to help me out. Wanna see the little bugger? (UPDATE: I now have 6 kids!!)
Isn't he/she SO cute!?! Well, maybe not yet…but, the sound of the heart beat is pretty dang cute.
Phew! Thanks for letting me share, I feel better already. Which leads me to Stress Relieving Idea #1…
1. Talk to a Friend – Y'all are kinda like friends now. It's been way fun getting to know so many of you…hopefully, one day we can meet in real life! But anyway, really…one of the greatest ways that I relieve stress is to use my "life line" and "phone a friend". It can't just be ANY friend…it has to be the one you totally trust and anything you say to them will not be used against you. No gossiping, lecturing, or judging on their part. Aren't those the greatest friends??
2. Listen to Music
– I like to mentally take myself back to the days when I had very little responsibilities. I laugh at the times in high school and after that I thought my life was so dramatic and overwhelming. It SO wasn't. I had nothing going on. I used to climb out my window, sit on my roof, star gaze while I played my
harmonica
…almost every night. I can't even imagine being able to relax like that NOW! My house turns into utter chaos if I leave for even 10 minutes. I also listened to
James Taylor
constantly…he was my big hug, always made me relaxed. So, he is STILL my go-to when I'm needing to calm down. Music is a great source to turn to!
3. Read a Book
– I'm really snobby about reading fiction books. I love learning, so I don't like feeling that I'm wasting time with a novel that isn't even true. BUT…every once in a while, I realize what a grump I am and allow myself to enjoy a novel. It takes just a minute to remember WHY they are so fun to read…and that it is such a relaxing thing to do. I'm currently reading a suggestion from a reader,
Redeeming Love
…from our
Romantic Book Post
.
4. Exercise – We all know that exercise can relieve stress, but I would also like to add to it…any kind of exercise. Right now, being pregnant…I'm really tired. And, just thinking of running on the treadmill and lifting weights sends my stress levels soaring! But, going for a walk in the neighborhood, observing the signs of Spring, taking a break from the goings-on at home….that sounds pretty dang relaxing. Or, exercise could be playing a sport. When the weather gets nice, we meet up weekly with friends to play volleyball. Our kids play at the park right next to the court and it's so fun! It's a perfect way to relax, get exercise, and enjoy life.
5. Something I'm loving right now is the The Miracle Ball Method.
Apparently, I send all the stress to my shoulders and back…resulting in some serious knots that have shocked several physical therapists. I read so many fabulous things about this miracle ball and how it helps relieve pain and relax the body. It seems almost too simple. They're just two little balls that you lay on. But, it's true…it really helps loosen my muscles and relax me. I love laying on them after I get out of the shower or get a massage…when my muscles are warmed up. Best part, for $12 bucks…it's totally worth it. The Miracle Ball can be used for hip pain, lower back pain, shoulder/neck pains, etc. Read the reviews on Amazon, they're pretty convincing.
6. Back to me being pregnant-tired…Take a Nap! I'm currently napping every day and it sure does me good! I actually heard about a new study on the news the other day where doctors are now recommending 1 1/2 hour naps to the elderly because it "reboots" the brain and helps improve their memory. Any kind of nap validation is a good thing. Isn't it hard to not feel guilty when you take a nap? But, I usually get over it pretty quick when I notice my recharge in energy and how much I get done. Some people take meth for energy, some people take naps. – Quote by me.
7. Take a Bath or Shower – in the dark, even better. The shower is the one place in my house that I can go where I can actually THINK. I'm usually constantly bombarded by my children's curiosity questions that I don't have time to think about anything longer than a few seconds. It's in the shower that I come up with post ideas, new inventions, deep questions to ask the hubs, who I'm going to vote for, my life goals, and what to make for dinner. I can be found in the shower up to several times a day. 🙂 I'm really clean.
8. Start or Work On a Stress Relief Hobby
– Those might include: gardening, photography, scrapbooking, puzzles, drawing, painting, knitting, playing an instrument, etc. Have you noticed how relaxed you feel while doing those things? I love playing the piano or working in the yard…so relaxing! If you don't do any of those things…learn how! I just buy a book, start reading…and get moving! A really cool way to learn something new, right from home, is the online classes from
Creativebug
or
Craftsy
! They have lots of great ones I've been dying to take.
9. Watch a Great Movie
– Sometimes when I'm stressed, I need to cry. And, sometimes a sad movie is just what I need to bring it out. Once I cry, I feel so much better!
Funny Girl
used to make me cry…its really not the saddest movie you will ever see…there are lots worse. But, somehow…it just did it for me. On the other hand, sometimes it is super relaxing to watch a funny movie or one that just makes you happy inside. I've said it a thousand times, but I love to watch musicals. Watch, might be an exaggeration…I love to turn on musicals and
listen
to them while I get the housework done. It makes me happy.
Great prices on movies here!
It's really painful for me to not have a number 10. It just doesn't feel or look right. But, sometimes taking a "chill pill" and not trying to have everything be perfect is super liberating.
* A few ideas of things NOT to do when stressed: adopt a pet, go shopping when you shouldn't, or pig out. All of those things are lovely, but usually have after-effects resulting in more stress. Wait until you're NOT stressed for things like that.*
How do you relieve your stress?
Mariel's Picks to keep you calm and comforted:
Yummy jammies from Bed Head. We love the new Hello Kitty line!
This stress-free herbal bath in a soothing orange scent. Ahhh…
Fun mail for your preschooler from Kiwi Crate. Keep them happy and busy, so you can take a breather!