I love having punch in my house, in my mouth, and in my belly. I'm always up for trying a new recipe! Ew, I have to tell you…I tried the ickiest one the other day. It sounded so good…it was like eggnog, ginger ale, and peppermint ice cream. Okay, maybe that doesn't sound good, but I thought it did, and I was so wrong. It was really annoying because I got some lovely pictures of it too. Don't make it. But, you can make this one! It's super easy and really good. It's a combo of strawberries, Cherry 7-Up, and pineapple ice cream. That's it!
Like I said, all you need is a two liter of Cherry 7-Up, 1/2 gallon (2 qts.) of pineapple ice cream, and about 12 oz. of frozen strawberries in syrup. If you're just using a large bowl, this should fill it up. If you're using a big punch bowl, I would double the recipe.
Alright, so just defrost your strawberries. I actually think next time I would give them a few pulses in the blender. I don't love big chunkity-chunks in my drinks. Anyway, dump them in your bowl.
Scoop the softened ice cream in to the bowl, pour the 7-Up on top, stir it up. You'll have tons of bubbles, just brush your spoon over them and they'll start to pop…at least so they're not overflowing over the edge.
That's it, drink up!
Strawberry Pineapple Party Punch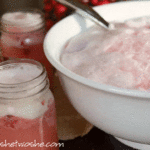 Strawberry Pineapple Party Punch
Ingredients
2

liter

Cherry 7-up

12

oz.

frozen strawberries in syrup

1/2

gallon

2 qts. pineapple ice cream
Instructions
Thaw your strawberries and dump into a large bowl.

If you prefer, first pulse them in a blender to make smaller strawberry chunks.

Add the softened ice cream to the bowl and pour the 7-up over top.

Stir together.

Serve!
Linked: The Shabby Creek Cottage