Good to see you back for part 2… the cruise just keeps getting better and better! Like, I said… I'm convinced it's the best family cruise out there. If you didn't get a chance to read the first post of our family vacation, click here: The Best Family Cruise, Part 1.
The Best Family Cruise, Part 2
Alright, so after our stop in Roatan and the monkey experience, our next stop was Belize. I love Belize! It's beautiful, the people are friendly, and it's home to my personal favorite excursion of all time… cave tubing. We booked this excursion with V.I.V. Tours through Shore Trips, referred to us by our travel agency (the best one that everyone should use and it's free), Get Away Today. Just like the monkey experience, my husband and I had done this same excursion the year before and loved it so much that we couldn't wait to take our kids. It was finally that very moment…
The water is too shallow near Belize, so you have to take a ferry from the cruise ship to land… the kids have no idea how awesome the experience is coming their way!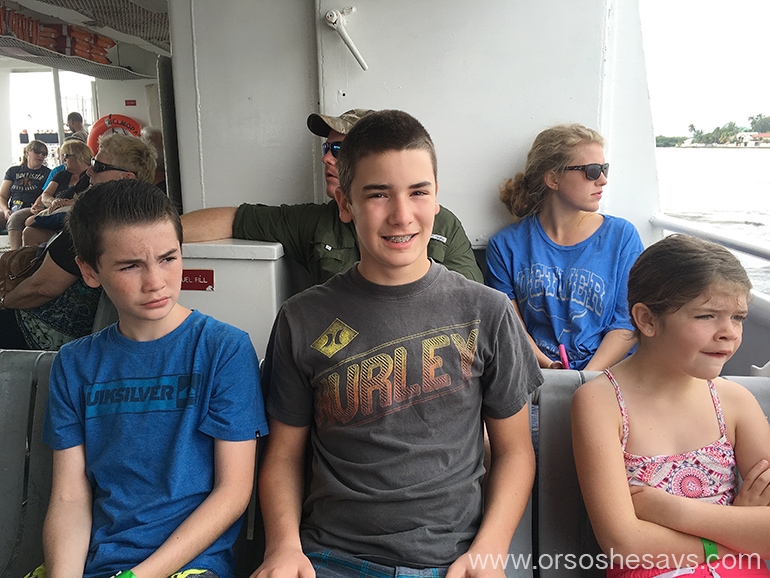 … especially, Joey. But, he'll find out soon enough.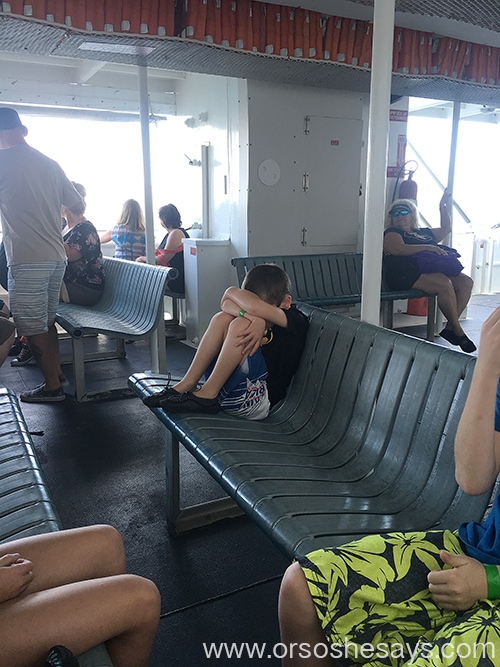 So after about a 20 to 30 minute walk/hike along a trail, we get our lighted helmets on, grab our tubes and get ready to start floating into the coolest Mayan caves ever! They're huge, dark, and amazing!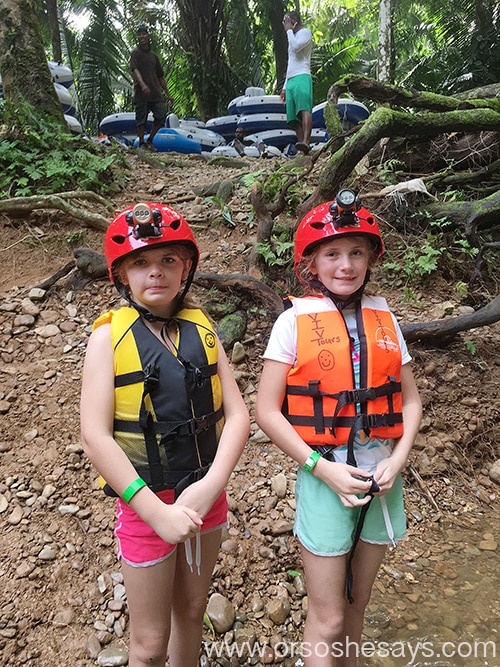 Dan and Caden couldn't resist a quick dip in the water to cool off before committing to our tubes.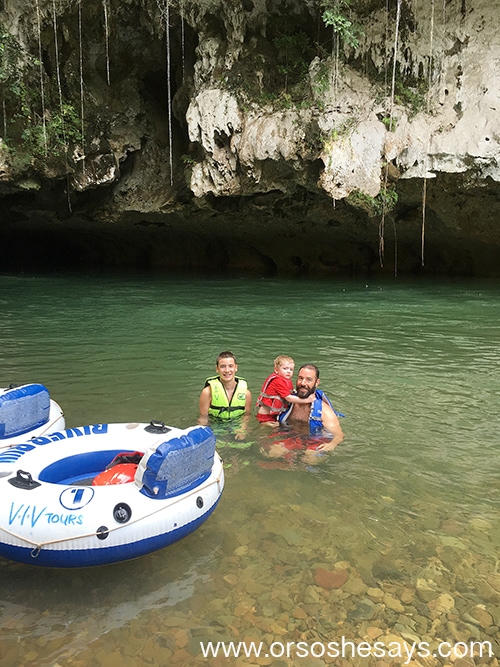 Here we are! All loaded up, our tubes our hooked together, and our guide is ready to start leading us through the caves. See that big, dark cave in the background??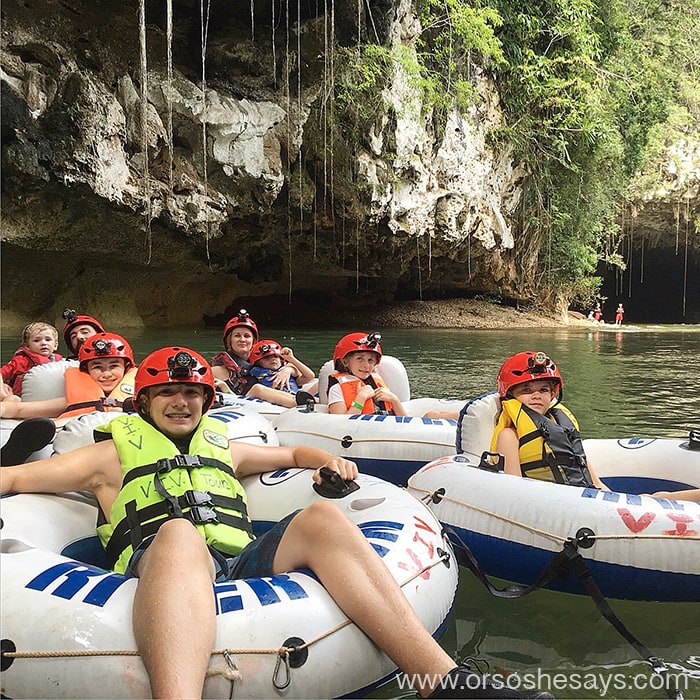 Off we go! I wish I could show you some pictures of what it looks like inside the caves…. but, it's literally pitch black and you just have your little head lamps lighting the way. But, looking around in there, you see little waterfalls, really cool formations, and you hear stories about how the Mayans used the caves for storing food (to keep it cold) and even human sacrifices. Eeeek!
The whole floating trip takes about… mmmm… maybe 45 minutes? And, if you're wondering… it's totally a peaceful float. No rapids, just calm, smooth sailing… Can any age do it?? See my tip below.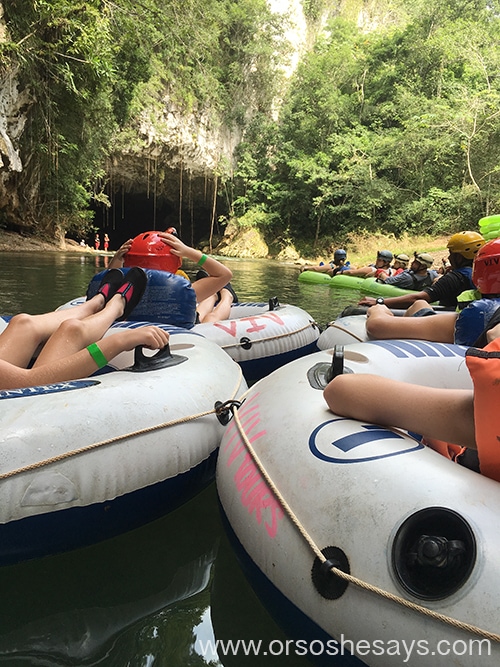 … so smooth, that it was putting Benny right to sleep.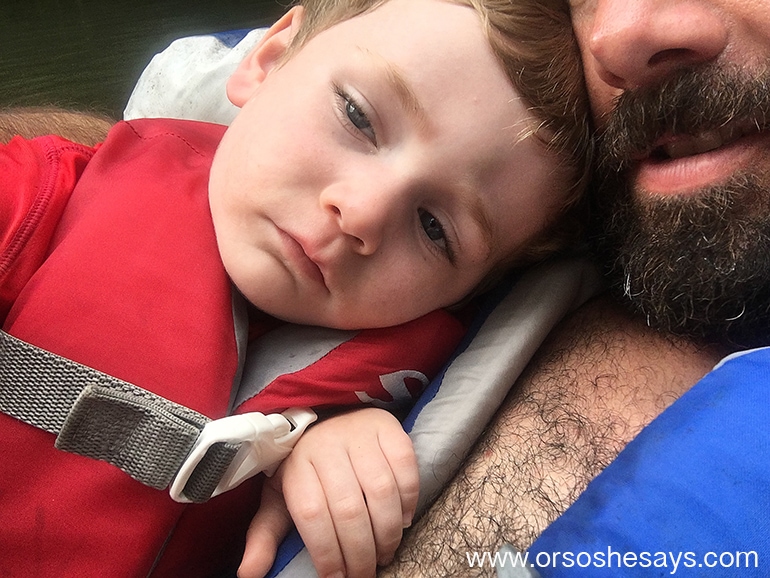 Okay, but isn't that the coolest??? You have to try it sometime!
So, here's my tips for cave tubing…
1. Cave tubing is only available in the winter months, according to our guide. In fact, that is the only reason we planned this cruise in the winter… all for the cave tubing! He said the best months are between November and February. BUT… there is still always the possibility of rain and the water getting too high, which shuts the whole thing down. So, if you want to go, go in the winter. But, know that the caves being opened can change from day to day.
2. When we booked the excursion, I believe it shows a minimum age of 5 or something. I can't exactly remember. BUT, I had remembered that our guide the previous year said that he was fine with toddlers coming, they just had to float with mom or dad. So, I went ahead and booked the excursion anyway, even though we have a toddler and they were fine with it. As far as, "Can any age do it?" The only part that I could see as potentially tricky, but not much… is just when you begin your hike, you have to cross the shallow river (it was maybe 3 feet or so when we went), but it's at a part where it's definitely flowing. They have a rope going across the river that you hold on to. My husband and I both held on to the little ones and the rope and crossed. My other kids did fine, except my 7 year old who's legs were being pulled by the river and she just had to hold on tight to the rope and I helped her across. So, it wasn't a big deal, tons of people do it, of all ages, but if someone isn't steady on their feet or lightweight, they just need a good grip and someone next to them that can be helpful.
3. Bring your own water shoes (or you have to rent some, which is fine too.)
4. Bring some bug spray. The mosquitoes on the hike to the water entrance can get pretty bad. Actually, even with bug spray, I got eaten up good. But, I'm sure it helped! I believe they also sell some there at a little stand, but I can't promise.
5. If possible, bring a waterproof camera or your phone in a Ziploc bag that can be used for quick pictures… something like that. Like I said, it's hard taking good pictures in the caves, but it's fun to have at least a few of the tubing experience. Just be careful transporting it across the river at the very start of the hike (see tip #1).
6. Eat BEFORE you go. Seriously, we were so hungry by the end of this! We were hungry by the start of it, actually! You get off the cruise ship first thing in the morning, catch a ferry, catch your tour bus, then you're off. No stopping for food. After the cave tubing experience, you have two possible food options. First, there is a small eatery that makes Mexican food. But, it's super small and they're often out of food completely or just closed. So, expect that to be a possibility. Second, there is a small little booth set up with souvenirs and a few snacks (like chips and candy bars.) So, nothing too satisfying, but it's something.
I'm pretty sure we cleaned out the buffet when we got back to the ship! And then… hit up the ice cream!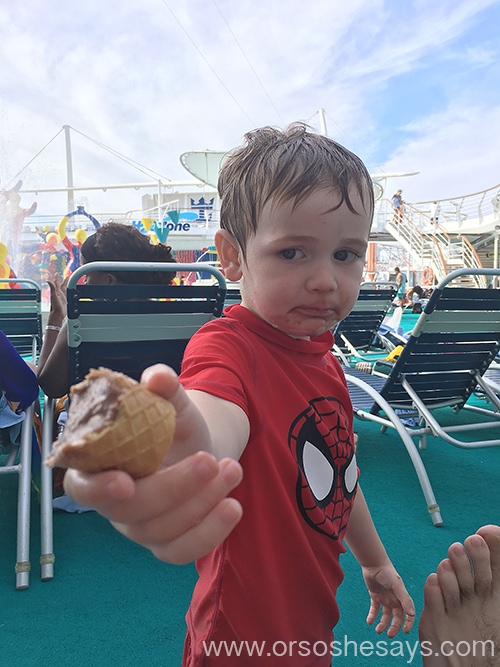 Okay, let's talk about ice cream. I'm pretty sure each of my kids, plus husband, had at least 7 ice cream cones a day, for 7 days straight. I'm lactose intolerant, so unfortunately I can't add to this number, but that puts us at about 343 ice cream cones on our cruise. Best family cruise, ever.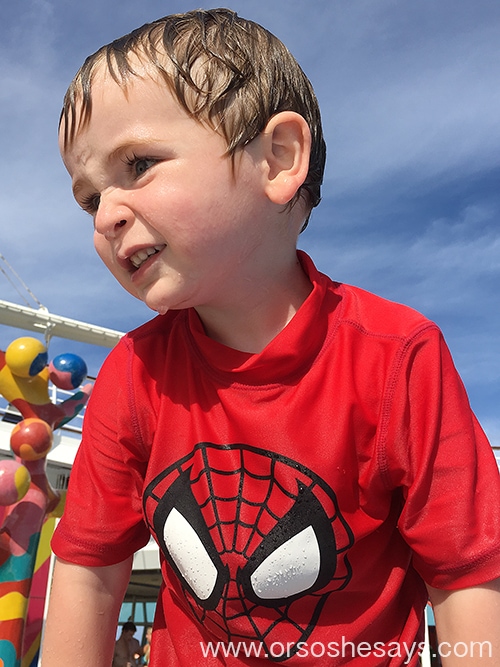 The kids would also loved playing in the pools all day. Between the busy and long excursions, gluttony, and swimming, they were seriously dead at the end of every day. But, they had a ton of fun, and that's what our vacation was all about.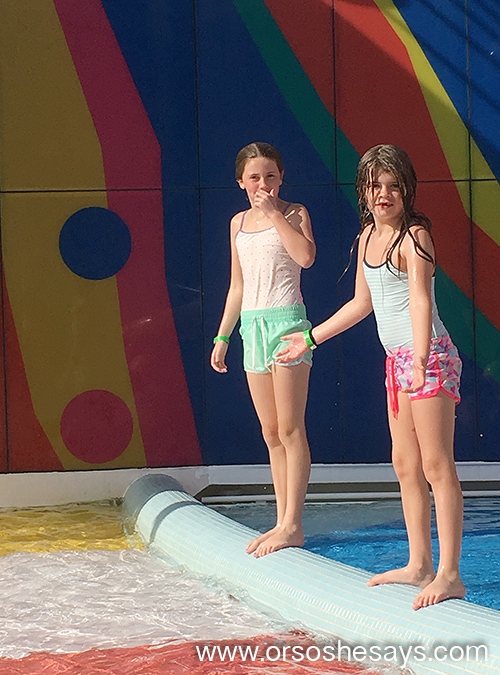 We were on the Royal Caribbean's Liberty of the Seas… this ship had great pools and play area for kids! The only thing though… if your kiddo isn't potty trained, they're supposed to stay in this really SMALL/boring area, which will be torture for them with all the fun sprinklers around. They don't allow swim diapers or anything in the main kid area. Just for reference.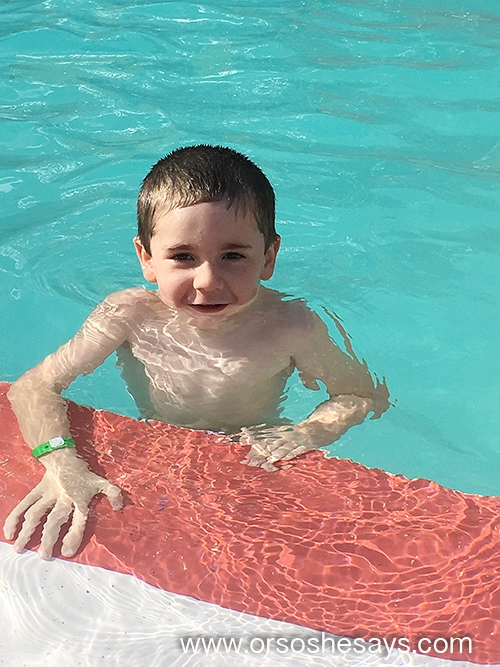 Every night, they would play a movie out on the big screen, by the pools and hot tubs. There was never very many people out there and the older boys loved to go out there with their dad and watch the show, while the little kids played in the pools.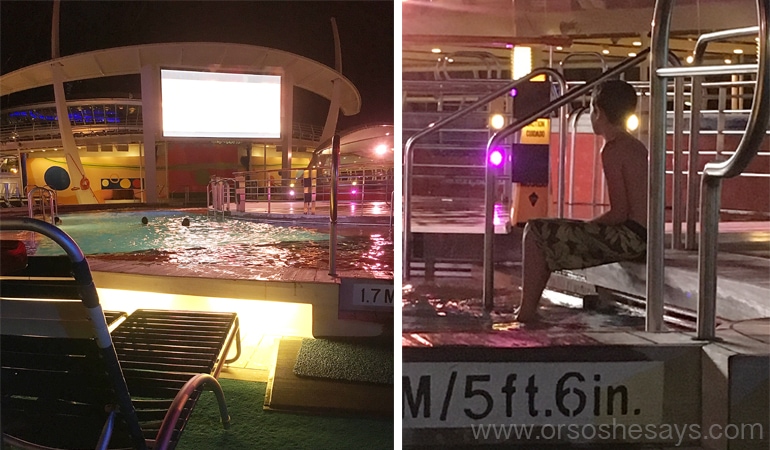 Alright, I better turn this into three posts! I have more that I want to share with you. In part 3, you'll hear all about our time in Cozumel and my final thoughts on the best family cruise!
The Best Family Cruise, Part 3
In the meantime, check out some of my other family vacation cruise reviews:
The Best Family Cruise, Part 1 (Yesterday's post about the first part of our cruise.)
Our Disney Cruise (I love the experience on Disney ships! Although, I loved the ports best on the cruise in this post.)
Our Royal Caribbean Cruise Review (this is the 'couples cruise' I mentioned several times, to the same ports.)
Our Alaskan Cruise (this was a cruise I did just with the hubby.)
Disney Everything! Page (this is a link where I share all vacation posts on the blog… it's not just Disney vacations, either. But, there's tons of tips for those! This is a great one to pin for future reference. Well, they all are.)
If you're all ready to chat about or even book your next family vacation or cruise, contact my favorite Get Away Today! They're free and specialize in family vacations. I use them every time.