After nearly a year of planning, we finally knocked-out our 2015 family vacation and it was a BLAST!! I'm convinced we have discovered the best family cruise out there. If my 6 young kids loved it, I'm sure yours will too!
I've been anxious to share our pictures and experience with you, along with some tips for cruising with kids. This is our… one, two… um, third cruise with the kids and we plan on many more! We love how it makes feeding the kids simple, getting any needed naps really convenient, there's endless entertainment (and ice cream), and the opportunity to visit several new countries and try new activities. If you haven't tried a family cruise yet, I HIGHLY suggest it! After you check out this post about our latest family cruise, be sure to check out my other cruise posts, to get even more insight on what you can expect cruising with kids.

So, let's start at the beginning of the best family cruise…
The airport.
Er, no! I meant to say booking the cruise, the BEST family cruise. You can't just show up at the airport, silly me. Booking… we always, always, always book with Get Away Today. You don't have to use a travel agency, but you might as well… they're free and they make it a million times easier than if you had done it yourself. Get Away Today seriously knows everything about anything that has to do with a vacation and they always go above and beyond. I love getting my airport transfers, cruise documents, hotel information all bundled up in a nice booklet, mailed to my home and ready to take on my vacation. If I have any questions about where to go, when to do this or that, how things will work out, I just pick up the phone and they ease all my concerns. I love them. When you call them, just ask for their cruise department (tell them I sent you) and let them know what your ideas are for your family vacation. They'll give you prices, the best time to go, look at available cabins (and help you get your room in the best parts of the ship), and if you have no idea what you want to do, just that you want to do SOMETHING, they'll help you with that too!
Okay, back to the airport. Poopie. The airport stinks… travel days stink. I dread it! It's even worse with kids. But, here's the thing… it will all be worth it. If you're going on a 3 day cruise, to me, that would not be worth it. A 5 day cruise, 7 days, 10 days, 3 weeks, 500 years… any of those, a travel day from hell is totally worth it. So, rest easy. It will all turn out.
Look at all those kids… their mom must be CRAZY!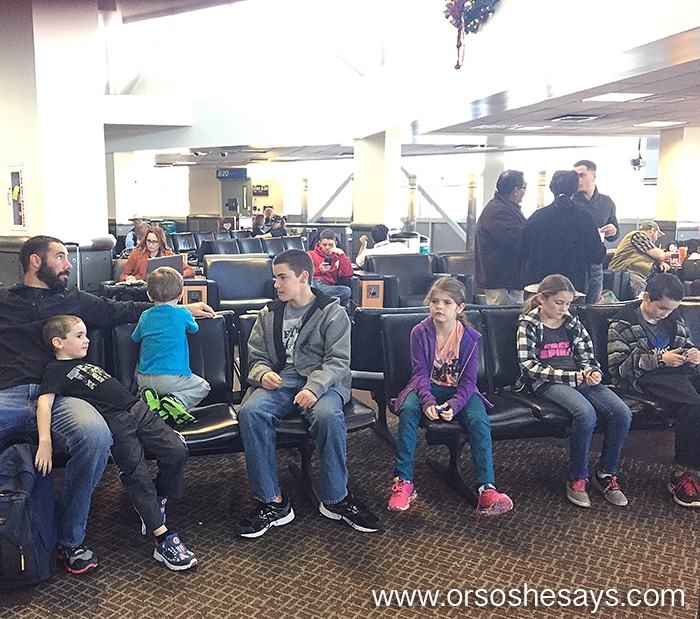 What we usually do, and what Get Away Today always suggests in flying in the day BEFORE your cruise leaves. Airlines have a thing for delaying flights (happens to us nearly every family vacation we go on) and issues arise where you could potentially miss your flight (happened to us on our way home!) So, you just want to play it safe. It would be a sad day to miss your cruise!
Get Away Today found a hotel for us that was close to the airport and had free transfers to and from the airport. They also lined up a shuttle for us that would pick us up at the hotel and drive us to the cruise port the next afternoon. So easy!
We actually did this SAME cruise last year (different ship), but with a bunch of friends/family, just couples… no kids. (You can see my post on that here: Our Royal Caribbean Cruise Review) We loved it so much and knew our kids would think it was the best family cruise, so that's what this cruise was all about… the kids. Our family.
When you first board the ship, assuming the rooms are ready, you're allowed to go check out your stateroom. The kids are always anxious to do that and afterwards, hit the buffet (of course!)
If your budget allows, I super-recommend getting a balcony room. Oh, they're SO much better!! It's so nice to be able to sit out and relax on your private deck, without having to go up to the top of the ship, amongst a ton of people, to see the view. If you're cruising with kids, it also offers a little escape for either them or you… those rooms can get a little cramped!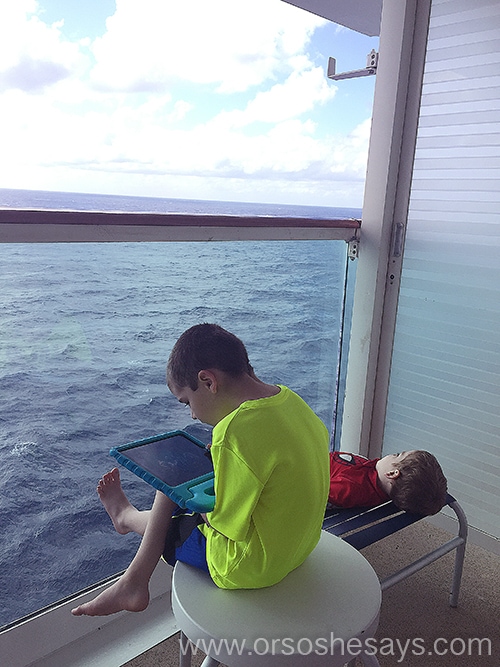 My kids loved hanging out on the decks. (Because my family is pretty big, we had to get two rooms, but they were next door and we were able to open the conjoining door in the room and on the deck. We had 4 people in each room.)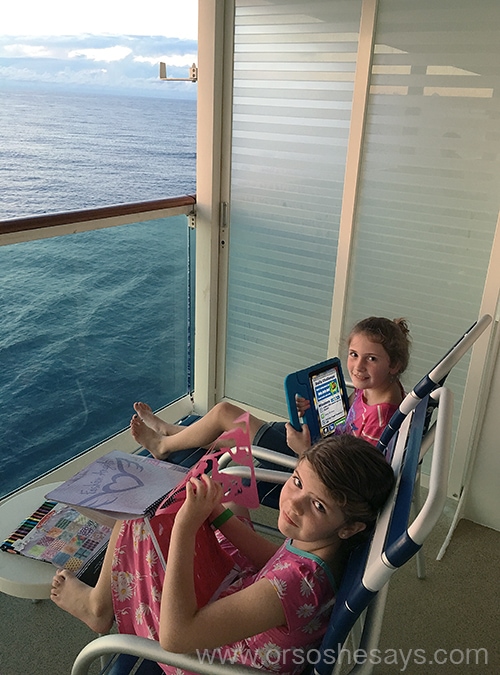 Here's a little tip for cruising with kids… have some activities to do IN the room. Sometimes mom and dad just want to relax and kids get bored easily. Our older kids could just wander around the ship (and often did) and our younger kids COULD go to the Kids Club, but they didn't really want to. So, there was definitely some times where coloring books and iPads came in handy.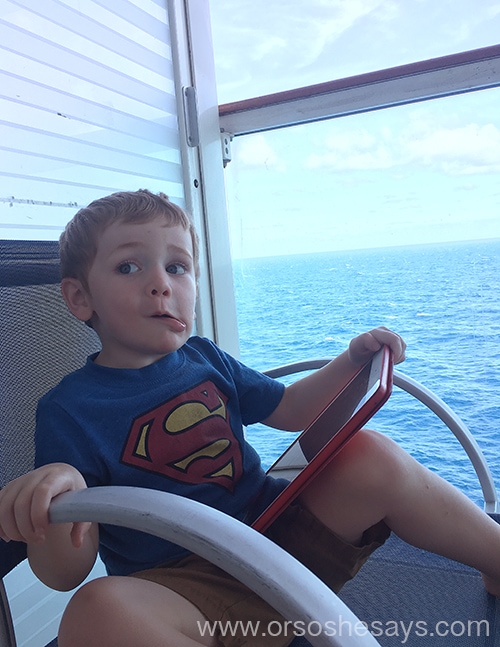 Why didn't they want to go to the Kids Club?? Well, the problem was that they have them segregated by age groups, which makes sense, but my kids wanted to be able to go with each other. They seemed to all just barely miss the age group that would allow them to go with their closest sibling. But, really it wasn't a big deal. They did a lot of swimming, made a million pizza and ice cream runs, watched movies on the big screen, and lots more.
Our last cruise with the kids, a Disney Cruise, the kids were ALL OVER the Kid's Club and the activities going on. But, Royal Caribbean just couldn't seem to entice them. Needless to say, the cruise was still a BIG winner and the kids had a blast!
Anyway, back to loving balcony rooms…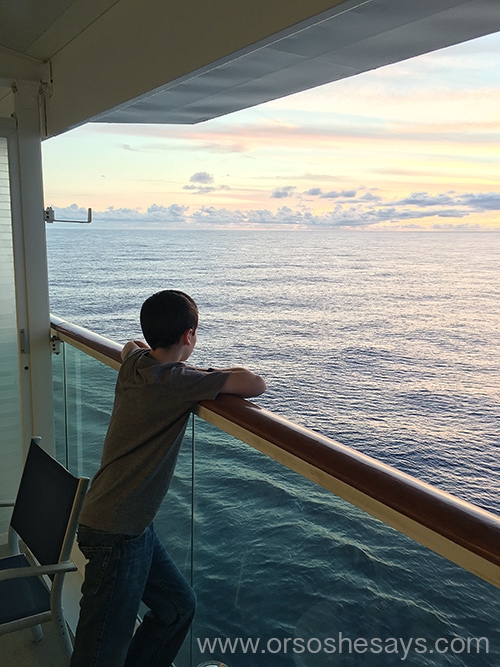 We have also stayed in inside cabins as well as ocean view. You can still definitely have a fun cruise no matter what kind of room your in… but, I'm just saying… if you can…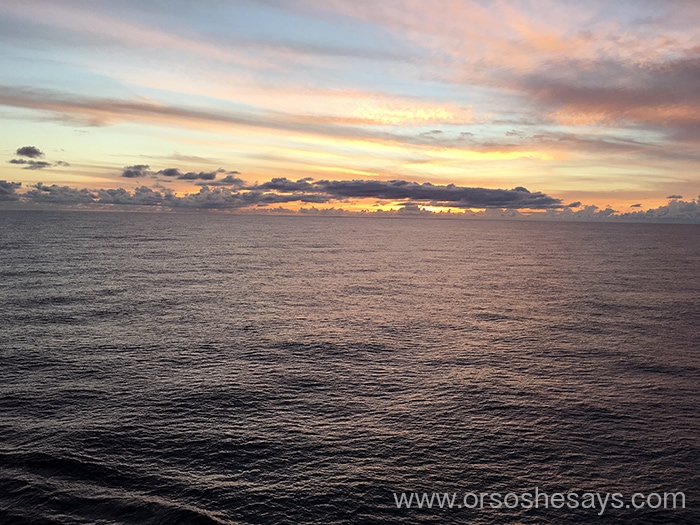 So, this cruise was a 7 day cruise to Roatan, Belize, and Cozumel. As much fun as it is on the ship (and super relaxing), it's always nice to get off and check out these amazing countries in God's beautiful world.
Our first stop was Roatan, the largest of the Honduras' Bay Islands. Like our 'couples cruise' before this, we knew we had to take our kids to see the monkeys. Both times we have gone here, we have opted NOT to book our excursion through the ship. We simply get off the ship, hop on a taxi (or van, in our case) and ask them to take us to Viktor's Monkey Business. Actually, I think the cruise ship doesn't even offer an excursion here. They have a monkey-seeing excursion but it's at a busier location and more involved. I love that this is a little more private and personalized.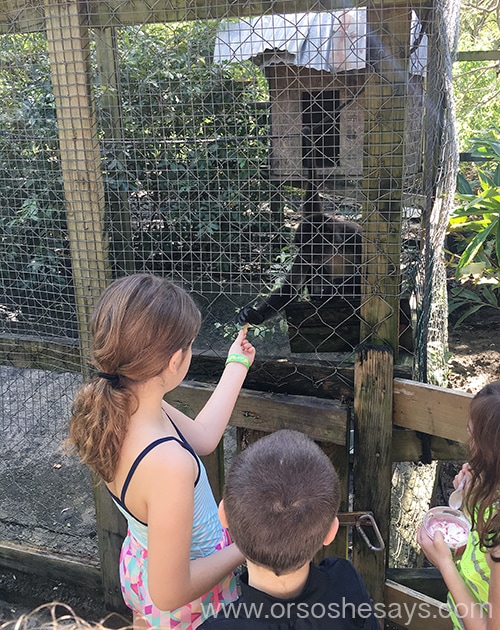 You don't need to worry too much about booking excursions from companies that aren't a part of the cruise line. At all of the ports, the non-cruise line excursion hosts are just as concerned about getting you back to your boat on time. They rely on vacationers for their living and care A LOT about your experience and your potential review on their web site. Get Away Today usually refers me to Shore Trips for booking my excursions and I've always had a great experience with them. But, they can tell you more about that.
Anyway, but like I said… for Roatan, no excursion booking necessary. Just grab one of the hundred taxi drivers that will anxiously be waiting for a customer.
So, Viktor's Monkey Business… so fun! It's $10 a person (at least, when we went.) The best part is that they take your family or little group inside of the monkey cages. You stand in a circle and the monkeys leap all over you!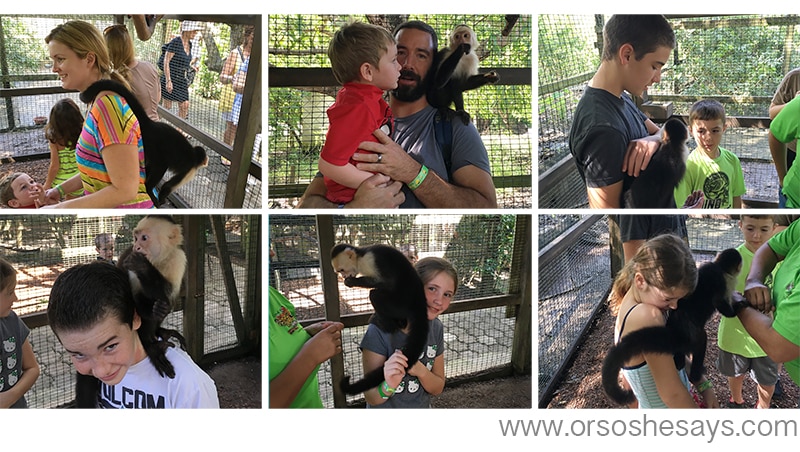 Joey wasn't too excited to hold a monkey, so he opted to stand outside the cage and watch. 🙁 But, he came in for the family picture later. 🙂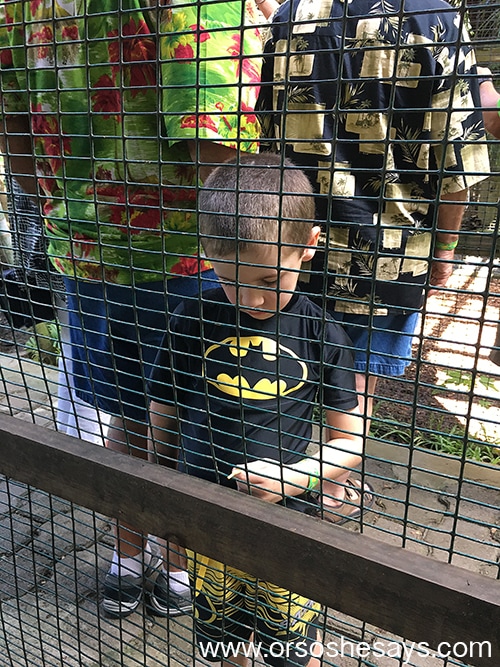 Okay, so this is the part where I almost lost my life to a monkey. Based on being in the monkey cages last year, I knew it was a smart idea to hide my sunglasses…. so, I stuck them in my husband's backpack. Sure enough, one of the monkeys had the bright idea that there was probably something great and expensive hiding in there. He unzipped the bag and got his hands right on my sunglasses. I panicked and said something to him about… oh, not touching those. Okay, so you don't boss around a monkey. If a monkey wants your sunglasses, you let him have your freakin sunglasses. He lunged at me, making this loud hissing noise, showing me all of his teeth. I'm already a little animal-leery, so I squealed and set the cage in commotion… the handler had to come settle the situation and needless to say, I still have my sunglasses.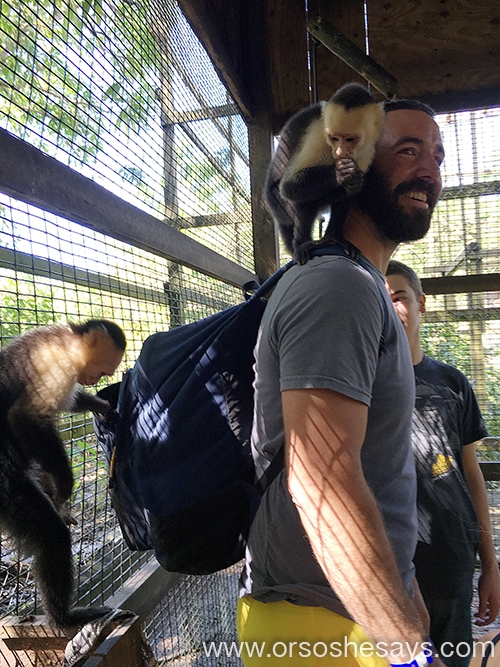 We coerced Joey to come inside the cage for a family picture! I sure love this family of mine.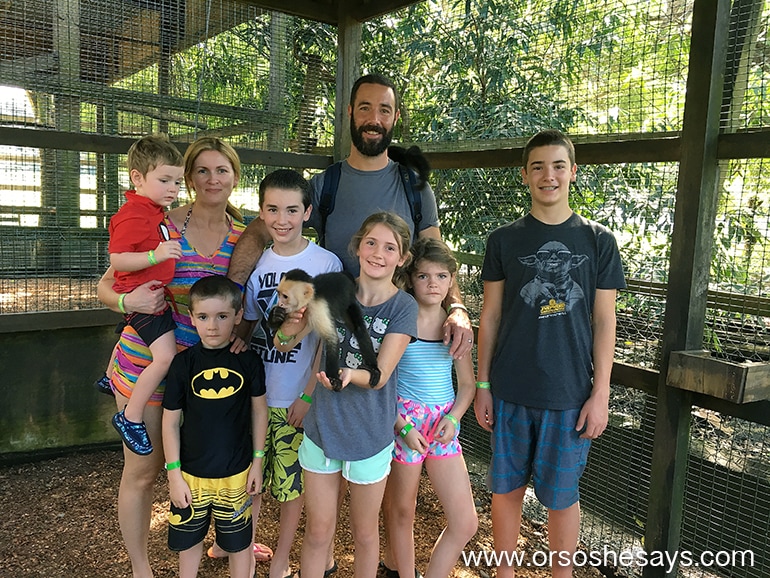 Besides the monkeys, Viktor's has some really neat birds and other animals.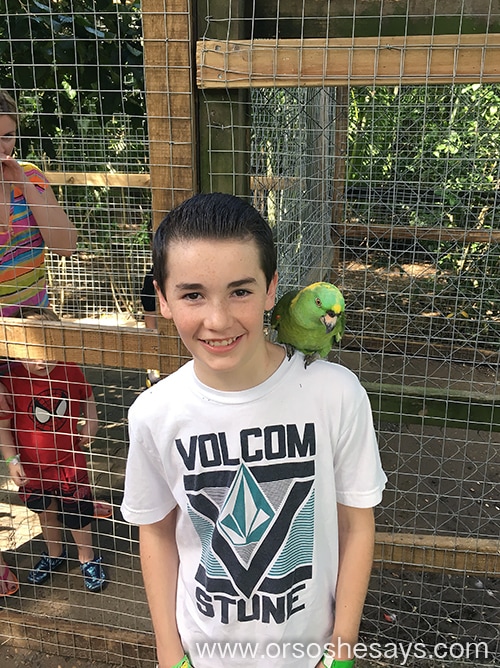 The whole experience takes about an hour and is SO worth it. If you make it to Roatan, be sure to check out Viktor's Monkey Business!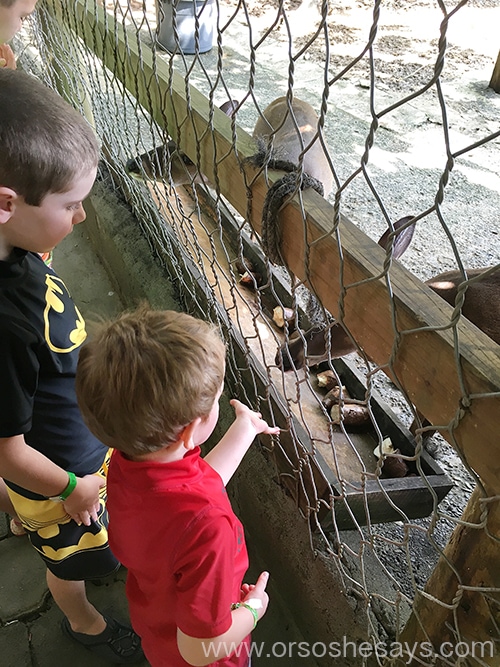 After we finished up with the animals, we had our taxi driver take us to a local beach. It ended up being the same beach we went to on our last cruise, and once again, wasn't my favorite one. I wish I could remember the name, so I could tell you! But, it has a nice restaurant right next to the beach and a resort-ish pool that you can use too. But, to be able to use the pool and beach, it's $15 dollars per person. To access just the beach, it's $10 dollars per person. The beach is SO crowded and there are people trying to sell you things constantly… it's definitely not very relaxing. So, next time we're in Roatan, I think I'll do a little research on less crowded beaches to visit after the monkeys.
After a long day of adventures, it's always nice to head back to the boat and relax. We would either get cleaned up and head to the dinner service, or we would skip it and hit the buffet in our casual clothes.
Let's talk for a minute out the dinner service. It takes FOR-EV-ER. The older kids loved it because it gave them the opportunity to order steak and seafood, things they aren't used to ordering. But, sitting for almost 2 hours at the table with little kids can get a little crazy. We would usually come armed with iPads, but other times we would just convince the kids that the buffet would be a better option. It was much faster and there are tons and tons of options.
On the other hand, when we cruised as couples last year, we enjoyed our long dinners because we got to sit around and chat, as we hadn't seen each other a lot of the day. Anyway, you really don't need to feel bad about skipping your dinner service. Remember, it's your cruise. Sometimes you have a super friendly server that you really get to know and you feel bad not showing up one night, but just do what works for you. They're used to not having all of their tables filled for a variety of reasons.
Here's Joey, literally sleeping at the table!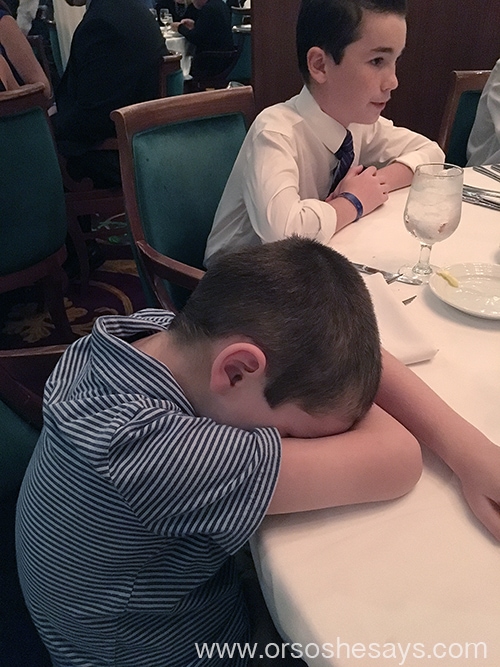 Joey's favorite reason to go to dinner was that when we came back to our room, it would be sparkling clean with a towel creation waiting for him. He would always race down the hall, high five our stateroom attendant, and be the first to burst in the door to see what animal awaited him. It was super cute!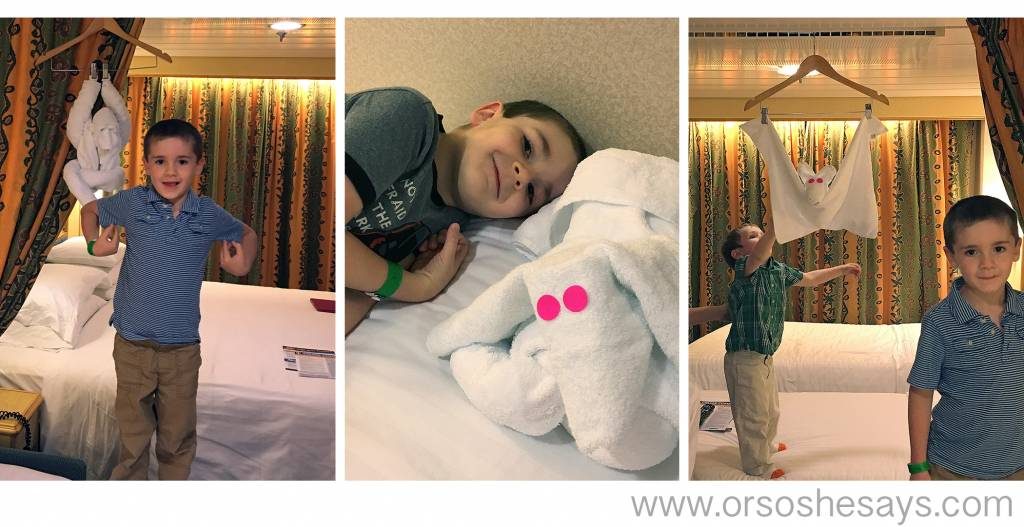 I loved having no work to do… it's such a great feeling! At least for a week, and then I'm ready to get back to it. But, gosh… just crashing on the bed, listening to the sound of the ocean, no laundry, no dishes, watching 5 episodes of Forensic Files in a row, what is this life??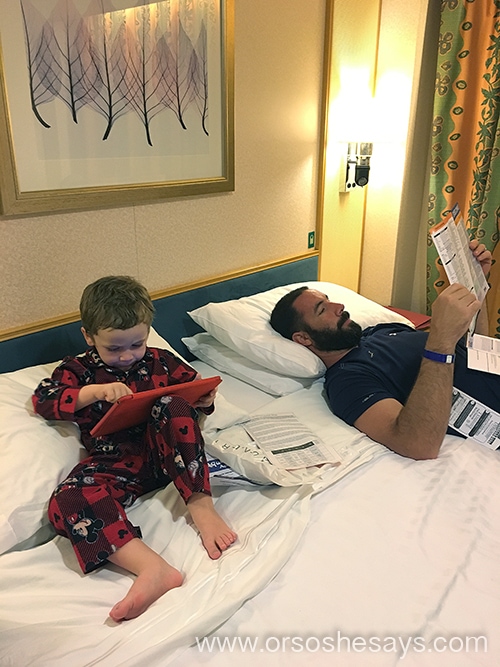 This was one of those moments I was wishing I had my nice, big, fat camera, rather than a camera phone. But, look how sweet these brothers are…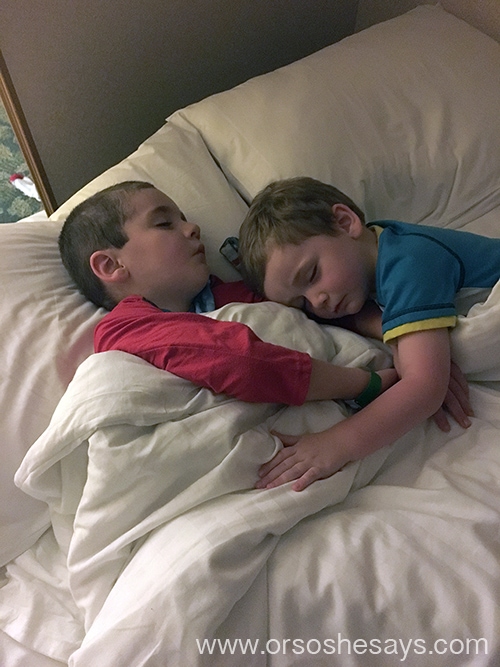 Alright, check out Part 2! I'm going to give you the scoop on what we did in Belize, Mexico and around the boat… and believe me, it's fun stuff. We're talking, the best family cruise, remember? The kids ALL say what happens next was their favorite part… stay tuned!
The Best Family Cruise, Part 2 and The Best Family Cruise, Part 3
In the meantime, check out some of my other family vacation cruise reviews:
Our Disney Cruise (I love the experience on Disney ships! Although, I loved the ports best on the cruise in this post.)
Our Royal Caribbean Cruise Review (this is the 'couples cruise' I mentioned several times, to the same ports.)
Our Alaskan Cruise (this was a cruise I did just with the hubby.)
Disney Everything! Page (this is a link where I share all vacation posts on the blog… it's not just Disney vacations, either. But, there's tons of tips for those! This is a great one to pin for future reference. Well, they all are.)