Hi, I'm Margot, aka The Damsel in Dis Dress. I'm the "teacher" at the Old School, a blog about doing things the old fashioned way. Come see me at
www.mynewoldschool.com
. I'm a mom of seven great kids and two adorable grandsons, and I'm excited to say a lifelong dream will be coming true for me next summer. My first novel is being published. YAY! My writing blog lives at
www.margothovley.com
.
The Damsel wishes she could say she created this severely burned-on mess so she could post about it. In other words, on purpose. Sadly, that is not the case.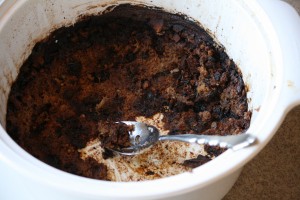 The Damsel's crockpot insert is now completely, utterly, physically and emotionally encrusted with a deep layer of concrete food.
How can a person clean something like this without resorting to nasty oven cleaner or a jackhammer? How did Grandma do it in the old days?
The Damsel will show you, dear students, but you must be patient. This is not a process that allows immediate reuse of the pan. The upside is: there shall be NO SCRUBBING.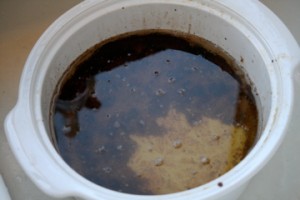 Scrape any loose food out. In the Damsel's case, this took only a few seconds because she did such a thorough job of burning this pan. Cover with hot water and add about a cup of vinegar. Set over low heat for at least 3 hours, or overnight.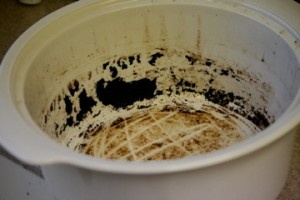 Pour out the sludge. The Damsel was happy to see most all the burned-on food slide right out, with the exception of a few stubborn places. She restrained herself from chiseling at these spots, because this is a no-scrubbing experiment.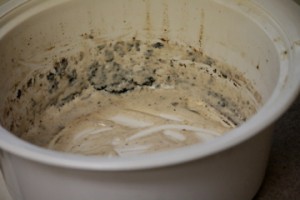 Dump some baking soda in the pan and add just enough water to make a thick paste. Spread on the stubborn spots with a generous hand. Put the lid on and try not to think about this pan for a "while." A few hours. Maybe overnight again.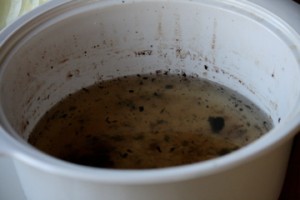 Next, the Damsel put a few cups of water in the pan and poured in another cupful or so of vinegar. Mostly because she knew it would fizz with the baking powder and that would be fun. Pretty much all the glued on food floated free. Whee! Then she washed it in her normal way with dishwashing liquid because she needed closure.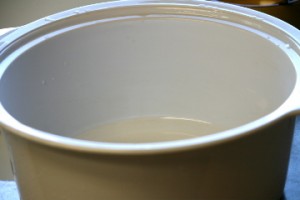 Two days later the pan is usable again. The Damsel supposes chiseling could have sped up the process, but she really wanted to see if it could be done sans elbow grease. Time consuming, perhaps, but easy…and old-schoolish, with no yucky chemicals.
The same method can be used with non-crockpot pans…just use your stovetop for the first step, on the lowest of the low settings. The Damsel has also heard of people repeating the steps if necessary.