So, let's just get this whole 'yummiest EVER' thing out of the way up front. You see, this Chocolate Eclair Cake recipe is nothing new to the world of Pinterest, but most of the recipes out there use Cool Whip and Instant Pudding, which is completely fine, but will not yield you the yummiest eclair cake ever. So take heed, my friends, and give this a try. It was carefully crafted by the experts at Cook's Country, who meticulously create and test recipes with the best ingredients, until they're perfection. In the past week, I have made this THREE times! After we devoured the first one, which my husband declared as one of his 'new favorites,' I figured I would make couple more for a family get-together. Once again, a hit. Those folks at Cook's Country sure know what's up.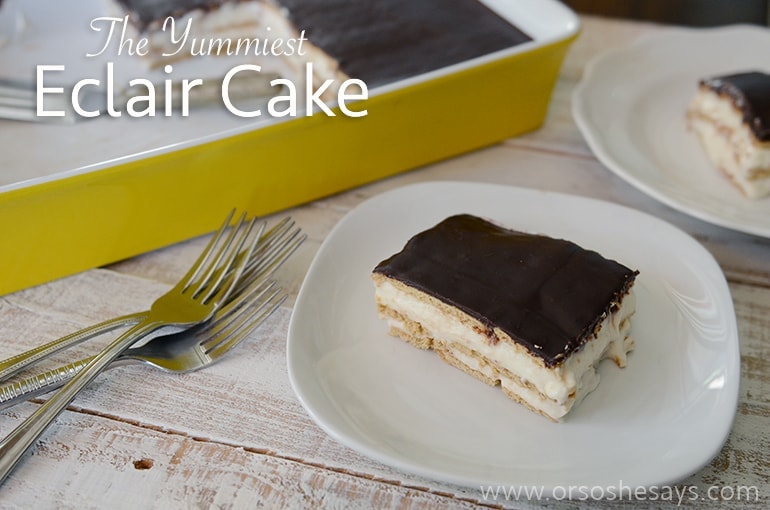 The only thing I changed from their recipe, after I made it the first time, was to eliminate one of the teaspoons of vanilla. It called for 5, but I did 4. Five seemed a little too much for me. I also cut the salt in half, but only because I had salted butter on hand, not unsalted, and I didn't want to overdo it. Other than that, I followed the recipe exactly.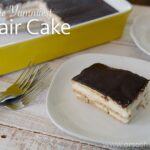 The Yummiest Chocolate Eclair Cake Ever
This Eclair Cake is extra special because it's made WITHOUT the usual Cool Whip and Instant Pudding... instead, everything is homemade and even more delicious! I suggest making this 6 or more hours before serving, so it has plenty of time to chill and set.
Ingredients
1 1/4

cups

sugar

6

TBS

cornstarch

1

tsp.

salt

or 1/2 tsp if using salted butter

5

cups

whole milk

4

TBS

unsalted butter

Or salted, but use less salt. See above.

4

tsp.

vanilla extract

2

TBS

water

1 1/4

tsp.

unflavored gelatin

2 3/4

cups

heavy cream

chilled (and divided in recipe)

14

oz.

graham crackers

Keebler Grahams are voted best for baking

1

cup

semisweet chocolate chips

5

TBS

light corn syrup
Instructions
Combine sugar, cornstarch, and salt in large saucepan.

Over medium/high heat, whisk in milk until smooth and bring to a boil. Be sure to not let any mixture burn on the bottom of the pot.

Once boiling, reduce heat to med/low and cook until thickened and large bubbles appear on surface.

Turn off heat and whisk in butter and vanilla.

Pour pudding in bowl and place plastic wrap directly on the surface of pudding.

Refrigerate for at least 2 hours.

Stir water and gelatin together in bowl and let sit about 5 minutes, then microwave for about 20 seconds.

In a separate bowl, use a hand mixer to whip 2 cups heavy cream until soft peaks form.

Add gelatin mixture to whipped cream and whip again until stiff peaks form.

Whisk 1/3 of the whipped cream into the chilled pudding, then gently fold the remaining cream until combined.

Cover bottom of 13x9 inch baking dish with a layer of graham crackers, breaking to size where necessary.

Spread half of the pudding cream mixture on top, add another layer of graham crackers, then the rest of the pudding, then one more layer of graham crackers.

Microwave the chocolate, remaining 3/4 cup cream, and corn syrup in bowl, stirring occasionally until smooth.

Let the chocolate mixture cool until about room temperature, about 10 minutes, then pour the glaze over top layer of graham crackers, carefully smooth until completely covered.

Refrigerate for 6 to 24 hours before serving.
If you liked this recipe, be sure to check out these ones too:
Chocolate Fudge S'mores in a Mug
Whatchamacallit Chewy Cereal Bars