Hello! It's Allison from Tips for Family Trips. I'm straying from travel this month to share an idea that has made dinner easier for my busy family.
My family's dinner will be delivered to our house tonight, and not by Pizza Hut. I participate in a dinner exchange with two other families where each of us cooks the same meal for all three families on one night each week. Wednesday is my night to cook. Friday is my family's pizza night, and we often spend weekends traveling or with extended family. These days, I only cook on two nights each week.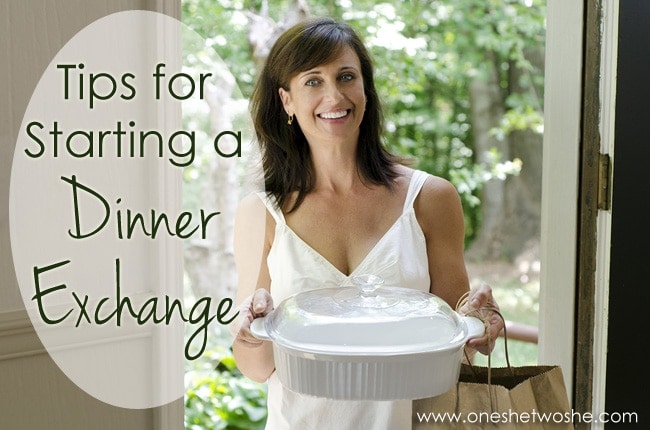 Here are my tips for starting your own dinner exchange:
1. Who is in?
This is perhaps the biggest key to success. If you are not well matched with your partners, the exchange may not work for long. Consider inviting friends who:
Live in your neighborhood
Are reliable and easy to contact
Have about the same size family as yours

Have similar tastes as your family (healthy, meat and potatoes, ethnic, vegetarian…)
2. How many nights?
Two to four weeknights will probably work best for most families. We have three members in my dinner exchange and we share meals on Tuesdays, Wednesdays and Thursdays. There has been some discussion about inviting a fourth person for Mondays, but that feels like too much for me. It does take more time to prepare and deliver three meals than one, and sometimes the leftovers begin to overflow the fridge. Plus, Monday is now my night to try new recipes or enjoy favorite meals that do not multiply and travel well.
3. Set ground rules
Establish expectations up front, to avoid confusion and disappointment. If your family has preferences (no tuna casserole, please!) or allergies, make them known. Here are the ground rules for our dinner exchange:
Open communication – Need to take a week or two off? Need to trade days? No problem. Just give the other members reasonable notice.
Main dishes only – We only prepare main dishes, not sides. If it is a meal that is usually served over rice or pasta, we often include that with the meal or bring the pasta ready to cook.
Quantity – One full recipe per family. I multiply everything by three.
Timing – Take-and-bake dinners such as lasagna, enchiladas or casseroles are usually delivered before 4:00 p.m. so they can be cooked whenever they are wanted. Hot meals such as soups, skillet or crock pot meals are usually delivered by 5:00 p.m., but no later than 6:00 p.m.
Equipment – We usually deliver meals in re-usable glass or plastic dishes. We purchase enough dishes for three meals and write our names on them and they always find their way back home, often filled with another meal. For crock pot meals, the cook borrows crock pots from the owners a day in advance.
You get what you get and you don't throw a fit – I have picky kids, but whatever shows up at our house for dinner is what we're eating. I can always ensure that there will be a starch, vegetable and fruit that they like. For me, the advantages of the exchange outweigh the disadvantages, even when we don't love every dish that comes through the door.
A bonus benefit I have received from our dinner exchange is that it has increased my ability to serve others. I used to see needs in my neighborhood and think that I should take over a meal, but dinner at my house was never organized enough for me to share with others without an assignment. Now that I am already cooking in bulk and delivering meals once a week, it is not much trouble to cook and deliver one more meal for someone in need. I take dinner every Wednesday to a friend with terminal cancer and her husband. I enjoy the nice things they say about my cooking so much that I'm pretty sure it's they who are serving me.
Ready to start your own dinner exchange? Here are some great shareable recipes from Or So She Says…
Black Bean Soup ~ 10 Minute Dinner!
Lots more dinner ideas can be found on the Recipes tab (at the top of the blog), under 'Main Dish'. Be sure to click 'Next Page' at the bottom right for even more main dish recipes.
* For more dinner exchange ideas, check out these posts: Freezer Meals, Starting a Dinner Exchange and Freezer Meal Tips.