Hi to all my friends at Or so she says… I'm so happy to back again to share another delightful recipe with you.
I love the fall because it's pretty hard to beat a fresh-off-the-tree apple and of course I find lots of yummy ways to bake them up too!
This recipe has two of my favorite fruits— Apples and Banana's. I love them both so combining them in a delicious and healthy loaf was a no brainer…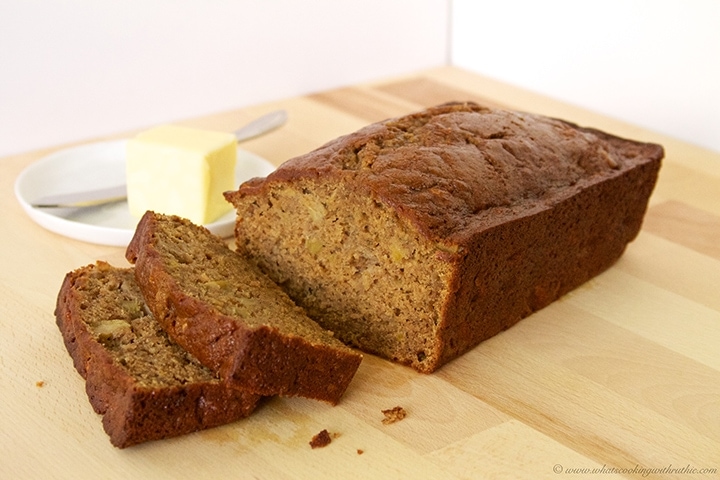 This Apple Banana Bread recipe is going to be come a fall favorite around your house too! Promise.
You're going to absolutely LOVE these Apple Banana Bread loaves! Then you'll be SO happy that you have two loaves and not just one to enjoy… they freeze well for up to a month, just in case you wanted to save some for later 🙂
I have exciting news… My first ebook Family Favorites Cookbook is now available
Click on the links below to check it out:
Kindle/ Amazon: http://www.amazon.com/Cooking-Ruthie-Favorites-Cookbook-ebook/dp/B00FEX1C28/
iTunes for the iPad: https://itunes.apple.com/us/book/whats-cooking-ruthie-family/id693265329?ls=1
You'll love every recipe in the cookbook- PROMISE.
AND while were thinking about delicious recipes…
Slow Cooker Macaroni and Cheese
I hope you enjoy these delightful recipe ideas and have a lot fun making them AND eating them too!
I'd love to connect with you at www.whatscookingwithruthie.com or
Pinterest, Facebook, Twitter and Google +
Happy Cooking,