It is so hot here in AZ! We are so ready for this heat to be over with. But we know we've got a long ways to go. That's how it is every summer. 🙂 To keep cool we like to swim and eat lots of popsicles. We LOVE popsicles at our house, but sometimes all that sugar is not so fun for mom. I thought it would fun if we made our own popsicles and adding some fruit and cutting back on the sugar to make it a little more healthy. The kids and I made these tropical peach popsicles with real peaches and fruit juices to combat our summer heat.
Look how pretty they are with their chunks of peaches and pineapple. Why are homemade popsicles so much fun? These were a great summer activity for the kids. We used a popsicle mold that needed 8 hours to freeze before the popsicles were ready. But you can use any popsicle mold you have or even paper cups and popsicle sticks would work.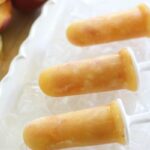 Tropical Peach Popsicles
Fresh peaches and pineapple make these tropical peach popsicles sweet, delicious and perfect for those hot summer days.
Ingredients
2

medium peaches peeled and sliced

2

TBL sugar

1

TBL lemon juice

1

small can crushed pineapple

1

cup

orange juice

1

6 oz can pineapple juice

Popsicle molds
Instructions
In a medium bowl add peach slices, sugar and lemon juice.

Mix together and put in fridge for 30 minutes.

Use a potato masher and break up peach slices into smaller pieces.

Add remaining ingredients.

Pour into popsicle molds.

Freeze for 8 hours.

Enjoy!
They could hardly wait to get their hands on these tropical peach popsicles. And they didn't mind the yummy chunks of fruit inside them. Even my hubby was a fan of these.

What are some of the things you like to do with your kids to beat the heat and summer boredom?
Here are some other fun ideas that we've tried:
Rootbeer Float Ice Cream in a Bag
Host a popsicle stand with these tips and printables
Looking for more summer treats? Try these recipes on OSSS:
Homemade Popsicles ~ Molds and Recipes
And here are some delicious peach recipes for good measure!
Baked Peach Almond Oatmeal Cups
Fresh Peach Homemade Ice Cream