Love a good Thanksgiving tradition? Happy Thanksgiving Week OSSS readers ! It's Brooke from Blissful Roots. I hope today finds you happy, calm about your cooking/hosting endeavors, and very grateful for all the many blessings you enjoy. I can say I'm happy, very grateful, and even calm, but that's because I'm not hosting this year! We are headed to my 88-year-old grandma's house for Thanksgiving. She has ALWAYS hosted, and will not give it up. Some of my fondest holiday memories surround grandma's Thanksgiving tables (we always need more than one), and I love that my boys now get to experience it too!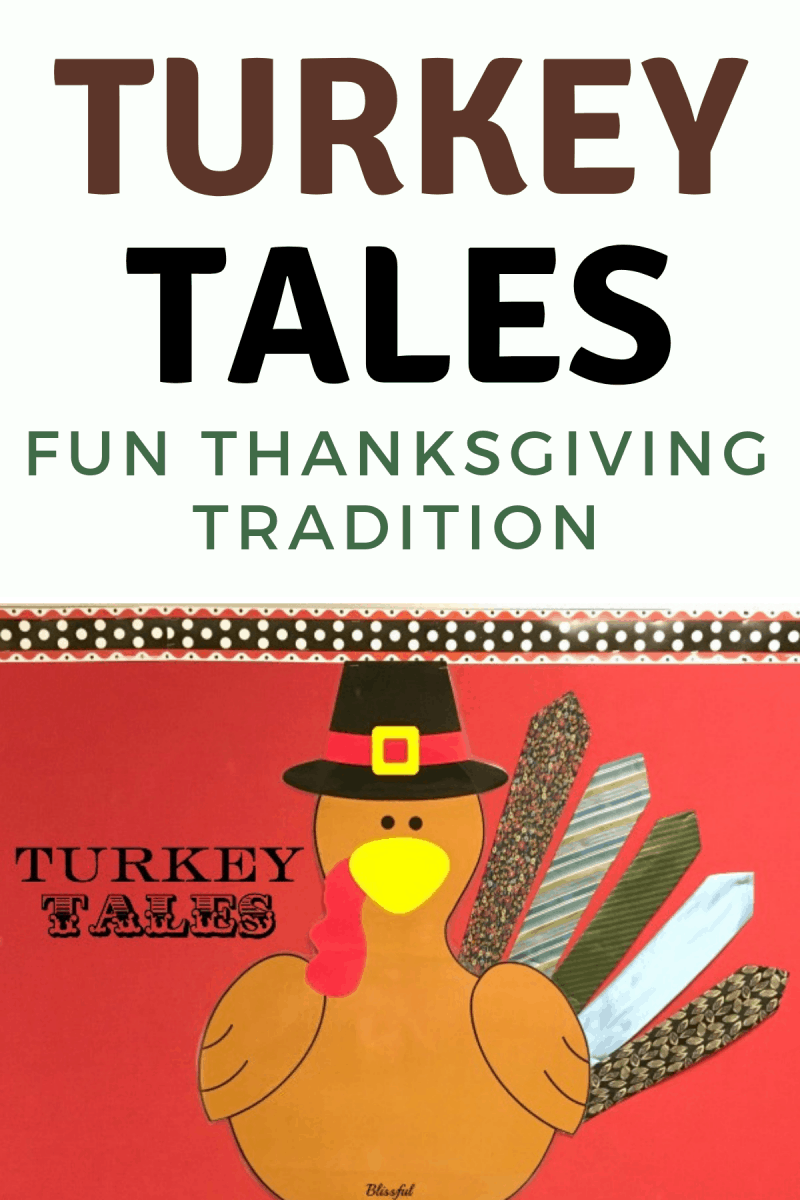 Well, I know everyone is in Christmas mode now, and Thanksgiving ideas are tucked away for next year, but I HAD to share one last idea with you for a fun Thanksgiving tradition! We did this when I was a first grade teacher, and I am the PTA president at my boys' school this year, so I decided to give it a try at their school. Now, I know you all aren't teachers or PTA presidents, but this simple activity can be adapted for ANY setting. It would be a terrific Thanksgiving Day activity to do with your family!
Turkey Tales Thanksgiving Tradition
Here's how we have done this Thanksgiving tradition in a school setting:
We send home a calendar for the month of November with a note explaining Turkey Tales. We ask dads, grandpas, uncles, older brothers, basically any adult male to come into the classroom, read a story/tale to the class, and then bring a neck tie to leave with the class to pin on the turkey as the turkey's "tale" feathers. Isn't he cute? This picture is from Mrs. Kerr's first grade classroom. They have one side filled, and have more dads scheduled to come in before the month is over. I cannot tell you how thrilling it has been to be at the school and watching these males walk into the front doors carrying their book and tie! And kids LOVE having dads come into the classroom!! Moms seem to be there all of the time, and as much as they love and appreciate us, we're often times not quite as new and exciting.
So, if you don't have a school setting to use this activity for, then use your own home! You could ask the males to bring a story and tie for Thanksgiving Day and have it for a time filler on the big day, or every family member could do some sort of story and either bring a tie, or decorate their own tale feather and add to the turkey. So many possibilities! Just make it work for your own family.
We ordered our turkeys from Oriental Trading (click here for the direct link), but you could put your kids to work making your turkey as well. The turkey from Oriental Trading are over 36″ tall, so they are large and work well for bulletin boards, but may not work out in a home setting.
Come and visit me for a Thanksgiving Playlist (I'm in LOVE with it!!), fun Thanksgiving Eve traditions, and our family favorite thankful game (free printable) we play around our Thanksgiving table every year. Happy Thanksgiving to all of you!!
OSSS Thanksgiving Fun Picks!
Llama Llama Gives Thanks
Mens Pumpkin Pie Thanksgiving Shirt Small Brown
Fun Express Rubber Duckie Ducky Thanksgiving Ducks Party Favors Set (12 Piece)
Simply Genius (3 Pack Plush Roasted Turkey Hats Thanksgiving Halloween Costume Holiday Trot Accessory
This Is America, Charlie Brown: The Mayflower Voyagers
Little Critter: Just a Special Thanksgiving
Thanksgiving Turkey Apron
Thanksgiving Bingo Game – 24 Players
BESTOYARD Thanksgiving Photo Booth Props Happy Thanksgiving Day Photo Prop Kit Decorations 34pcs
For more Thanksgiving tradition posts, check out:
Raspberry Ribbon Pie & A Thanksgiving Pie Tradition
First Thanksgiving Dinner – Fun Family Tradition with Printable Invitation
Thanksgiving Kids' Table Idea – Scavenger Hunt