White Chicken Chili with mozzarella biscuits is sure to warm you up as we get through the last of winter.
Hi there! I'm Mara, the author of the food blog Put On Your Cake Pants, and I'm delighted to be here and to share my first recipe with all of you today. As you may have guessed from the name of my blog, I have a serious sweet tooth, but my recipe repertoire extends well beyond dessert! I gravitate towards dishes that are flavorful yet unfussy, because I very much believe that you don't need to spend a ton of time or money to create an amazing home-cooked meal.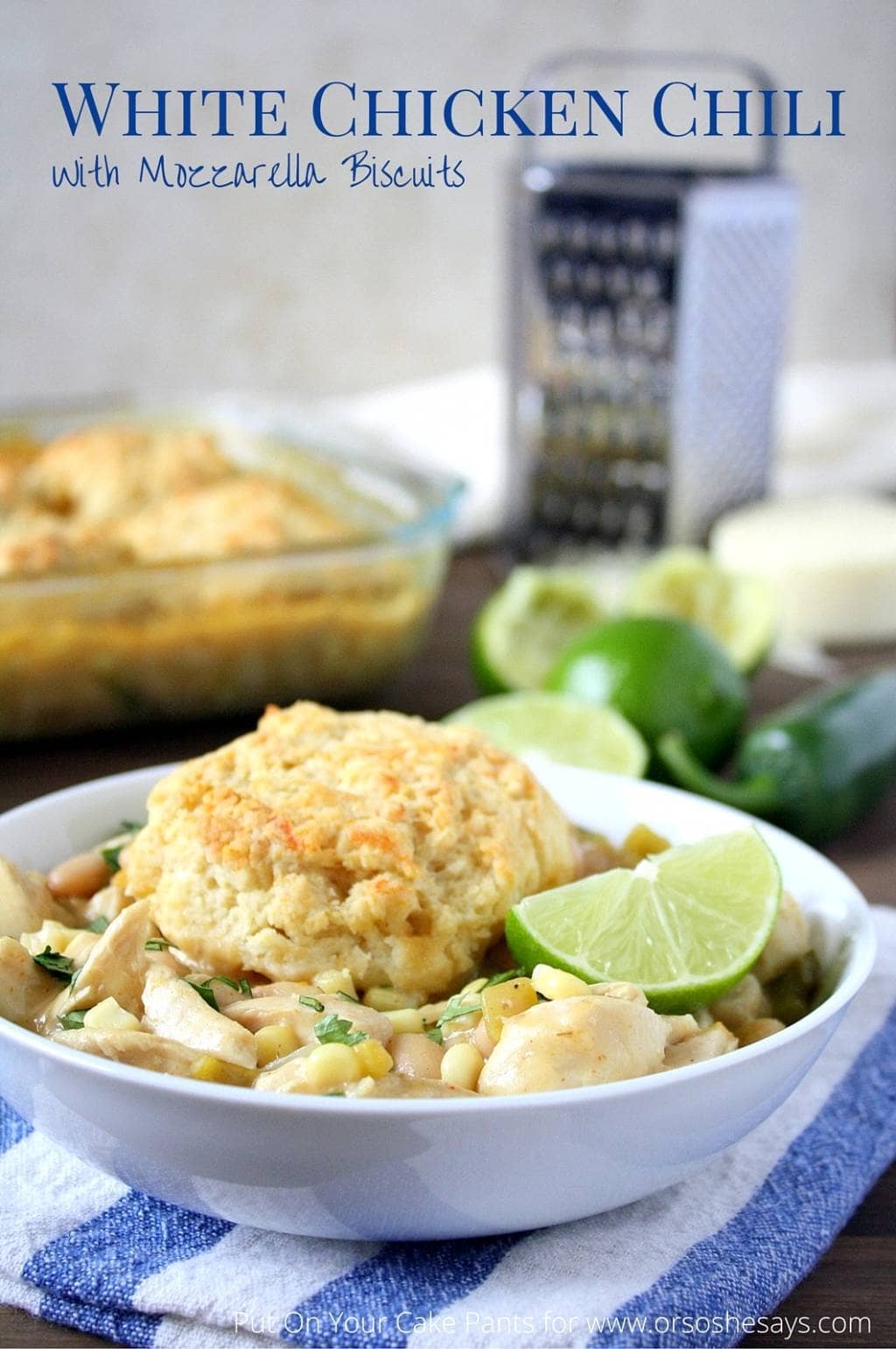 I grew up in a family that made eating dinner together a priority. The meals didn't have to be fancy—in fact, the less fancy, the better, since I was a pretty picky eater as a child!—but the food was always nourishing and it gave us a chance to catch up with one another as we ate. That's one of the reasons I love cooking: home-cooked meals bring people together and add some cheer to their day!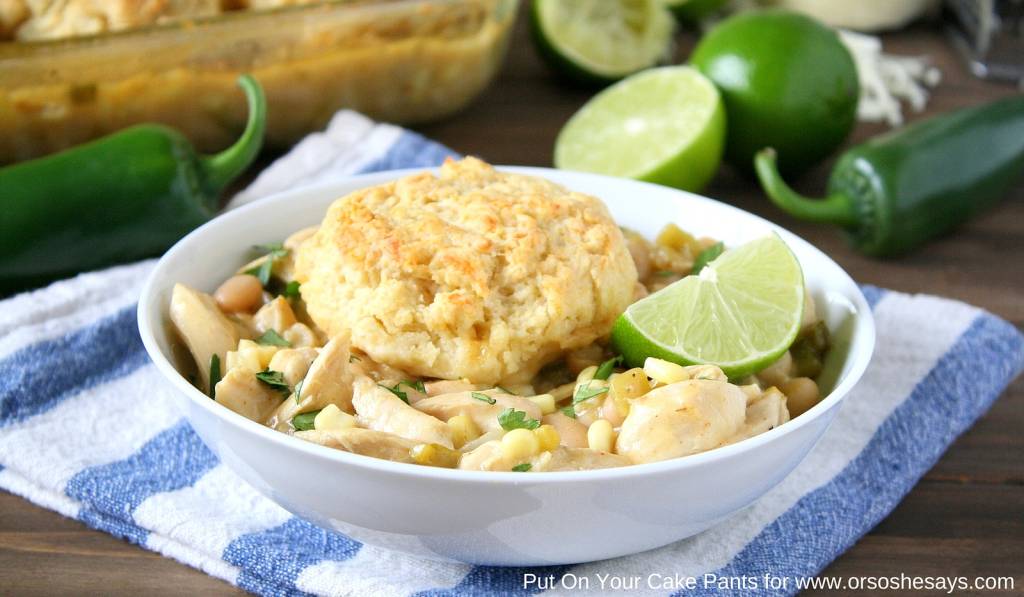 If you're looking for a hearty and healthy meal that will surely make you smile, this white chicken chili has got you covered. Don't let its name fool you, though; it may be bordering on the monochromatic, but it has tons of flavor! Tender chicken, creamy white beans, and sweet corn make up the bulk of the chili, with some green chiles and a jalapeño thrown in for a touch of heat, as well as a splash of lime juice. As if that weren't already enough to entice your taste buds, there are also mozzarella biscuits on top, which for me were pretty much love at first bite. They're fluffy, they're cheesy, AND they're super simple: no food processors, pastry cutters, or rolling pins. You only need a mixing bowl, a spatula, and about five minutes! Wholesome and straightforward to prepare, this white chicken chili will warm you from head to toe!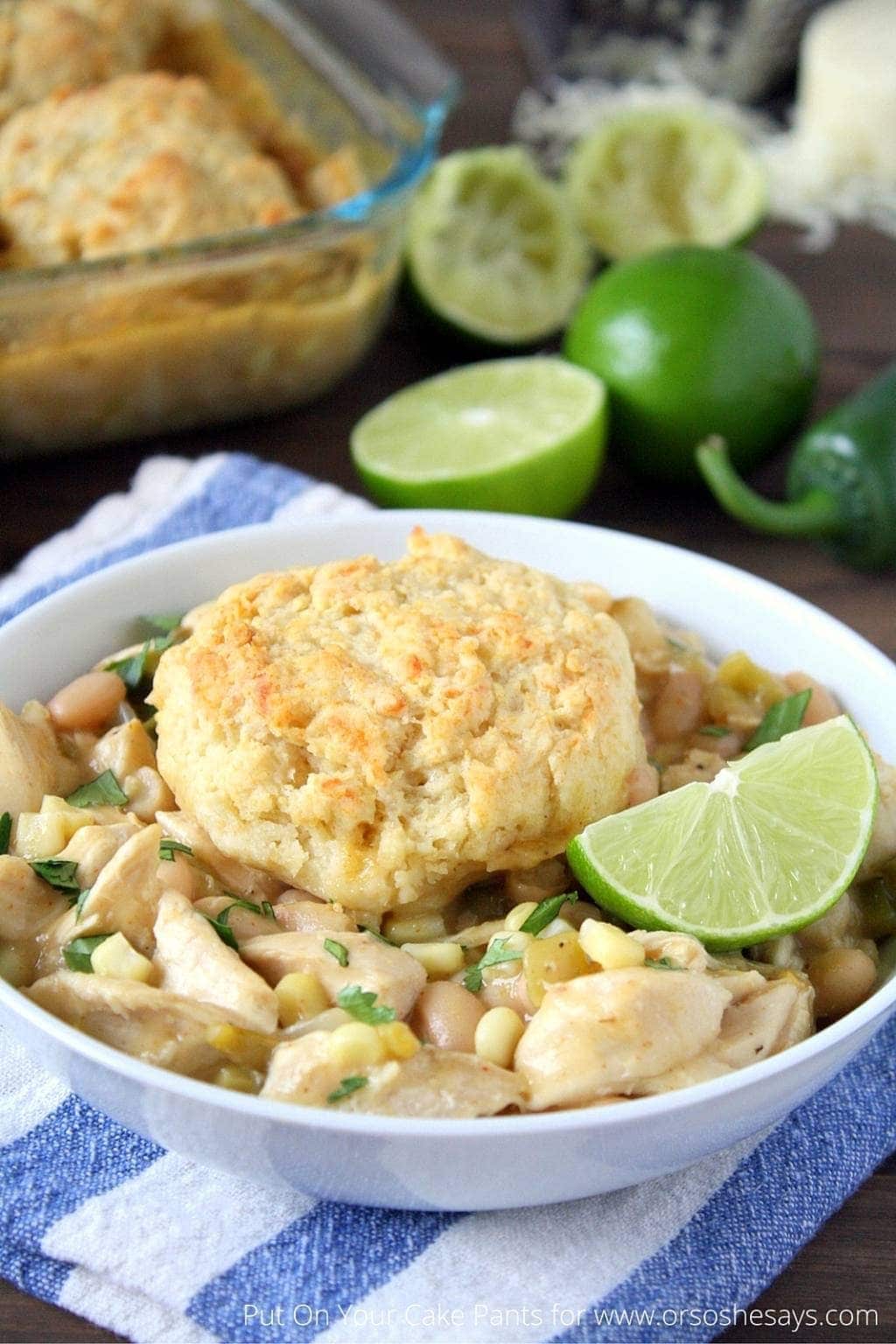 Looking for more dinner ideas? Here are a couple of my other favorites:
Chicken pot pie with biscuits
Chicken and sweet potato tamale pie
Just in case you're wondering what's up with all the chicken, it's because I'm a semi-vegetarian. I eat vegetarian about half of the time, and the rest of the time, I mostly stick to chicken and turkey (although I've been known to order the occasional cheeseburger when dining out!). My blog offers a variety of vegetarian recipes in addition to those with chicken and turkey, and there are some vegan and dairy-free recipes as well.
I'll be back again next month with another recipe! In the meantime, feel free to check out my blog, Put On Your Cake Pants, or visit me on Facebook, Instagram, Pinterest, or Twitter.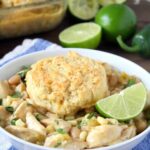 White Chicken Chili with Mozzarella Biscuits
Ingredients
Chili
3

cups

shredded cooked chicken

1

medium onion

diced

1

jalapeño pepper

seeded and diced

2

cloves

garlic

minced

2

tablespoons

vegetable oil

1/2

cup

flour

3 1/4

cups

chicken broth

2

tablespoons

lime juice

2

teaspoons

cumin

1/2

teaspoon

cayenne

3/4

teaspoon

dried oregano

4

ounces

canned green chiles

2 15-

ounce

cans Great Northern or white kidney beans

rinsed and drained

1

cup

white corn

1

teaspoon

salt

1/4

teaspoon

pepper
Biscuits
2

cups

flour

3

teaspoons

baking powder

1

teaspoon

salt

1

cup

grated mozzarella

2/3

cup

milk

1/3

cup

vegetable oil
Garnishes (optional)
cilantro

grated mozzarella
Instructions
Preheat the oven to 400 degrees.

In a stockpot or large skillet, heat the vegetable oil for 1-2 minutes over medium heat. Sauté the onion and jalapeño until softened, about 4 minutes. Add the garlic and cook for 1 minute. Stir in the cumin, cayenne, dried oregano, and green chiles and cook for 3 minutes.

Add the flour to the stockpot and stir the contents until the flour has coated everything thoroughly. Add the chicken broth and lime juice and bring to a boil. Cook for 2-3 minutes, or until the sauce has thickened. Remove the stockpot from the heat and stir in the chicken, beans, and corn. Transfer to a 9x13 baking pan and bake for 15 minutes.

While the chili is in the oven, prepare the biscuits: combine the flour, baking powder, and salt. Stir in the grated cheese. Pour the milk and oil into one measuring cup, and then add to the flour mixture at the same time. Stir the mixture until it forms a rough dough. Divide the dough into 8 pieces and gently flatten into rounds. After the chili has baked for 15 minutes, place the flattened rounds of biscuit dough on top and bake an additional 15 minutes, or until the tops of the biscuits are golden. Serve and garnish individual portions with cilantro and mozzarella.
Recipe Notes
You can prepare the chili ahead of time and refrigerate until ready to bake. Since the heat from the chili helps bake the underside of the biscuits, if the chili is going into the oven after being refrigerated, I recommend baking the biscuits separately at 475 degrees for 10-12 minutes. You can also then reduce the baking time of the chili itself to 20 minutes.
Adapted from Boulder Locavore
For more delicious and hearty recipes, try these:
Rich Roasted Tomato Basil Soup
Family Friendly Minestrone Recipe