Today's Picks: White Elephant Gag Gifts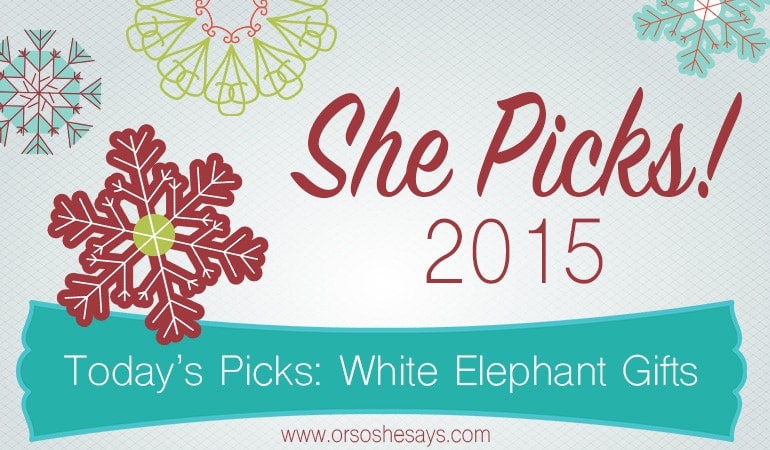 Before we start, let me just say that this post may offend those who like to be offended, have never pooped, and those who love unicorns. It's a gag gifts post and it's all for fun. So, read at you're own risk. Love ya!
Pick #1
It's time to face the facts, people. Unicorns are not that great. In fact, they're jerks. For the first time ever, they are being exposed for what they really are in this Unicorns Are Jerks coloring book. Get the facts. Tell your friends. Stop glorifying unicorns.
Pick #2
Folks, if you haven't heard of the Squatty Potty, you're missing out. So, get your sphincter out of a knot and get a load of how smooth this contraption is. The Squatty Potty mimics the natural squatting position and opens the colon for fast elimination. Lest you think this is all a big joke, check out the 2,000 5-star reviews touting it as a life-saver. A game-changer. A must-have. That's right. For a little further explanation, and since unicorns are jerks anyway, watch their YouTube video of the unicorn completely humiliating himself to educate you on the Squatty Potty.
Pick #3
I want this for my husband… I dream of man buns (the hair kind.) Just teasing. But, a wad of hair for $7.99?? That's a steal! Lots of colors to choose from.
Pick #4
This 'Ring for Toilet Paper' bell would come in so handy at my house for all of my unobservant children.
Pick #5
I know my grandpa is always up for a good razzing! He would get a kick out of this Senior's Texting T-shirt! ATD = At the doctor, TTML = Talk to me louder…
Pick #6
I'm kinda loving this rake back-scratcher! It would be nice to get my hair brush back. 😉
Pick #7
I'm sorry. But, this… Kama Pootra.
Need more White Elephant gag gift ideas?
Check out the Gag Gift Ideas from past years:
Gag Gifts for White Elephant Parties ~ She Picks! 2011
White Elephant Gifts ~ She Picks! 2014
and even more can be found here at Gift Idea Central (where ALL past and future gift ideas on 'Or so she says…' are saved. It's a MUST-PIN!!)
Lots more great gifts on my favorite shopping site, Amazon!
See you back tomorrow and the rest of this week for more She Picks!
Previous She Picks! 2015:
Gifts for Babies and Toddlers ~ She Picks! 2015
Gifts for Girls, Ages 3 to 6 ~ She Picks! 2015
Gifts for Boys, Ages 3 to 6 ~ She Picks! 2015
Gifts for Girls, Ages 7 to 12 ~ She Picks! 2015
Gifts for Boys, Ages 7 to 12 ~ She Picks! 2015
Gifts for Teenagers ~ She Picks! 2015
Gifts for Women ~She Picks! 2015
Gifts for Men ~ She Picks! 2015
Gifts for Grandparents ~ She Picks! 2015
Gifts for Families ~ She Picks! 2015
Stocking Stuffers ~ She Picks! 2015