It's the time again! Welcome to the blog hop featuring 10 of our favorite creative bloggers. This month's theme is all things HONEYCOMB. There are so many fun projects to choose from- recipes, decor, Halloween related and more! We'd love for you to pin the collage below, check out Utah's Top 10 Family Activities (the Beehive State) and then go see all the other fabulous projects created by some of our friends. Make sure to come back on the 10th each month.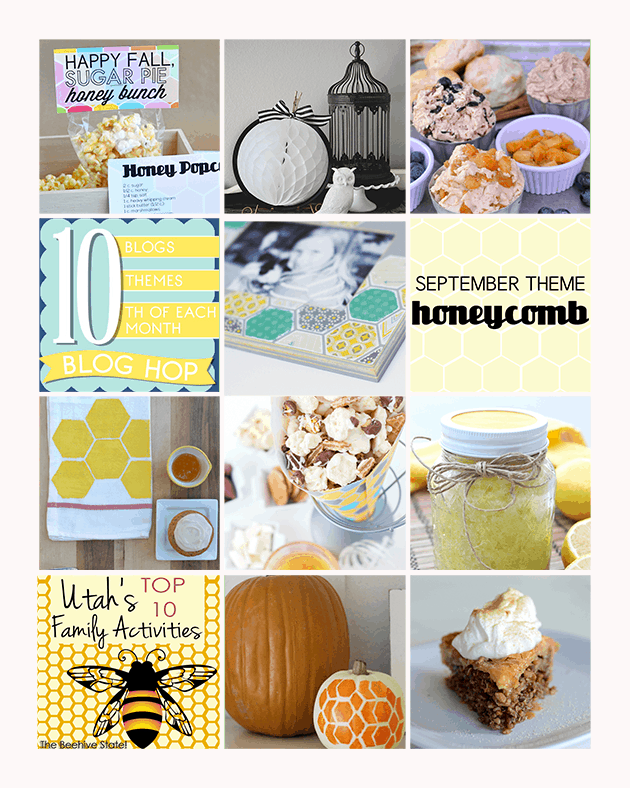 To see each fantastic HONEYCOMB project up close, join the Blog Hop!

Utah is known as the Beehive State because when Mormon pioneers settled the state, they strived to emulate the industry and perseverance of the honey bee. The state was originally named Deseret, which means "honey bee." When Brigham Young pulled his wagon over the hill and declared "This is the right place," he was probably not thinking about family entertainment. Over 160 years later, however, The Beehive State is one of the best places to find high-quality, family destinations.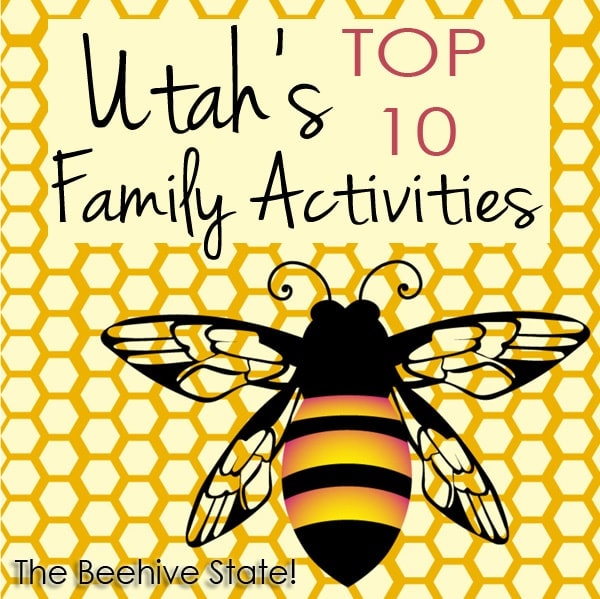 Here are my top 10 family activities in Utah (that you can only find in the Beehive State):
Arts, Culture and History
1. Temple Square
Temple Square in downtown Salt Lake City is a symbol of Utah's history and culture. It's a must-see for most tourists. For families, Temple Square offers young children lots of room to explore in a peaceful and beautiful setting. Older children and teens will likely enjoy exhibits in the visitor centers on Temple Square, and the museums surrounding it.
2. This is the Place Heritage Park
This is the Place Heritage Park in Salt Lake City is an opportunity to experience what it would have been like to live in Utah in the late 1800's. Families can visit historic buildings, learn about the people who lived there, and try their hands at pioneer chores and crafts.
3. Utah Shakespeare Festival
At the Utah Shakespeare Festival in Cedar City, families with older children can see a variety of great plays, by Shakespeare and modern playwrights, each summer and fall. For families with younger children, the free Green Show features songs, dances and comedy from Shakespeare's time on an outdoor stage.
4. Golden Spike National Historic Site
Golden Spike National Historic Site, located west of Brigham City, is the place where the Transcontinental Railroad was completed in 1869. Today, families can see replicas of historic steam engines and see them run. Reenactments of the Last Spike ceremony are performed on weekends, and the Junior Ranger program is especially good here.
Sports and Outdoors
5. Hike to Delicate Arch
No matter how many pictures you've seen of Delicate Arch, nothing compares with the feeling of seeing it in person. The 3-mile round trip hike in Arches National Park is strenuous at times, especially in hot weather, but it is family-friendly. My children (ages 8 and 5) hiked to Delicate Arch with no problems and they ask when we can do it again.
6. Visit the Great Salt Lake
Yes, the "lake stink" and insects near the Great Salt Lake are uninviting, but the unique experience of floating or kayaking in the Great Salt Lake is worth it.
At Antelope Island State Park in Davis County, visitors can also play on a sandy beach, appreciate a gorgeous sunset from Buffalo Point, see a herd of bison, fly a kite, hike, bike, or enjoy the best stargazing along the Wasatch Front.
7. Utah Olympic Park
No list of Utah attractions would be complete without mentioning skiing and other winter sports. It's hard to pick just one winter resort.
The Utah Olympic Park is the venue where the ski jumping, bobsled, and other events were held during the 2002 Winter Olympic Games. It is open year-round and has an Olympic museum, tours, aerial shows, and adventure activities such as aerial clinics, zip lines and bobsled rides.
Dining
8. Fry sauce
Fry sauce is so addictive that some Utahns make their own when they leave the state. Most local burger joints have their own secret recipe for this ketchup-and-mayonnaise mixture. Arctic Circle claims to have invented it, and this local chain is one of the best places to try it.
9. Pastrami burgers
According to the New York Times, the pastrami burger was not invented in Utah, but nobody else loves it like we do. Crown Burger popularized the sandwich and it has been copied by a number of other local burger chains – many Greek-owned – throughout the state.
10. Chuck-a-rama
"The choice is yours…" Yeah, you know the rest. Chuck-a-rama is a Utah chain buffet restaurant and it is popular among Utah families for good reason. Everyone gets exactly what they want – and lots of it – for a reasonable price. Personally, I like that I can put some fresh fruit and veggies on my kids' plates before they can head for the all-you-can-eat french fries, mac-n-cheese and dessert.
Which uniquely Utah experience is your family's favorite?