Hi Everyone! It's Nicky here again from Kitchen Sanctuary.
This 15 minute meal is one of my absolute favourite speedy meals and I'm happy to be able to share it with all of you.
Although my family aren't too fussy when it comes to dinner time (ok, we're all human dust-bins really), I do struggle with meat-free dishes.
If I serve up a completely vegetarian dish, I usually find everyone looking up expectantly, waiting for me to put the 'main dish' on the table.
I've had a couple of great successes (my Cheesy Veggie burgers were a real hit – no bacon required yay!), but for the most part, trying to get one or two meat-free dishes in per week simply isn't going to happen.
Now fish – I know I can get away with. So meals like this Creamy Tomato Fettuccine with Salmon are my savior in trying to reduce the meat consumption just a little.
The fact that I can have it on the table in 15 minutes is a major bonus too.
You know that time when everyone comes home, you're all starving and the takeaway menu looks like the quickest option? That is the perfect time for this meal. Get your pasta on, and in the time it takes your kids to put their shoes and coats away, clean their lunchboxes and wash their hands, dinner is ready. Everyone can be happily slurping away at their pasta with you knowing they've got a good, healthy meal inside them.
I use dried fettuccine for this recipe, but you can use shop-bought fresh if you like, or even make your own (although that will certainly take you over 15 minutes!!). Have you ever tried making your own? We made some Burrito Ravioli a couple of weeks ago and the kids had loads of fun – whilst covering my whole kitchen in flour.
For this recipe you need to get your pasta on straightaway, and the rest of the meal is made whilst the pasta is cooking. The salmon fillets are poached in the tomatoey sauce, so they're lovely and tender.
Towards the end of cooking the salmon is gently flaked – or you can leave it whole if you prefer – and the cooked fettuccine is mixed in before serving.
I like to top this meal with a little bit of shaved parmesan and some finely sliced spinach.
Never used spinach as a topping before?
Give it a try, it makes a nice change from the usual parsley or chives.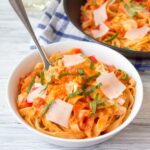 15 minute Creamy Tomato Fettuccine with Salmon
Ingredients
300

g/7oz dried fettuccine

Boiling water

1

tbsp

olive oil

1

red bell pepper

chopped

2

cloves

garlic

peeled and crushed

3

tbsp

tomato puree

1

tsp

sugar

pinch

of salt and pepper

2

x 400g/14oz tins chopped tomatoes in juice

4

small boneless fillets of salmon

they can be skinless or have the skin on

4

tbsp

double/heavy cream

To serve:

A few baby spinach leaves

chopped into strips

Shaved Parmesan

Black Pepper
Instructions
Fill a large pan with boiling water from the kettle, bring it back to the boil and add the fettuccine. Cook for 9-10 minutes then drain in a colander.

Whilst the fettuccine is cooking, heat the oil in a large frying pan. Add the chopped pepper and garlic and cook for 1 minute whilst stirring to prevent the garlic from burning. Stir in the tomato puree and sugar, then pour in the chopped tomatoes. Bring to a gently bubble whilst stirring, then lay the salmon fillets on top (skin side down if they have the skin on). Place a lid on the pan and leave to cook for 5 minutes.

After 5 minutes take the lid off the pan and gently break up the salmon (if the salmon has the skin on you should easily be able to remove it at this point). Add the cream to the pan and gently stir, then place the lid back on for another 3-4 minutes. Remove the lid and gently stir in the cooked and drained fettuccine until the pasta has been coated in the sauce.

Divide between four bowls and sprinkle with spinach, parmesan and black pepper.
For more quick dinner fixes, check out these posts on OSSS:
25 Delicious Freezer Meal Recipes
And for more delicious vegetarian dinners: