Very rarely do I do craft posts. I love, love, love crafting but with 5 little kids…it will just have to wait. But, I know you gals would love some ideas for cheap, easy, and cute
Christmas
crafts…so, I found 3
crafts
that I did back when I had two kids. These are SO easy that I don't even have to do a picture-by-picture tutorial for you (besides, no time to remake them). They are pretty self-explanatory…but, I'll explain.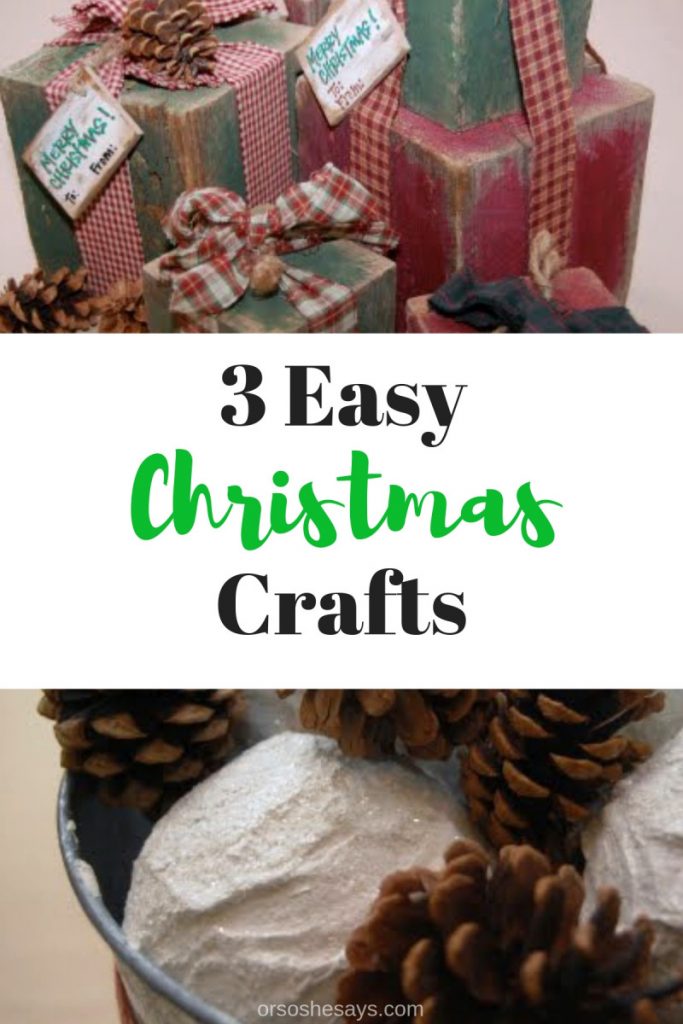 Christmas Craft 1: Rustic Wood Presents
I love these things, they were sooo easy to make. I just found some old timbers. Or, you can buy some cedar timber at Home Depot. Chop them into block sizes (all different sizes). Then I just rubbed paint on the sides with a rag. I ripped up some strips of flannel fabric to make bows. Then I cut out little pieces of wood for the tags. Drilled a hole in them and tied them on with jute rope. Easy. If you don't have a chop saw, Home Depot will make cuts for you OR ask the neighbor.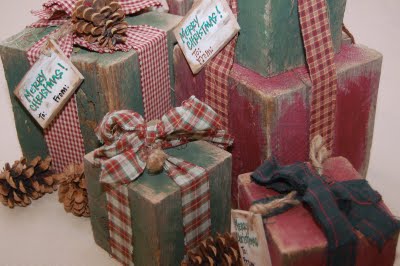 These can also be done in a non-rustic way. Just use pine timbers or wood that isn't rough and paint them solid. Put cute ribbons around and you're done….or decoupage scrapbook paper on the sides. Anyway, I have these buggers all around my house, easy decoration!
Christmas Craft 2: Homemade Snowballs
Make your own snowballs that don't melt! Keep them in a bucket or place them in groups around your other Christmas decor.
So, for these you just need some "Joint Compound" (for drywall) that is found at the hardware store. Also, a big thing of clear (preferably the really fine) glitter….and some Styrofoam balls. This is kinda messy! So, I just rolled the Styrofoam balls in the joint compound and then sprinkled the glitter all over the ball. It's totally cool if they aren't all smooth. Set them out on wax paper to dry. I can't remember how long it took these to dry…but, I think it was a good 24 hours. Done.
Christmas Craft 3: Doorbell Wreath
I just bought a small twig wreath at the craft store, some fat-A jute rope, large tin bells, and some flannel scraps to make these. I'm certain you don't need me to explain this…but, basically just tie the bells to a long line of rope and then to the wreath. Hot glue any secret spots to help hold it in place. Get a scrap of flannel, wrap it around the tied rope (to hide the knot on the wreath) and then tie a bow. Easy. I made lots of these for gifts…back in the days.
Supplies for these Christmas crafts:
3 Inch Solid Wood Blocks Pack of 3
Darice Craftwood Blocks – Unfinished Wood – Assorted Sizes – 5 pieces
Wood Block 2-1/2 inch x 5 inch, Natural Unfinished Craft Wood Blocks For Age Blocks and Photo Blocks (2-1/2
Apple Barrel Acrylic Paint Set, 18 Piece (2-Ounce), PROMOABI Assorted Colors I
10 Assorted Flannel Fat Quarters – Color Crush Plaids Stripes Hounds-Tooth Bright Plush Yarn-Dyed Flannel Fat Quarter Bundle M225.01
KINGLAKE 328 Feet Natural Jute Twine Best Arts Crafts Gift Twine Christmas Twine Durable Packing String for Gardening Applications
Bulk Package of Natural Pinecones-24 Pack
USG 381466 Lightweight All Purpose Joint Compound Ready Mixed
Dap 12374 Crack Shot Spackling Interior/Exterior, 1/2-Pint
Spectra Glitter, Clear, 1 Pound
Juvale Craft Foam Balls – 2-Pack Large Smooth Round Polystyrene Foam Balls Art Craft Use – Makes DIY Ornaments, Wedding Decor, Science Modeling, School Projects – White, 5.9 inches in Diameter
Floracraft Styrofoam Balls, 2-Inch, White, 12 Per Package
Reynolds Kitchens Parchment Paper (SmartGrid, Non-Stick, 50 Square Foot Roll, 3 Count)
OTC Large Galvanized Buckets (1 dozen) – Bulk [Toy]
Behrens 0GS Galvanized Steel Round Tub, 5 Gallon
Pack of 2 Metal Red and Black Decorative Christmas Sleigh
National Tree 10 Inch Decorative Collection Sleigh with Cones and Red Berries (DC3-178-10SG)
Darice 8 Inch Grapevine Wreath
12 IN. GRAPEVINE WREATHS
Darice Bulk Buy DIY Crafts Grapevine Wreath Natural 8 inches (6-Pack) GPV8
Craft Kits And Supplies 200 Christmas Jingle Bells
Jumbo Silver Jingle Bells,(24 pieces)
WEICHUAN 4PCS 1.5
Bedsure Christmas Throw Blanket Jacquard Shu Velveteen Throw with Snowflakes Soft Cozy and Warm Sofa Blanket, 60
A Pentatonix Christmas
A Christmas Tree Miracle
I&S 6 Pairs Christmas Socks, Printed Fun Colorful Festive, Crew Sock Women Colorful Fancy Design Soft (Christmas #2)
Reindeer Tealight Candle Holders Metal – Set of 6 – Best for Christmas Holiday
Twinkle Star 300 LED Window Curtain String Light Wedding Party Home Garden Bedroom Outdoor Indoor Wall Decorations, Warm White
DII Cotton Christmas Holiday Dish Towels, 18×28
4TH Emotion Christmas Red Black Buffalo Check Plaid Throw Pillow Case Cushion Cover Holiday Decor Cotton Canvas Sofa 18 x 18 Inch Set of 2
Have Yourself a Merry Little Christmas Holly 5 x 10 Wood Plank Design Hanging Sign
NUOLUX Merry Christmas Jute Burlap Banners,Christmas Banner,Christmas Decoration
Bright Zeal 8.5
Handmade Swedish Tomte, Santa – Scandinavian Gnome Plush Figurines – Gnome Elf Ornaments Home Christmas Decoration – Thanksgiving Day Gift – 16 Inches, Grey
Melissa & Doug Countdown to Christmas Wooden Advent Calendar – Magnetic Tree, 25 Magnets
How the Grinch Stole Christmas! (Classic Seuss)
How to Catch an Elf
The Christmas Wish (Wish Series)
Little Blue Truck's Christmas
The Polar Express
Construction Site on Christmas Night
Pete the Cat Saves Christmas
Tim Burton's The Nightmare Before Christmas Pop-Up: A Petrifying Pop-Up for the Holidays
God Gave Us Christmas (God Gave Us Series)
The Berenstain Bears and the Joy of Giving
Other DIY posts you might like: