Family Night is a family activity that can be held once a week. Set aside one night when your family can all be together. Teach your children important values and how to be better family members, people, citizens, friends, and neighbors. The dedicated time together is the most important thing. Once a month, I will share a Family Night lesson on the blog to help get your creativity rolling and to inspire us all to try a little harder to be a little better.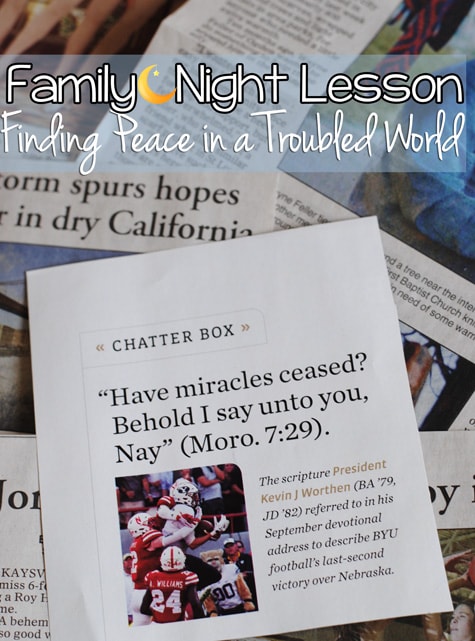 I had so many fun ideas bouncing around in my head about what to post for an exciting Christmas Family Home Evening. But, every time I started to write about something festive and fun, I felt prompted instead to talk about finding peace. One of the most beautiful messages of the Savior's birth is that he came to this world to be the Prince of Peace.
We live in a troubled world. There is scary talk on the news about terrorists, bad economies, natural disasters, and financial crisis. It is easy to feel scared. Even small children have to deal with hard things! They have bullies and lockdown drills at school. They feel pressure to be perfect. They are bombarded with suggestive advertisements and have easy access to drugs and alcohol. It would be easy to be overcome with anxiety, fear, and despair.
When we come to know our Savior, Jesus Christ, He becomes a buffer between us and the chaos of the world. His redeeming love replaces fear with hope, anxiety with peace, and despair with joy. When Christ was born, the angels came down from the heavens and sang, "Glory to God in the Highest and on Earth peace, good will towards men." His birth was a beautiful gift of peace. What a special gift it was.
Lesson:
Talk to your family about fear. Ask them about a time when they have felt afraid. What did it feel like? What types of things make them feel afraid?
Assure them that, at times, we all experience fear. But, these feelings are not from our Heavenly Father. He wants us to be happy and to experience joy!
Read the scripture: 2 Timothy 1:7 "For God hath not given us the spirit of fear; but of power, and of love, and of a sound mind."
He knows us, He loves us, and He knows our needs. He will comfort us if we will only trust in Him and His goodness and wisdom.
A few weeks ago, I heard about the terrorist attacks in Paris, France. It was such a horrible thing. My heart was heavy and I felt so sad. This scripture showed up in my Facebook feed, and the feeling of sweet and total peace immediately overcame me.
Read the scripture: John 14:27 "Peace I leave with you, my peace I give unto you: not as the world giveth, give I unto you. Let not your heart be troubled, neither let it be afraid."
You can use this printable to share on your Social Media feeds or to display in your home.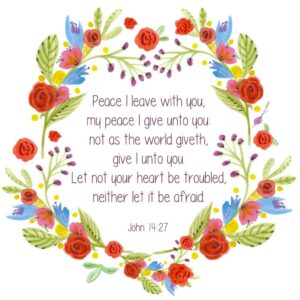 Ask the question: How is the peace that Jesus offers different that what the World can offer?
Possible Answers:
Jesus offers lasting peace. His peace is knowing that we have a purpose in this life. We know that we will be with our families forever and that we have a loving Heavenly Father who is aware of us and our trials. We have the Holy Ghost to help us feel safe and comforted. Jesus atoned for our sins, so that we can be clean and whole.
The World only offers short-term peace. It is temporal happiness, not lasting happiness. There is an expiration date on the peace the world gives.
Faith in the Savior gives us special power. When we feel His love in our hearts, we have the ability to push fear away.
Read the Scripture John 16:33 "These things I have spoken unto you, that in me ye might have peace. In the world ye shall have tribulation: but be of good cheer; I have overcome the world."
Explain that Jesus Christ overcame the world when he suffered for our sins in the Garden of Gethsemane. He did it so that we could be happy!
Ask the question: What does it mean to, "be of good cheer?"
Possible Answers: We have a positive outlook on situations. We smile. We take time to laugh. We look on the bright side of life. We are kind and offer service to others. We are happy!
Object Lesson:
Turn off all the lights to create total darkness. You may need to go into a room without a window. Sit in the dark for a few moments. Then, turn on a single flashlight. Talk about how the flashlight represents the light of Christ. His light is always more powerful than darkness. There is never a time when the peace of the Savior cannot overcome the darkness of the world. We have access to his peace and light when we pray to Him and believe in his words.
Activity:
There is so much good going on in the world. It is important to shift our focus from the negative and find the positive. As a family, do a "good news" hunt. You can use the newspaper, magazines, or the internet. Find a selection of articles that outline something positive that is going on in the community or in the world. It might be fun to group off into small teams. Have each group find one favorite article that stands out to them.
Once everyone has found an article that helps them to be of good cheer, take turns sharing the stories as a group. Hang them up in your house for the week to serve as a reminder to stay positive and to be of good cheer.
Conclusion:
When the Savior was born he came to Earth to reign as the Prince of Peace. He is the master of light, hope, love, and joy. He wants us to be happy. If we have faith in Him, we don't need to fear. He commands us to fear not, but to have joy.
I hope you have a happy and joyous Holiday Season. As you enter a new year, I pray that you can do so with hope and peace in your homes and in your hearts.
For more posts like this one, check these out:
Where Can I Turn for Peace? … Like, Really.
Project Is Love Alive? A Service Family Night