Hi All,
It's Nicky, calling in from Kitchen Sanctuary.
Hope you're enjoying the Spring weather?
The UK weather can't decide what to do with itself. We were all in shorts and hats last week, but right now, whilst I'm writng this, it's hailing heavily outside.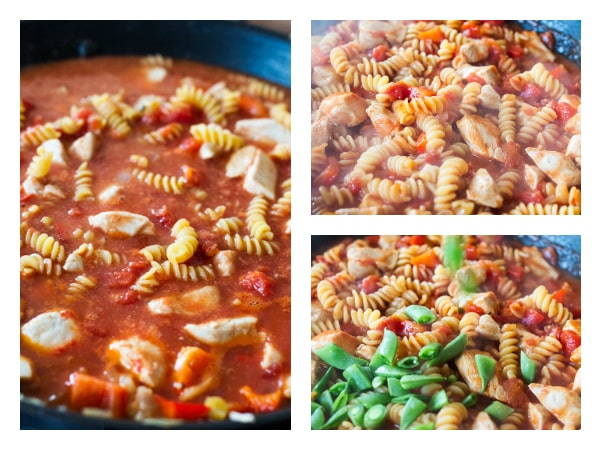 So needless to say, we haven't yet got the BBQs out, and I'm finding it really hard to do my usual weekly menu planning.
You can almost guarantee that on the day I've scheduled in a warming beef stew it'll be blisteringly hot outside and my kids will be begging me to let them eat it in the garden at their picnic table (yes, the neighbours do think I'm a bit strange). Conversely, on a cold, wet and miserable day like today, I've usually got a bright summer salad on the go.
Not today though!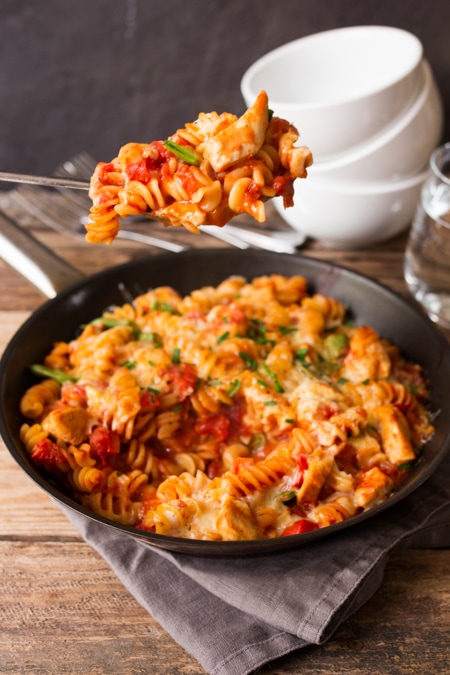 Today we've got a quick and easy skillet chicken pasta meal. Perfect with garlic bread on those cold days, and equally perfect on hot days with a nice crunchy green salad.
This is one-pan cooking at it's best. Everything gets added in step-by-step, and we end up with a delicious cheesy-creamy pasta dish – with plenty of vegetables – that the kids will love.
30-Minute Skillet Chicken Pasta
Ingredients
1

tbsp

oil

1

large onion

peeled and chopped

2

large chicken breast

cut into chunks

Pinch

of salt and Pepper

2

cloves

garlic

peeled and minced

1

tbsp

tomato puree

1

red bell pepper

deseeded and chopped

4.5

cups

300g dried pasta

1

tsp

dried oregano

½

tbsp.

Worcestershire sauce

2

x14oz

400g cans chopped tomatoes

1.25

cups

300ml stock made from hot water from the kettle + 2 stock cubes

0.5

cups

120ml milk

1

cup

100g - packed - mature cheddar cheese, grated

1

cup

about 20 snow peas, roughly chopped

1

tbsp

chopped chives
Instructions
Heat the oil in a large skillet and add in the onions. Cook for 3 minutes on a medium-to-high heat until they start to turn translucent. Add in the chicken, salt and pepper. Cook for a further 3 minutes until the chicken is sealed (it won't be cooked in the middle at this point).

Add in the garlic, tomato puree and red peppers. Stir, then add in the pasta. Now add in the oregano, Worcestershire sauce, cans of tomatoes, stock and milk. Stir and bring to the boil, then turn down to a gentle simmer. Cover with a lid or some foil and simmer for 12-15 minutes until the pasta is cooked.

Stir in the chopped snow peas (it's nice to add them at the end, so they're hot, but retain their crunch), then sprinkle the pasta with cheese and put it under the broiler for a couple of minutes until the cheese has melted.

Top with chopped chives and serve.
If you love this post, check THESE out!!
Black Bean Soup ~ 10 Minute AWESOME Dinner