This is a sponsored post written by me on behalf of Balmex for IZEA. All opinions are 100% mine.
Oh, diaper changing… My fourth baby just turned two months old, which means he's babbling and smiling all over himself, especially when he manages to get his poop out! The faces that he makes when he's working on a poop are hilarious.
THOSE faces used to stress me out with my first baby, but with my fourth I realize it's just what babies do. And pooping is serious business for them! It's one of a baby's three main purposes in life, aside from eating and sleeping.
And boy do they do IT a lot! I think I must have changed at least a million diapers by now. Over the years, I've picked up a few diaper-changing hacks that I hope other moms might find helpful.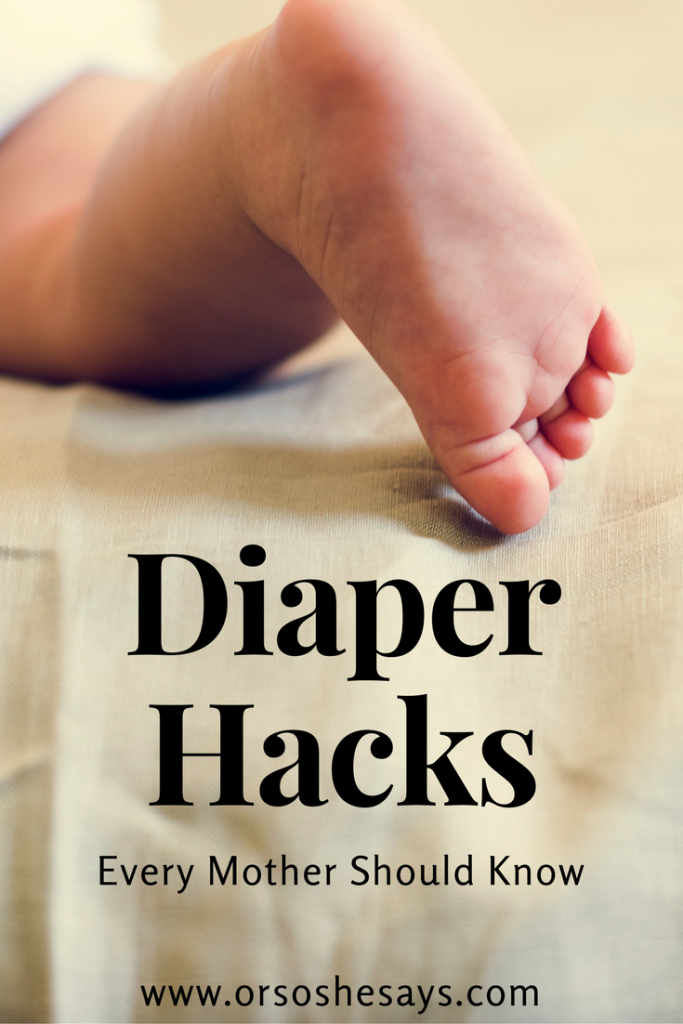 5 Diaper Changing Hacks Every Mother Should Know
1. The Onesie Secret – I know this tip has been circulating on Pinterest, but it was a recent discovery for me. Those little flaps on the top of the onesie shoulders are dual purposed. I knew that they made it easier to get the onesie over the baby's head when dressing him/her, but I didn't know that they could make blow-out diaper changing less traumatic! You're meant to pull the onesie down (not up – brilliant) when baby poop manages to find its way out of the diaper. This tip would have saved me from having to clean poop off the entire backside of my first three babies, and even once in my daughter's hair – ewwww.
2. Miracle Poo Remover – Anyone who's been on a road trip with a baby knows that diaper changes just don't happen as frequently. And the result is often caked on, stuck on, nasty poop. Rather than rub your sweet baby's bottom raw using a huge pile of wipes, try using a travel-sized spray bottle of water with a small squirt of baby oil mixed in. I keep a bottle of "Miracle Poo Remover" around the house, but I find I use the spray bottle in my emergency car kit (see tip #5 below) the most.
3. The Finger Trick & My Favorite Applicator – Despite my best efforts to avoid diaper rash, it just happens. Plan for it because one day, sooner or later, your baby's perfect bottom will need some help returning to its original glory. You'll be applying diaper cream regularly, so get in the habit of using your ring or pinky finger to do the application. There's often not time to wash you hands immediately after diaper changes, so this tip keeps your other fingers clean for whatever else your baby needs until you can get to the sink to wash. Also, just wipe the excess diaper cream off your finger of choice right onto the clean diaper. Cetaphil, and The Honest Company brands are great for sensitive skin. I also really like the classic Butt Paste.
I remember feeling like such a horrible mom the first time my oldest got a diaper rash! Trust me, you're not a bad mom. But seasoned moms know to have the right tools on hand to clear it up quickly when diaper rashes appear! If it's nearby, rather than my finger, I love using the BabyBum Soft Silicone Applicator… makes spreading so clean and easy!
I'd recommend having a quality diaper rash cream on hand for diaper changing, long before you need it. Balmex Diaper Rash Cream is a great option to fight diaper rash because it includes ActivGuard, a proprietary blend of ingredients that neutralizes the irritants in baby's diapers. It's also proven to reduce redness in only one diaper change! Balmex seals out wetness with a protective layer while soothing the skin with Vitamins B5 and E, so it's a great choice! Fight irritation. End the red. Use Balmex instead.
4. Double Diaper Duty – I hate wasting diapers for any reason, so I have a little trick for those times when the diaper tab accidentally rips off. Just secure the diaper as normal with the one good tab. Then, take a second diaper and secure it over the first diaper. Go on with life as normal until the next diaper change. Then just remove the second clean diaper and put it aside while you clean up and dispose of the damaged first diaper. The second diaper is all ready to be put back on. It just dawned on me that this trick might make late night changes easier as well! I love Huggies Diapers best, by the way! …despite the Pampers in the pic. 😉
5. Emergency Baby Car Kit – It seems inevitable that whatever you managed to leave at home, you'll end up needing while out and about with baby. I may go weeks without having a poop blow out at home, but we'll get in the car and within minutes I'll need a new baby outfit. So, I recently put together an Emergency Baby Car Kit with this fun clutch. I keep it in the back of my minivan by the stroller for on-the-go diaper changing. My kit includes: diapers, wipes, Balmex with ActivGuard diaper rash cream, "Miracle Poo Remover" spray bottle, complete change of clothes for baby, burp rag, blanket, nursing pads (they've come in handy several times) antibacterial wipes, and a pacifier.
If you need to put together your own Emergency Baby Car Kit, then be sure to take advantage of the Balmex Diaper Rash Cream Special Offer for $2 off any Balmex product (you can find Balmex at Wal-Mart, Walgreens, CVS, Toys-R-US/Babies-R-Us and Kmart)!
I hope these diaper changing hacks help make your life as a mom a little easier! I'd love to hear what tips and tricks you've discovered to help make changing a million and one diapers a little more manageable.
If you liked this post, be sure to check out:
Square Instagram & Facebook Share Image (Pinterest at top of post):