These Chocolate Rolo Melt Cookies are so quick and easy to make and taste phenomenal thanks to the indulgent chocolate flavour, and melted Rolo ooey-gooeyness. No dough to roll out too!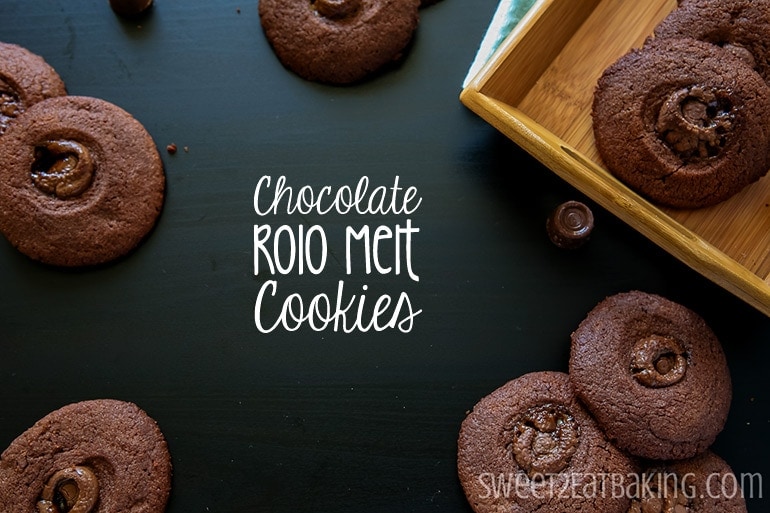 Howdy Or So She Says friends! *waves* It's Lisa again from Sweet 2 Eat Baking.
I'm back again this month with another instalment of sugar-fuelled goodness. There can never be too much sugar, in my opinion. 🙂
How has your month been? Is it still hot where you are? It's not so much here in England – boohoo. Umm, Hello autumn weather.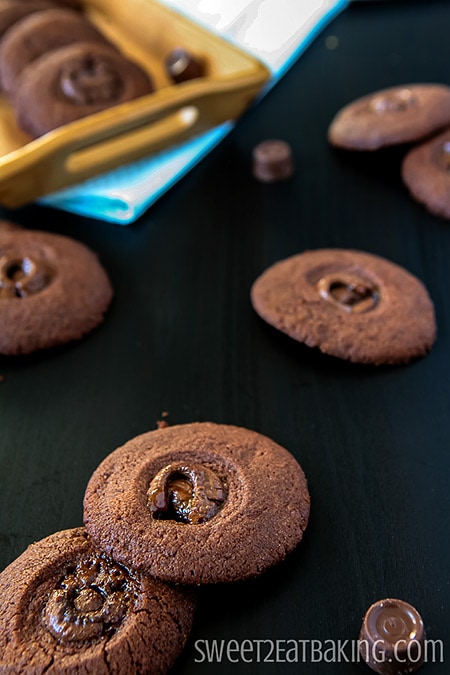 I guess we're a bit premature on the fall/autumn front though, but that can be expected when you live in a country that pretty much only has one weather – rain! 😆
That's why I decided to make these chocolate Rolo melt cookies. Because chocolate isn't just for autumn or winter, it's for e.v.e.r.y.d.a.y. Okay, that might be just me. 😉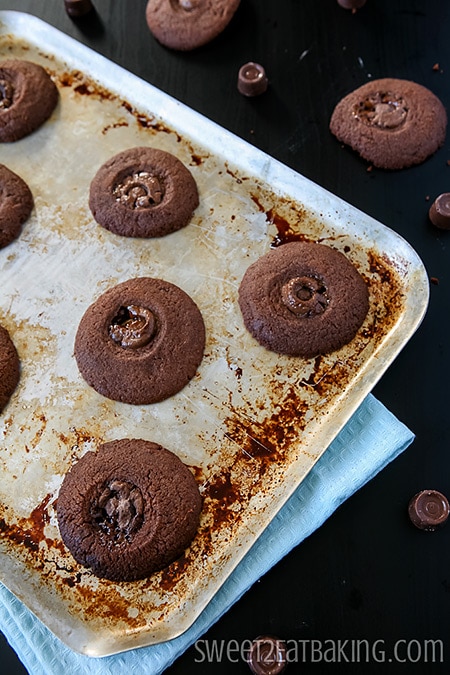 And since you're supposed to enjoy these cookies warm for an extra oozey chocolate experience, that means even if it's still hot where you are, bonus points for keeping the chocolate and toffee all melty. Yay!
If, like me, you're into quick satisfaction with your desserts, definitely checkout this recipe. Chocolate Rolo Melt cookies are ridiculously easy to make with minimum effort.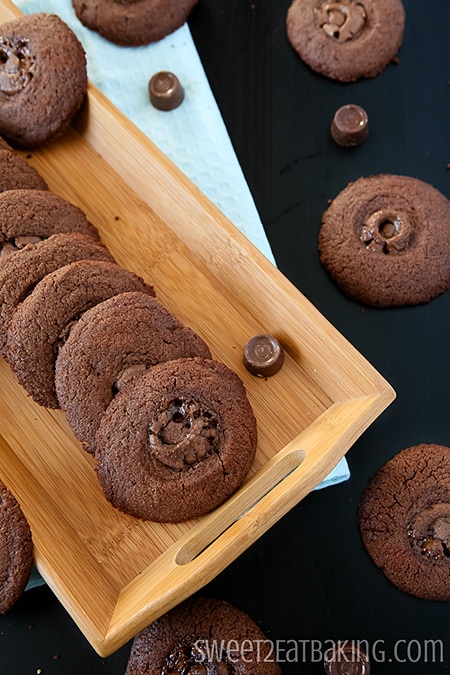 And these cookies are budget-friendly too. I recently started to budget myself and found these Rolo cookies to be cheap to make. Most of the ingredients are store-cupboard staples too. That's definitely a win not having to do a big shop for certain dessert recipes. The only thing I needed to buy was the Rolos.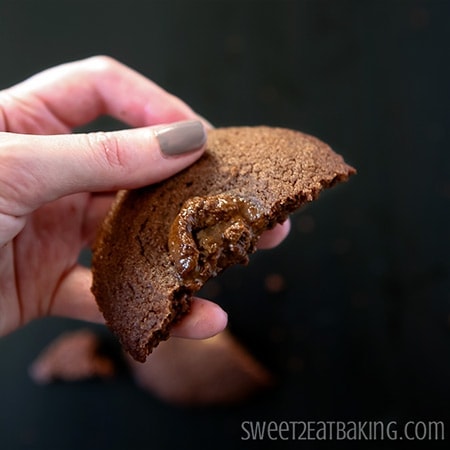 Rolo melt cookies are best served warm while the chocolate and rolls are slightly melted, but you can always make in advance and pop in the microwave to re-heat. I mean, look'it that melty goodness!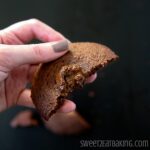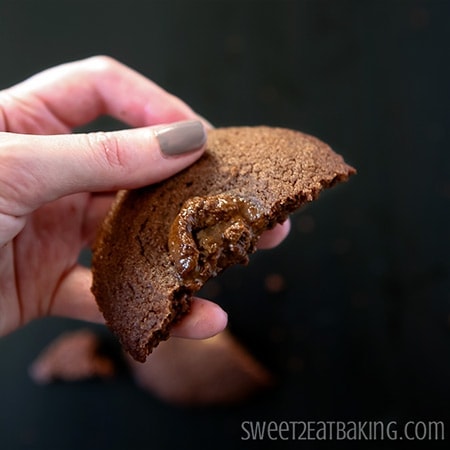 Chocolate Rolo Melt Cookies
These Chocolate Rolo Melt Cookies are so quick and easy to make and taste phenomenal thanks to the indulgent chocolate flavour, and melted Rolo ooey-gooeyness.
Ingredients
225

g

1 cup butter, softened

225

g

1 cup caster (superfine) sugar

2

egg yolks

2

tbsp

milk

250

g

2 cups plain (all-purpose) flour, sifted

30

g

¼ cup unsweetened cocoa powder, sifted

24

Rolos
Instructions
Line 2 baking sheets with parchment paper or a silicone baking mat. Set aside.

Cream the butter and sugar until light and fluffy. Add the eggs, one at a time, mixing until well combined, then add the milk and mix to combine.

Sift in the flour and cocoa powder and mix until a dough starts to form, then mix on low speed until all the dry ingredients are well combined.

Preheat the oven to 180°C/35-°F/Gas Mark 4.

Using your hands or a 2-tablespoon ice cream scoop, scoop or roll walnut-sized balls of dough and place them on the prepared baking sheets, spacing them around 4cm/1-inch apart.

Push 1 Rolo in each ball of dough, be careful not to push to the very bottom, and pop the baking sheets in the refrigerator for 15-30 minutes.

Once chilled, bake for 12-15 minutes, or until the cookies look dry on top and a little cracked. Allow to cool on the baking sheet for 5 minutes before transferring to a wire rack and leave until firm to the touch.
Recipe Notes
Best served warm, but can be made in advance and warming through in the microwave. You can enjoy them cool too, of course.
Why not hop on over to my blog, Sweet 2 Eat Baking, to find more delicious desserts, including some British classics?
You can also follow me on Facebook, Twitter, Pinterest, Google Plus and Instagram. Or sign up to receive email notifications.
See you next month!
For more cookies, try these recipes:
Chocolate Chip Pumpkin Cookies with Buttercream Frosting