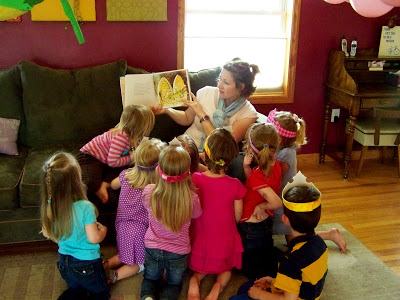 Hi! Jocelyn here, of the blog "
We Talk of Christ, We Rejoice in Christ
".I'm here to show you how to throw a very unique Princess Party…
A Paper Bag Princess Party!
Originally, my daughter asked for a "trampoline party" for her fourth birthday, but the forecast called for rain, so we sent out princess party invitations instead…which left me with the question, "What does one do at a princess party?" My girlfriend Kim threw a very sweet princess party for her daughter a few months back. She sent the girls on a scavenger hunt for the missing glass slipper, had them sit on a pillow to discover the "pea" and therefore reveal their true princess nature, and they even received entrance into a "royal ball".
I decided to center our Princess party around the story of The Paper Bag Princess by Robert Munsch
. This fantastic storybook teaches that being a princess is about much more than wearing pretty clothes. It's about who you are inside and what you do. As you can see from the photo above, the telling of this story had our young party-goers completely captivated!
But before I get too ahead of myself, here are some elements from the party that were really fun and easy to put together: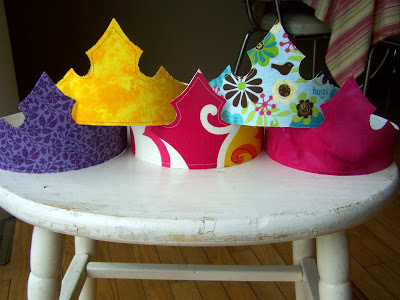 PARTY FAVORS: Each child received a fabric crown as a party favor. They were a big hit! You can see how to make them here.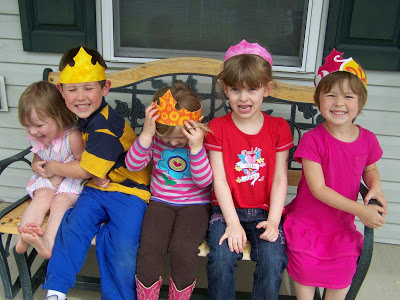 The kids loved decorating them with little self-adhesive-backed gems.
Somehow, the only boy at the party had the most sparkly crown!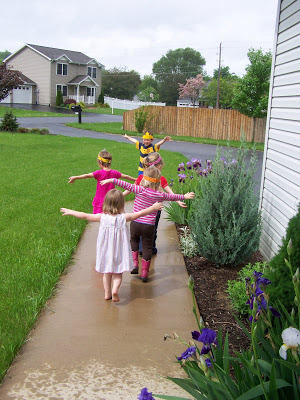 Although I had games ready, the kids immediately started making up games of their own.
I love that!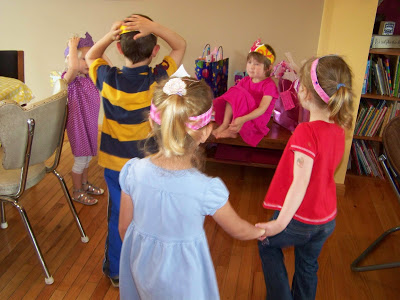 There was lots of hand-holding, which was so sweet.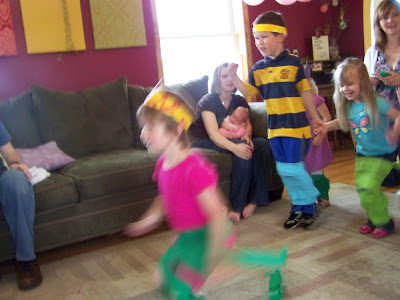 After a kid-initiated game of ring-around-the-rosie, we transitioned into some princess games that I found at the site dtk kids. First we played "magic flying carpets" which was actually musical chairs with a "Jasmine" twist. We handed out kitchen towels, which the children used as magic carpets instead of chairs.
Then we had a mermaid race. The children wrapped each other's legs up with crape paper, and then they hopped across the room to cross the finish line. The kids wanted to play this repeatedly and asked for it again later.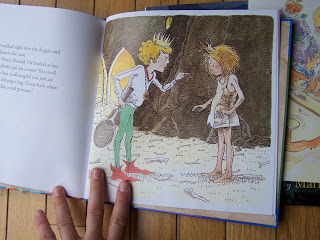 Then we read The Paper Bag Princess and talked about what it means to be a princess. If you have a little girl, you need to read this story to her. The main character, Elizabeth, is a beautifully dressed princess who is going to marry Prince Ronald, but after a dragon burns down her kingdom and all her beautiful clothes, Elizabeth takes matters into her own hands. She dons a paper bag–ironically, it's the only thing that didn't burn–and she goes after the dragon and saves Prince Ronald from the dragon's lair. When Ronald sees Elizabeth, instead of thanking her for saving him, he tells her to come back when she "looks like a princess". Let's just say, our paper bag princess knows who she is, with or without the fancy clothes. She rides off into the sunset with her self-worth intact….and without Prince Ronald.
After the story, we played one more princess game: poison apple/hot potato….so much fun!
After lunch, the sun came out, so the kids were ready to jump on the trampoline.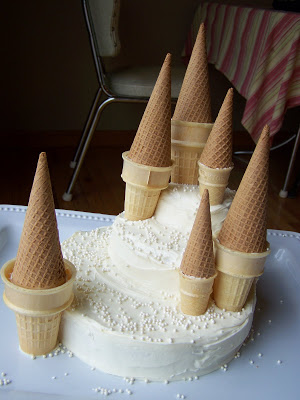 Family Fun gave me the idea for this cake. I changed it from a sand castle to more of a princess castle by using candy pearls instead of graham cracker sand.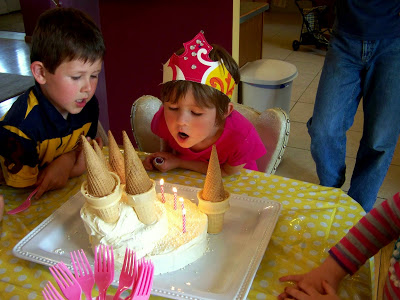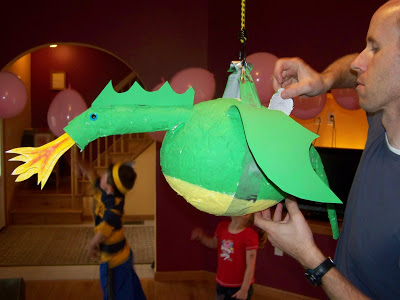 Then came the time for our little princesses to "slay their own dragons" just like The Paper Bag Princess! Here is my husband Steve putting the finishing touches on our dragon pinata.
Just click on the link above for easy instructions to make one yourself!
The kids divided the spoils and put them in their "paper bags"…to go with the story.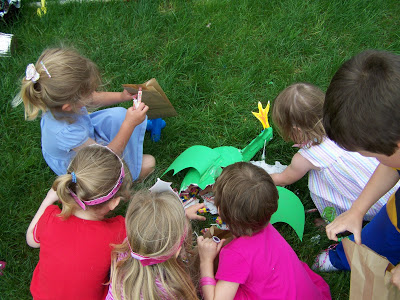 Two other books I would have read to the kids if we had time:
"Fannie's Dream" by Caralyn Beuhner and "Princesses Are Not Quitters" by Kate Lum.Happy Partying!