My kids have putting so much time and energy into making their marshmallow guns for the Fourth of July booth. But, it's still important to me that they take the time to think about this blessed country that we live in and realize what people have gone through (and continue to go through) to ensure our freedom and the freedom of others.
(A while back, Jessica did a post on ideas for teaching your kids patriotism. She mentions some fun activities and great books for the little ones.)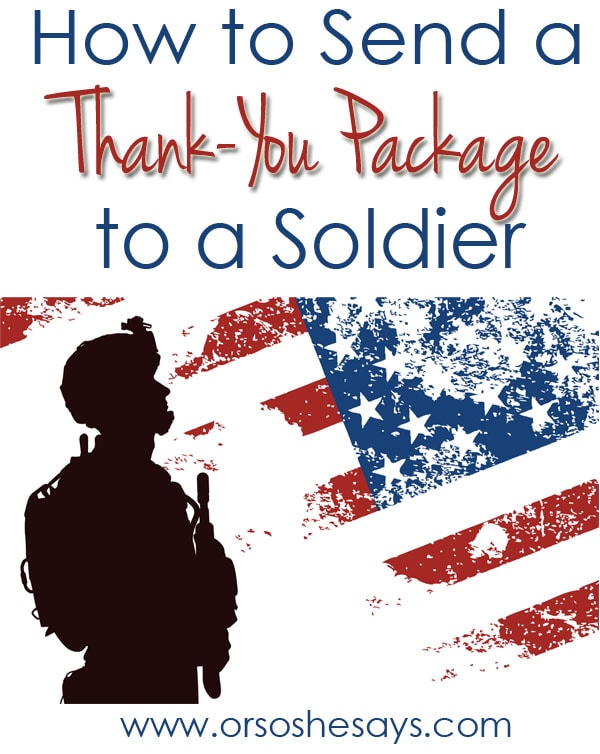 While browsing the internet, I stumbled on a fabulous site, it's called Any Soldier. It will pull up a list of actual emails sent from soldiers, detailing their living situation and the things that they (and their comrades) are in need of. It will also give you the date that it was sent. It looks like emails are coming in every day requesting our help! I read through several emails. Some of them were asking for toiletries, some of them food items, reading material, or trinkets for the local children. There was a soldier saying they lived in good conditions, only needing a few things. Others saying that they had hardly anything, pleading for help!

The great thing is that you can choose who you want to send your package to. Once you decide on an email request that you would like to take on, you fill out a form and will be sent their current address. I know my kids would LOVE to do this. For them to help pick out some items, package them up and include a letter of support for the soldiers would be a great experience for them. Especially, if we made it a tradition! Permitting, we could always do it on more than just the Fourth of July. 🙂
A few things you should know about sending packages to soldiers:
– Never mix food and non-food items in a box. Choose to send one or the other (or send multiple boxes.) The food contents absorb the smells of the non-food items. Icky. Put anything that could leak inside of two ziploc bags. Do not send anything home-cooked.
– Don't expect a letter in return. But, there is a chance you may get one. To increase the chances, you might include a self-addressed envelope and your email address. If you would like to continue to help the soldier, ask if there is anything else they might need.
– It's usually cheapest to use a Flat-Rate box from USPS. You only pay for postage to New York or San Francisco…not to the soldier's actual location (If I understand correctly.) Just use regular Priority Mail.
– You don't have to send a package. You are welcome to just send letters of support.
– Try to keep any packages under 10 pounds. Pack it so that none of the contents move around. Tape ever seam on the box with clear tape. Expect your package to get a major beating by the time it gets there, pack well! You will also need to include a customs form.
– If you live outside the US, you are still welcome to send packages. They just can't contain food items.
– Do not send anything obscene, firearms (I guess it happens), bulk quantities of religious material that is contrary to the Islamic faith, pork or pork by-products.
– Any Soldier recommends sending Beanie Babies for them to give away to the children. They're small, light and good quality. I know we all have some of those lying around the house!
May we live uprightly, so that God will continue to bless America ~