April Primary Talks based on the Come Follow Me Primary lessons. These four simple talks can be used for home study or in Primary School at the church building.

Do you love the Easter season as much as I do? It makes me so happy to think about Jesus and his role in my own life. The wonderful peace that I feel knowing that He died for me and then was resurrected is so comforting. He lives! There are so many special witnesses that have seen the risen Lord. Even though I have not seen Him personally, I have felt His power and presence in my life. I know that my Redeemer lives.

This month, the Primary Come Follow Me topics are so applicable to daily life! We learn about Easter and the risen Savior, being a missionary now, the power of unity, and the blessings that come through obedience. I am always so impressed with the Primary lessons. It seems that the Gospel is never more true than when I look at it through the eyes of a child. It is easy to understand and apply! If you are ever wavering in faith, study the Primary lessons and everything will feel right again. I wish you a joyful Easter season.
April 4th Easter Lesson – He Lives!
I am so happy to know that Jesus died for me. He sacrificed his life so I could live with God again. Do you know what makes me even more happy? That Jesus was resurrected! That means he is not dead anymore. He lives!
There are some people who have seen Jesus. They are special witnesses. Our prophet and apostles today are special witnesses.
The prophet Joseph Smith saw Jesus several times during his life. He said, "After the many testimonies which have been given of him, this is the testimony … which we give of him: That he lives!"
Jesus is alive. He leads our church. He directs the prophet. Jesus cares about what happens in our lives and is watching over us each day.
Just like Jesus, we will be resurrected one day. We will get to live forever with our families in heaven.
Download PDF – He Lives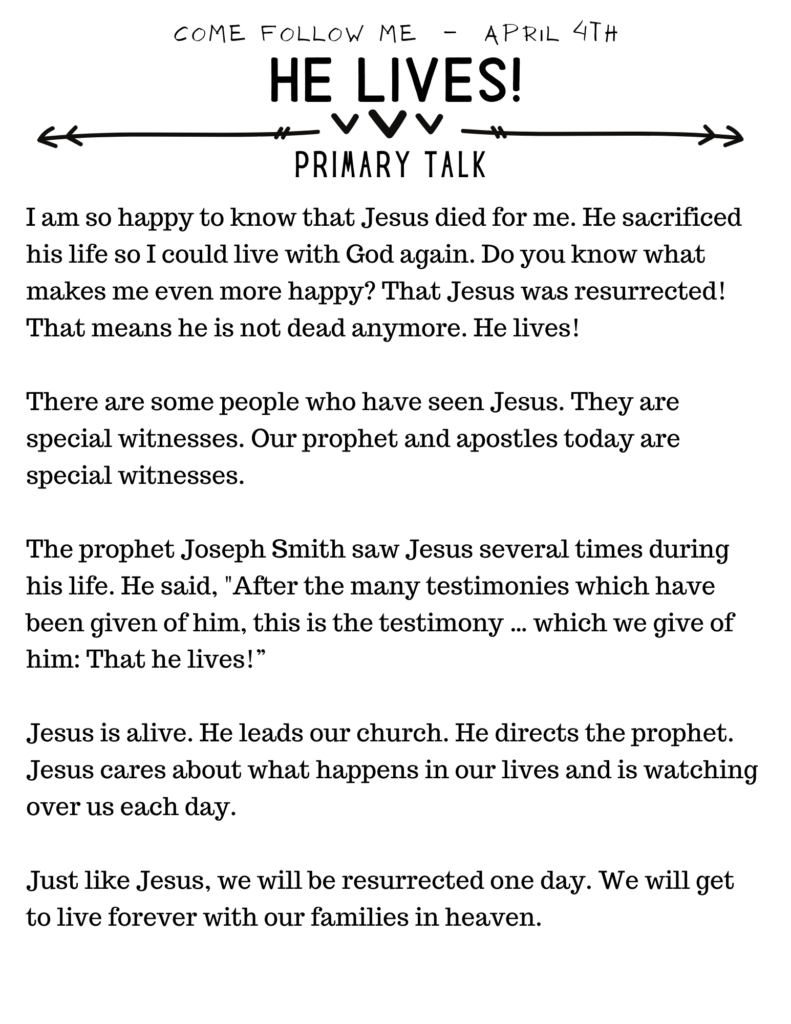 April 11th – I Am Called To Preach
What do you picture in your mind when you hear the word, "missionary?" Do you see a young boy or girl dressed up in nice clothes with a name tag on their shirt? Do you see them knocking on doors to find people to teach and handing out scriptures to people on the street? That is what I see!
In the scriptures, the Lord teaches us that being a missionary is not just about serving a full time mission. The Lord invites everyone to "open your mouth and declare my gospel."
It might feel scary to talk about the gospel to your friends. But, Jesus has asked us to do it. Being a missionary means talking to a new person at school, using good language, helping your teacher, inviting someone to a Primary activity, serving your neighbor, and standing up for what is right.
You are probably doing all of those things already. That means YOU are a missionary for Christ. I challenge you to keep doing these things.
Download PDF – I Am Called To Preach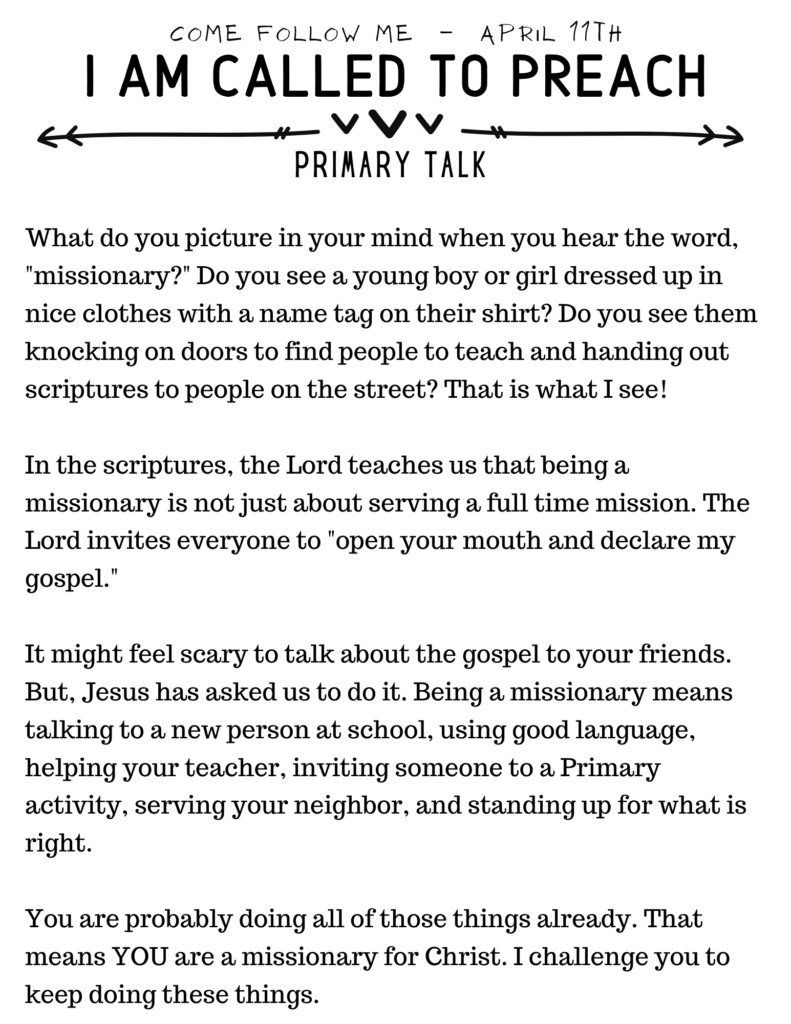 April 18th – Power Of Unity
Picture in your mind a single thin strand of hair. You can even reach up and find one little piece on your head. Do you think you could break it or make it snap? I bet every singe one of you can!
But, imagine if you had a whole braid of hair in your hands. Like Rapunzel has in the movie Tangled. Think of her long thick hair all wrapped up in a braid. Do you think you could break that? Not a chance. It would be way too strong. Flynn even used it as a ladder to climb up to her tower!
The difference between the single strand of hair and a braid is unity. There are thousands of single pieces of hair all wrapped up as a group working together. That is what makes it strong.
In the scriptures, Jesus commanded the saints to be united. He wanted them to learn how to get along and work together as a team for a common purpose.
When we love our neighbors and work together to take care of each other it is powerful. It makes us strong and happy. It is my challenge to you to find ways to be united with your friends and family. It will make Jesus happy and create peace in your life.
Download PDF – Power Of Unity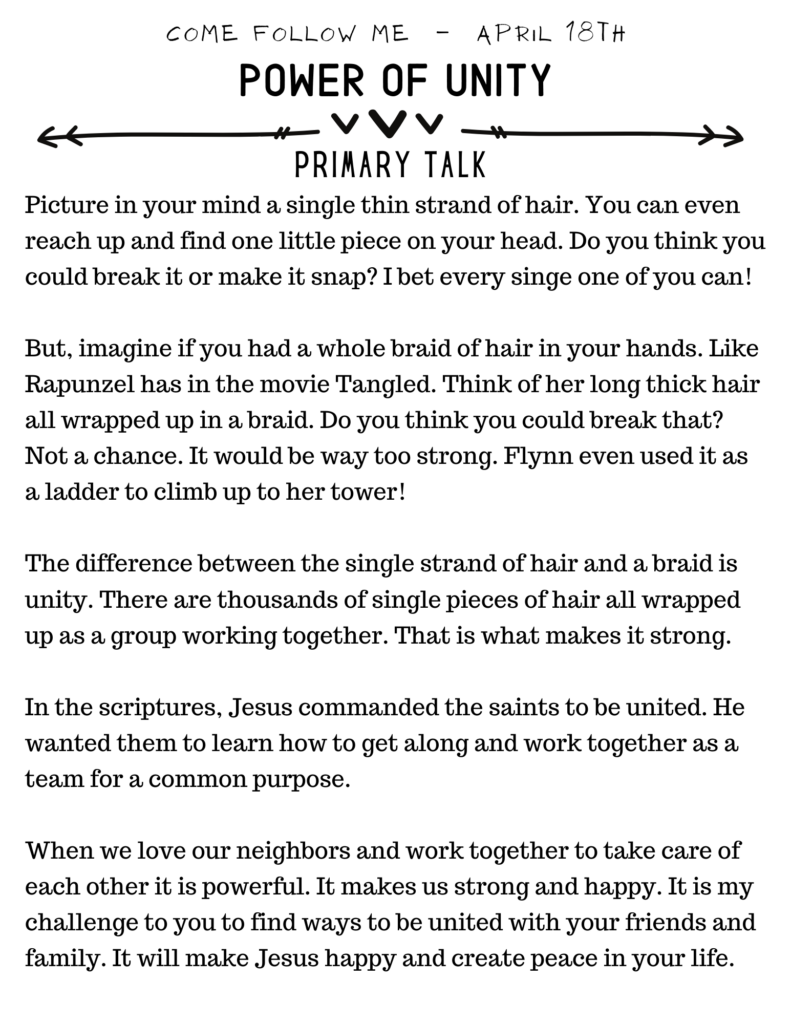 April 25 – Why We Listen To God
Have you ever played the game Red Light/Green Light? The person in charge is called the director. The director stands across the field from the players. His or her job is to tell the players when to go (green light) and when to stop (red light). The first person to make it across the field to the director wins the game and gets to be in charge for the next round. If the director says, "Red light!" and the players do not stop, they have to go all the way back to the starting line and begin again.
In life, we have been given commandments. We have a director. His name is Heavenly Father. Heavenly Father gave us rules to follow so we can make it back to Him one day.
Just like in the game, if we don't listen and break a rule, it is like we are starting over again. We have to repent and ask for forgiveness and then start back on the path to God.
Heavenly Father and Jesus want us to be successful in the game of life. They gave us the Holy Ghost to be our team captain. He reminds us with the still small voice to listen and obey. He guides us each day if we will hear him.
I hope that we can all listen to our director and choose the right so that we can live with God again.
Download PDF – Why We Listen To God