My name is Kristy Sunday, I am married to Mariel's (the owner of this blog) brother, Logan, and I feel honored to be able to post something on her blog! My entire life I have struggled with thin hair and have wanted more!! So as a hairstylist and salon owner, I have been on a life-long mission looking for the best products for thinning hair to help not only myself, but my family, friends, and clients.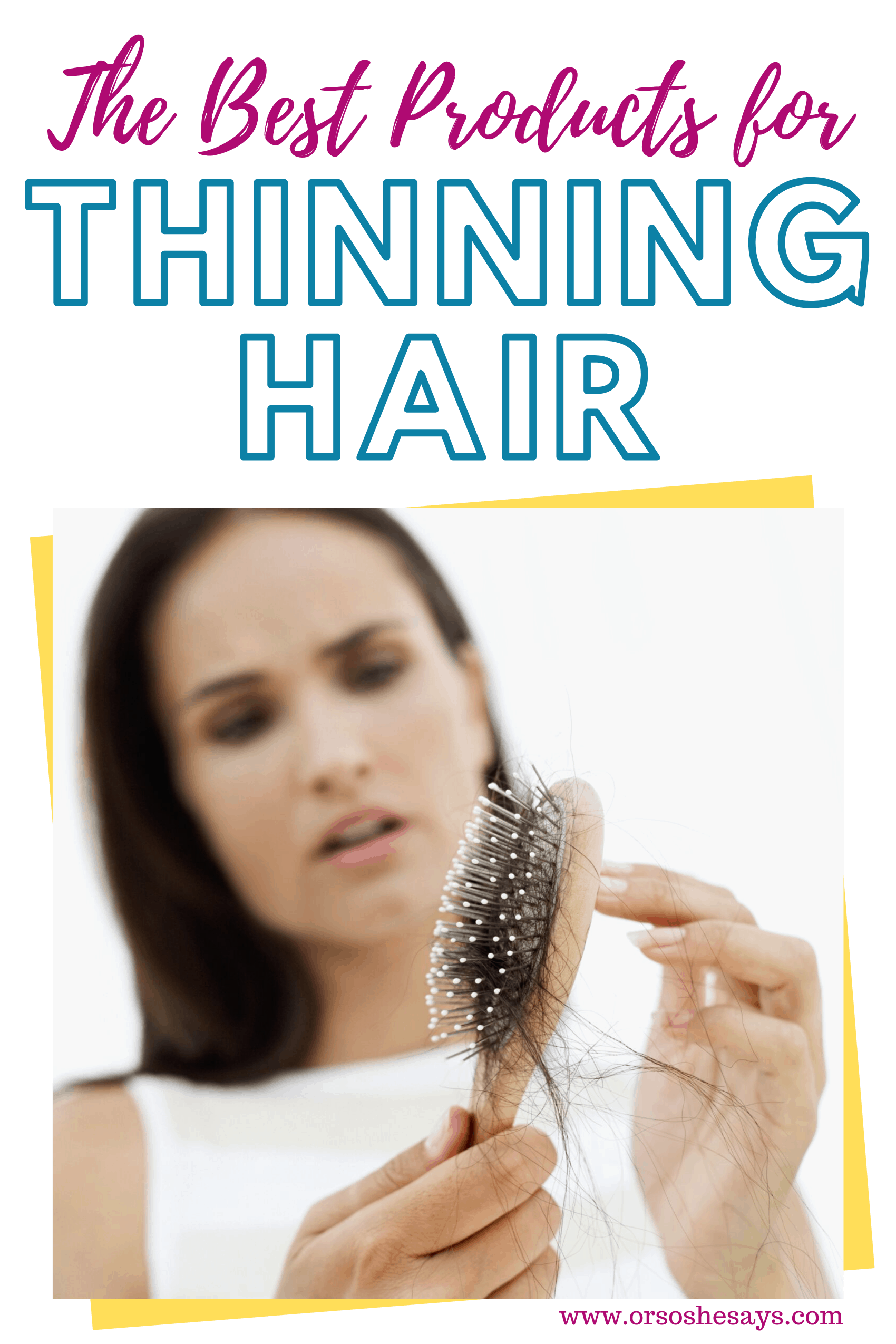 The Best Products for Thinning Hair:
Let's start with shampoo and conditioner for thinning hair…
I feel the Bosley line is the best on the market, and it's the one I like to use for myself, as a gal with thinning hair. It has 10 times the amount of DHT blockers than its other competing lines, such as Nioxin or Rogaine. DHT stands for Dihydrotestosterone, (which is a form of testosterone.) This is extremely important, because as women age they start producing less estrogen and more testosterone, which is why they start getting male pattern baldness. Testosterone is also responsible for hair loss in most men. What Bosley does is remove the DHT from your scalp daily as you use their shampoo. Their conditioner prepares your scalp for the thickening treatment which helps stimulate hair growth.
Bosley is also my favorite because it won't dry out your hair like the competing lines, and they have four different formulas to fit everyone's needs. They have a men's line and also three women's lines: one for color treated hair, one for thinning hair, and one for noticeably thinning hair.
So, Bosley's shampoo and conditioner helps PREVENT hair loss, but there are a couple other good products. Minoxidil helps RESTORE hair which has been lost, without any horrible side effects, and is available in a men's and women's version.

Nioxin is also a popular product for progressively thinning hair, that I've seen results with and is worth a try. Sometimes it's about finding which one works the best for your body chemistry.
Now, for my favorite styling aids for thinning hair…
Redken's Iron Shape Thermal Spray – For those who like curls to last all day in their thin hair. This has a light yet strong hold. You put this in before blow drying to create a great surface to hold lasting curls.
Redken Guts 10 Volume Boosting Spray Foam – This stuff is great for root lift (volume!) It gives you fullness that lasts all day.
Amika Plus Size Perfect Body Mousse – I love this mousse for volume, hold, and it also protects against heat and frizz.
Xfusion Keratin Hair Fibers – Fill in the thinning spots with the fibers to hide bare scalp.
Favorite finishing products for thinning hair…
I prefer using aerosol hair sprays. These don't weigh down thin hair…
Bead Heads Masterpiece Hairspray – I love this one. It smells delicious and has a medium hold with tons of shine.
L'ANZA Keratin Healing Oil Lustrous Finishing Spray – One of my new favorites. It's super light, with great hold and shine.
Favorite thinning hair products & styling aids for men…
As far as shampoo and conditioner, for men, I still recommend the products shared above. Several of them have a 'men's version.' Here are a few more products I love to share with the men in my salon and in my life…
Mister Pompadour Texture Powder – This is a dry volumizing powder (for both men and women). It's unscented, which is a nice element!
Amika Plus Size Perfect Body Mousse – Shared above. I also like this for men!
Redken Stand Tough Gel – I have my husband use this for finishing off his look, after blow drying the Amika Mousse into his hair.
Gentlemen Republic Grooming Wax in Matte – For the man who doesn't love the wet look. Great hold with matte finish.
Xfusion Keratin Hair Fibers – Fill in the thinning spots with the fibers and spray them in.
Now for those who have tried everything on the market for thinning hair, and it's just not cutting it, don't give up!! I even have solutions for you!
I just found a line of extension hair this past year that has a full line of different kinds of hair accessories to meet everyone's needs. It's the same brand of hair pieces worn by Jessica Simpson, Wynonna Judd, Raquelle Welch, and many other celebrities. Its called Top Secret Haircessories, and it's an extensive line of hair. From bang pieces, ponytail pieces, to extensions to thicken and lengthen, to full top pieces for those who are visibly thinning on top.
Barefoot Blonde Hair by Amber Fillerup is another great option; she has a wide range of hair piece options, and even lets you try a sample before buying (you'll just pay $4.99 for shipping, but it covers up to 5 different sample colors). She just came out with a new piece specifically designed for updos, which is genius. It can be so hard to hide the root of the extensions when pulling hair up! BFB Up makes it a lot easier to add volume when pulling hair into even a simple look like a bun.
Photos from Barefoot Blonde HairAll these hair accessories are safe and do not damage your hair or make it thinner. So don't EVER give up!! I know how it is to be insecure because of thinning hair, but the effective products for thinning hair are out there. I just had a baby a year ago and my hair all started falling out. I was so freaked out because I already had thin hair to begin with. So I got a top secret hair piece and it has made the biggest difference!
My mom also got one and it has really changed her life! She is single and dating and it made her feel way more confident! She wears it everyday and loves it! She no longer has to style her hair either, she just takes it off at night and puts it on in the morning and looks fabulous in minutes. She has told me she will never go with out one again.
Here's my mom before her Top Secret hair piece:
And, here's the after:
I love my career and especially have a passion for helping women with thin hair feel confident and beautiful. If you have any questions or I can help you in anyway you can contact me, Kristy, by email at [email protected]. I can also do consultations over zoom.
I hope I was able to help some of my thin hair friends with this post today!
~ Kristy
If you loved this post on products for thinning hair, check out:
The Best Products for Covering Grays Between Colorings
5 Bun Hairstyles for Long Hair
Have you subscribed to the 'Or so she says…' newsletter yet? We send out emails with more great ideas, and your first one will include Mariel's five FAVORITE recipes from the blog. You can sign up by clicking HERE.