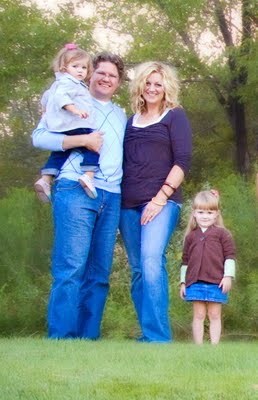 Hello! My name is Kate and I have a blog over at
http://www.courtandkate.blogspot.com/
if you wanna check it out. Nothin' special, just an outlet for my occasional creativity and snarkiness, and a place to record the hilarious things my two little chicks say. Muchas gracias (uh, I don't really speak Spanish) to Mariel and Jessica for inviting me to bring a little of my word vomit over here. Don't they have a great blog?
Here's the story. I am a thirty-ish wife, mother, hair stylist, friend, sister, daughter, neighbor, human. But deep under all of those labels I'm just me. I find it hard to describe myself without all of those labels, but here I am–a little different, a little crazy, but working it out!
Are you in there somewhere?
Just last week I was at the gym. I don't look like this at the gym. Do you? I'm a little chunkier and a lot sweatier and a lot less color coordinated. Anyway.
I was at the gym. I am just beginning to prepare to run a
Ragnar Relay
in February. Holy scary! But too late, I'm on a team, I've paid my money, and here we go! So I was on the treadmill. Running, feeling good, watching all the muscle-heads (ah I love those guys, so entertaining) and miraculously alive and well after a couple of miles (I'm so not a natural runner). All of the sudden this amazing song comes on my ipod. I'm still running and feeling awesome, and then I'm bawling.
I was having a moment. At the gym. And here's why:
The song on my ipod transported me back to the year 1996. Not like it was an amazing year, really. Pretty average. I was out of high school and a single girl with a job. What was amazing about that year was that I was just Kate. Young Kate, (thin Kate!), Kate who had been through some crap, but Kate who had the whole world in front of her, Kate who wasn't in charge of anyone else but Kate, Kate who wasn't anybody's mom or wife, or even hair stylist (it's a lot of responsibility!) I was a 19 year old who had interests and hobbies and things I did just for my own delicious, selfish, single-girl-with-little-real-responsibility benefit. And really truly, it wasn't an incredible year. But looking back it was the last time I was able to just be me without the complications of the rest of my adult life.
So back to the gym. I'm running. I'm listening to Alanis Morissette (yeah, totally) and I'm running and I'm bawling and I'm remembering who I am. And I felt awesome.
Think about it. Have you lost yourself in all of the labels that you currently wear? Are you a mom? An aunt? A best friend? Are you the boss? The employee? The student? President of this or secretary of that? When someone asks you, "tell me about yourself" do you start listing all your labels? It's hard not to, right?!
Now think about something that's going to help you remember who you are. For me the quickest way to find myself in all the stuff I have going on and all the hats I'm wearing and jobs I'm juggling is to get out some music from the "Kate" period of my life. For you, maybe it's doing something you
used
to do but stopped the second you fell in love or graduated from college and shifted your time and priorities elsewhere. Maybe it's a sport you used to play, maybe it's the poetry you used to write in the middle of the night or the books you used to read, maybe it's the art you used to create, maybe it's the way you used to like to get in your car all by yourself and drive and drive, maybe it's the way you used to like to lie on your bedroom floor and think about nothing or spend 20 minutes sitting cross-legged on your bathroom vanity plucking your eyebrows and listening to the radio. Do something to find yourself in there somewhere.
(Take a ridiculously fun trip with your 2 best girlfriends—shout out to mine!)
I promise, the dishes, the kids, the homework, the work work, the phone calls, the e-mails will all wait while you have your own moment.
Finding myself at the gym last week was so rejuvenating! Perhaps it was the combination of awesome music and physical exertion. Perhaps I haven't been getting enough blood flow to the brain lately. I think it was the whole and total focus on myself, feeling really present in my own body and really present in my own mind all at the same time. That was what created my moment. So I finished my workout and picked my kids up from the playroom, and I was back to Kate, the mom, for the rest of the day but I was able to do it with much more energy than I'd had before. And I think Kate is someone my kids would like hanging out with more often. I mean, I'm a good mom, but I'm a freakin' awesome Kate.
Are you in there somewhere? I know you are! And I bet you're pretty cool. So take a little minute right now and remember who you are.
Or as Alanis Morissette said to me at the gym: Wake Up!
🙂 Kate