Being organized gives me happy feelings. I have found that with 4 little kids, there are some things that are pointless to organize: the playroom, my makeup drawer (two little girls), my hair accessories drawer (two little girls), and their rooms! I just have to bite my tongue, take a chill pill, and realize that those place will be chaotic at least until they move out. But, luckily my kids are cute enough that I want them around and don't mind the trade off.

But, there are some places I can have a small amount of control…one of them being…The Kitchen. It still requires maintenance to uphold the order of things, but it's doable…and it brings me the organization peace that I need.
Okay, so….I used to have the problem where I would be baking and notice I was plum out of baking soda, sugar, or flour. So, I leave everything in the mixer, throw the kids in the car, and race to the store. Super crappy. Those days are gone, thanks to a trip to my local Kohl's Department store. They had these super great containers by
The Food Network
that I new would be perfect for all my basic baking ingredients!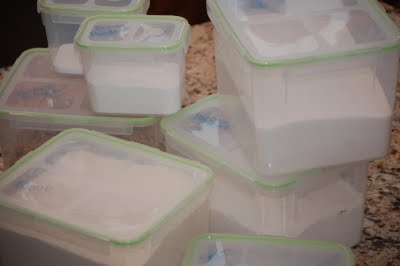 I picked up a container for: salt, sugar, flour, baking soda, baking powder, powdered sugar, and brown sugar. Next time I go back, I think I'll get one for cocoa and cornstarch.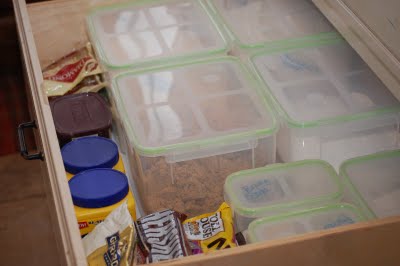 I especially like these
Food Network containers
because the big ones hold like 2 cups AND they have a big opening…makes it easier for scooping out of. Double AND…they're cheap! Lots cheaper than the ones I was seeing at other stores. The 29 cup container is right around ten bucks! These can be stacked in your pantry, in a cupboard, or lined up in a drawer.
Find a spot for all your paper products. Obviously, if everything is kept together in groups…it will be easier to know when you are out of something and easier to find it.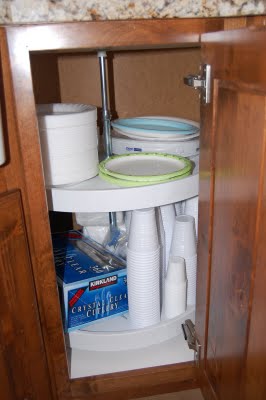 In my pantry, I like to group the foods together into categories: Sweets, Salty, Soups, Sauces, Veggies, Fruits, Cereal, Baking, Drinks, Pasta, etc. It helps if I line them up…again, so I know just what I have and what I need more of. I know what you're thinking…it starts with an "O" and ends with a "CD". But, I disagree….okay, I might be a little crazy but there are plenty of disasters in my house! I just don't post those pictures…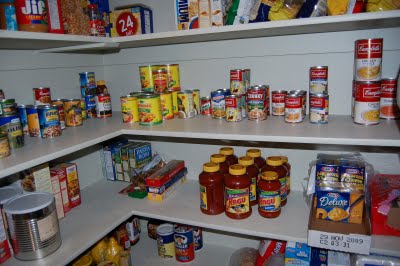 Unruly drawer…my towel/bibs/rag drawer. I don't believe in folding things that don't need to be folded.
I love buying small bins and baskets to help me organize drawers…
You know those junk drawers that every kitchen has?? Tools, batteries, paperclips, pens, crap, crap, crap all mixed together?? You need mini organizing bins…
Colored pencils, pens, pencils, markers for the kids, mom's markers, crayons, and scissors…
Probably weekly, I have to pull a few pencils out of the pen drawer or sort a few misplaced cereal boxes in the pantry. But, I love that the kitchen is one place there is a small amount of order that is sustainable.
Please share with me (& everyone) your kitchen organizing tips and tricks!