Ah November… such a magical month. Sometimes referred to as Movember. An event specific to November where I get beard-shamed by every man-ape out there who can grow a full shrub worth of hair on their face in 30 days. Meanwhile, me, and my follicle-challenged chin and fellow challenged brethren, end up looking like predator registry members. I recently saw a picture of one of my past Movember attempts; it was shameful. As my son so delicately put it, "Dad, friends don't let friends grow perv-staches.". Thanks son, my curse will most likely be yours. Now on to the meat of my missive.
So as the title states, it's time for an obligatory November thankful list. Thankful lists abound this time of year. Most of them annoy me. No offense. If we were to look at your typical thankful list and liken it to a Thanksgiving spread, then most Thanksgiving lists would be comprised of nothing but turkey. Thankful for your family – turkey. Thankful for your job – turkey. Thankful for your friends, employment, comfortable home… turkey, turkey, turkey. Don't get me wrong turkey is great (especially the dark meat!) but it does not a Thanksgiving meal make. I want cranberries! I want sweet potatoes with 10 pounds of butter and brown sugar melted into them topped with gooey marshmallows! I want those tiny kosher dill pickles, jumbo olives and a little glass dish filled with cashews and Brazil nuts! I want french-cut green beans with shredded bacon and slivered almonds in them! I want thankful lists with real thought and a dash of humor! Not just the turkey.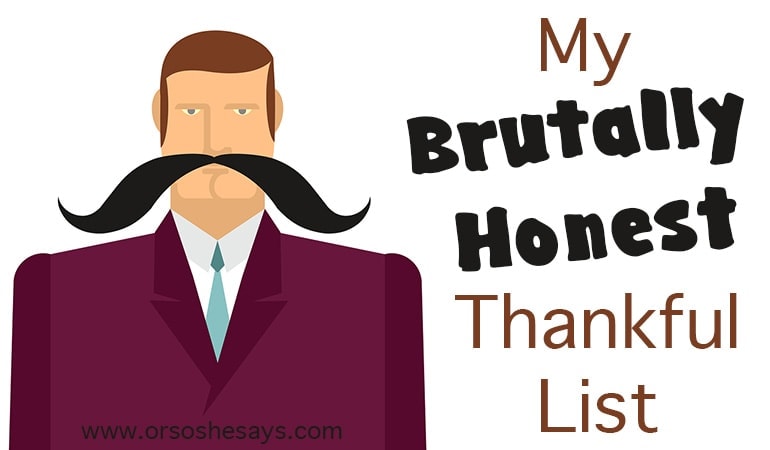 I have come up with a feast of not-so ordinary things to be thankful for. It is the side-dishes and trimmings that make the turkey so much more delicious.
Dan's atypical thankful list…
I am thankful that I learned plums are nothing more than adolescent prunes. Truly, I had no idea. Where were my parents and teachers on that one?
I am thankful I learned making a 6-plum smoothie is a monumentally poor decision.
I am thankful that ditching a full grocery cart in mid-aisle, so one can attend to a 6-plum emergency, raises no suspicion in Walmart. Nothing raises suspicion in Walmart. Not even if you are an overweight man wearing rainbow stretch pants, a bright pink sports bra, and a hat shaped like a toilet. Walmart people call that type of attire "blending in".
I am thankful for the selfie stick I won at a recent work event. It makes a great back scratcher. It's also good for repelling zombie attacks. This is something that has become a real problem in our country this year… selfie sticks, not zombies. I can tolerate zombies.
I am thankful our culture doesn't espouse men wearing lederhosen. On a semi-related topic, I do wish that learning to yodel was mandatory though.
I am thankful I didn't get that "Winnie the Pooh" tattoo I was contemplating in my late teens (Tigger would make an awful tramp-stamp).
I am thankful for diaper pants when I am mountain biking – you bikers know what I am talking about. Diaper Pride!
I am thankful for the "Whip and Nae Nae;" it has given me something to really loathe instead of people. Except now I loathe people who do the "Whip and Nae Nae" so never mind on this one.
I am thankful I drive a crappy car. I am glad that I don't have to worry about it being stolen, keyed or care if it is gentle on the olfactories. So what if my vehicle smells like a slaughter-house barfed on yesterday's roadkill? It's mine and it's paid for.
I am thankful for all the money I save on razors. I may never win a Movember contest, but I always win on my shaving budget.
I am thankful I got my nostrils waxed this year. However, I was horrified by the sheer amount of hair that ended up on the wax stick. It looked like two mini Joshua trees had been pulled from my nose. Apparently that's where my body expends its energies for hair production.
I am thankful that when I went on a recent business trip, I got bumped into first class while my bosses languished in coach. They looked so miffed and uncomfortable back there. That's what I have come to expect from coach-types… they can be so ungrateful.
I am thankful that my entire November this year will be SOCCER FREE! I feel like yelling in a Braveheart-worthy Scottish brogue – FREEDOM!!!!
I am thankful for a dentist that doesn't try to talk to me while he has his whole office stuffed into my mouth.
I am thankful for my wife's cold feet. Seriously. If she would let me put them under my arm-pits, I would.
I am thankful for toilet plungers. They have saved my life more than any other instrument/tool on this earth.
I am thankful for my magic bullet blender that pre-chews my food. We humans may evolve beyond the need for teeth someday soon.
I am thankful that my new fish oil supplement doesn't give me the fish-burps. There is nothing more unholy or impure as a fish-burp.
I am thankful that my dance moves now embarrass my 12 year old. What, you don't like the running man son?? You are no longer my child.
I am thankful that jock-straps are extinct. Though I thought I saw one at the gym a couple of years back… I am certain some far-distant inhabitant of the earth will find one fossilized and think – "Now that's an odd-looking face-mask, or is it a sling shot…?"
I am thankful I don't live in my in-law's dungeon, er, I mean basement.
I am thankful my in law's don't read my blog posts 🙂
I am thankful that super-glue has saved me at least 3 trips to the ER. I recommend not storing it next to your eye drops however.
I am thankful I can still get away with giving my youngest a nickle for a 20 minute foot rub. This has been the going Jacobs "dad-rate" for 4 generations.
I am thankful that my wife is allergic to cats and celery. They are both evil, however, cats are a-holes in addition to being evil. I can't say the same thing for celery. It's just a vegetable after all. Albeit an evil one.
I am thankful for the side of my family that cooks a whole turkey on Thanksgiving so I can eat dark meat. If the other side, aka "the dark side," serves me one more plate of white meat then I will serve them a bill of familial divorcement. I find it curious that "the dark-side" only serves white meat.
I am again grateful my in-laws don't read my blog posts… (joking about the in-laws here – however, the white meat part is true – so is my threat)
What's your a-typical thankful list? Be brutally honest.
If you love Dan's humor and insight, then you should check out some of his other posts:
24 Truths Learned at Parents' University
Stop Sloppin' the Hogs: Teaching Table Manners to Children
And for some more "typical" ideas on showing gratitude, try these posts:
Thankful Jar with Metallic Rocks
Thanksgiving Family Night Idea – Stuff Your Life with Gratitude