Hi there! It's Gina from Kleinworth & Co. I'm back today to share with you a quick & easy way to add a creamy & tangy avocado flavor to everything you desire. We always seem to have an aging avocado on the counter. Everyone loves them & so every trip to the market results in more avocados. But they have such a short window of time for perfection. I don't want to waste them. So I have been using them in all sorts of recipes whenever I can. One of our new family favorites is this Avocado Goat Cheese Dressing.
It's the perfect creamy dressing. My daughter (who is just crazy for salad) just loves having this in place of her regular Ranch or Italian dressing. The avocado flavor is perfect.
For us it's the perfect summer flavor. Growing up in Southern California, avocados were just a staple in everyday dishes. So we love that it brings that taste of home into our everyday meals so easily. You really can't go wrong with this. It's simple & quick to whip up in just a couple minutes. It stores well too. Although it never seems to last but a couple days in our house.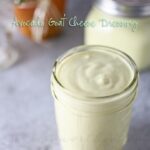 Avocado Goat Cheese Dressing
Ingredients
1

ripe avocado

2

tbsp

vinegar

1/2

cup

buttermilk

1/2

cup

mayo

1-1/2

tbsp

lemon juice

2

tbsp

parmesan cheese

1

cup

sour cream

1

tbsp

garlic paste

1/2

tsp

salt

1/4

tsp

pepper

1/2

c

goat cheese crumbles
Instructions
Add all ingredients except goat cheese to blender.

Blend on medium/high for approx 60-90 seconds

Gently fold in goat cheese

Store in refrigerator for up to 2 weeks (depending on the freshness of your dairy ingredients at the time of preparation)
Want more great summer inspired toppings & spreads? Try these!
I would love to get to know you better!! You can connect with me at… Blog, Twitter, Google+, Instagram & Pinterest