Hello! This is Darleen from Darling Darleen, and I am sharing another easy letter craft project. If you've read some of my other posts, I have a slight obsession with monograms. I just love how they can personalize a space or make a gift more sentimental. This is a fun, easy project making a sequin monogram letter. These sequin letters can be used as a decorative object for your home or office shelf or used for wedding decorations or a bridal shower. Or any party that needs a little bling! I chose gold, but of course you can make your sequin monogram letter in any other color or metallic.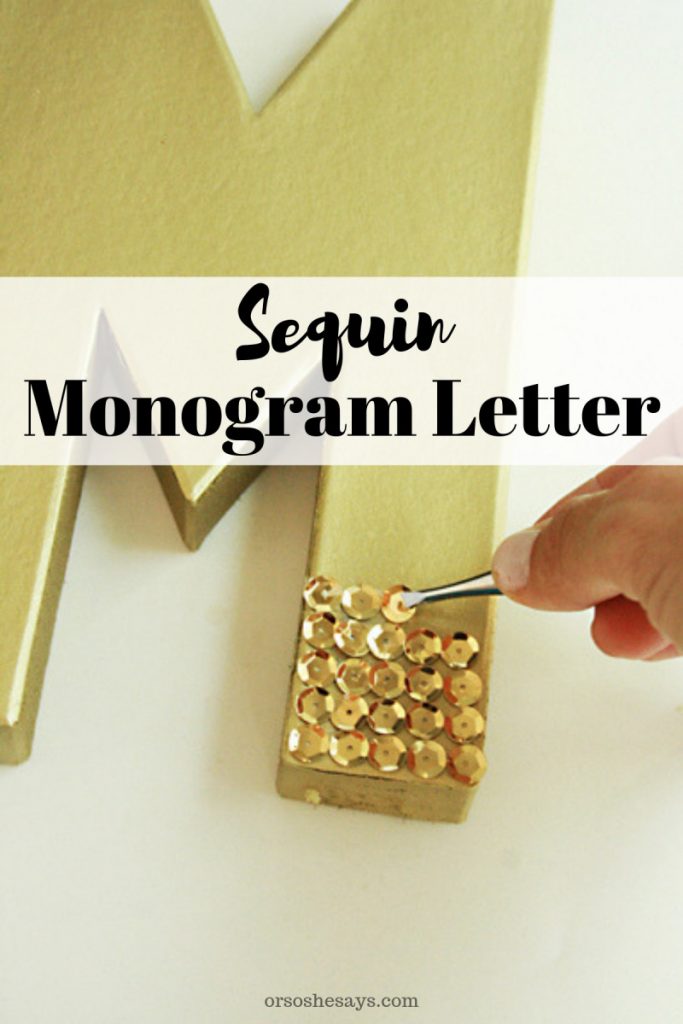 Supplies needed for your sequin monogram letter:
paper mache letter
8mm sequins
tacky glue spray
gold spray paint
tweezers
First step in making your sequin monogram letter:
Spray paint your letter gold. This will provide a base color for your letter. Remember to cover your area and spray in a well-ventilated space. Make sure it is fully dried before proceeding.
Get your tweezers and sequins ready!
Once the paint is dry on the monogram letter:
Start with your tacky glue and spray a small section of your letter. I started from the bottom and worked my way up, placing each sequin in a straight line. Using the tweezers, I was able to place each sequin close to each other. The spray glue stays sticky for a few minutes, so you will have time to cover your sprayed section with sequins. Although you do need to work fast, and the tweezers help to pick up each sequins and keep your hands glue free. This is not a project to go back to. It's best to finish and complete in one go.
Let your sequin monogram letter dry, and then enjoy!
The paper mache letters are thick enough to balance and stand by itself. These sequin letters could also make simple words like LOVE, XOXO, BRIDE. Have fun with it!
Supplies for making a sequin monogram letter:
Darice Paper Mache Letter B, 8 by 5 by 1-Inch
PH PandaHall 1 Box 15 Colors Flat Back Pearl Cabochon 8mm Half Round Gem Scrapbook Craft (About 1125pcs/box)
Aleenes All Purpose Tacky Adhesive Spray, 11-Ounce
Krylon K01000A07 Premium Metallic Spray Paint, 18K Gold – 8oz
Slant Tweezers – Tweezer Guru Professional Stainless Steel Slant Tip Tweezer – The Best Precision Eyebrow Tweezers For Your Daily Beauty Routine!
Other posts you'll enjoy: