Hi everyone! It's Adelle from Packed with Fun, the official blog for Get Away Today.
Summer vacation is winding down and the kids are headed back to school. Some of our family's happiest memories come from the time we've spent together on vacations, especially Disneyland. The sights, sounds and even smells are magical. Just because school is starting and your family is getting back into a routine doesn't mean that your routine has to be boring. In fact, back-to-school brings some pretty fun ways to bring some Disney magic into your home to keep that vacation excitement alive.
I've put together some fun ways that you can recreate some back to school magic at home to remind you of your favorite Disneyland vacations. Whether you call it a using a spoon full of sugar, or a adding a little bit of pixie dust, you can make everyday moments more fun with a little bit of imagination! Why not live life with a cherry on top all of the time?
When homework starts coming home, make it sparkle! Math, spelling and geography are much more fun with a little bit of pixie dust! Sprinkle a light dusting of glitter onto the pages and tell your kids that the Homework Fairy has helped them out. You can even send some pixie dust to school with these cute and easy DIY key chains, or as I like to call them, backpack bangles.
Finding Nemo
Make cleaning the house fun with a little game called Finding Nemo. All you need is a "Nemo" (any size will do), that you can easily hide in a room that needs to be cleaned. Under the bed covers or in a laundry pile are both good options. Then, ask your kids to clean up and tell them that they need to find Nemo. Whoever finds Nemo can hide again. Repeat until your house is clean, then watch the movie as a reward when you're done!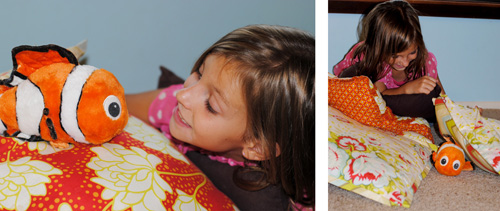 Bubble Parade
One of our favorite things about Disneyland's atmosphere was the bubbles! During the parades and shows bubbles would suddenly appear and it was so festive. Every time we walked through Buena Vista Street in Disney California Adventure Park, the street vendors would create bubbles for my kids to run through and pop. If your kids walk to school, you can make your own bubble parade along the route. Think of how much more exciting it would be to walk to class in a flurry of bubbles!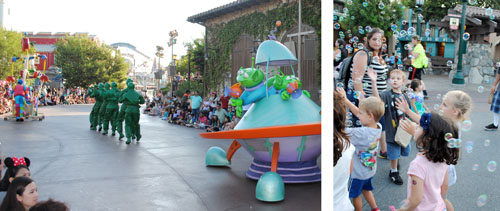 Mickey Treats
Even the food at the Disney Parks is cute and creative! There were Mickey shaped caramel apples, cookies, pretzels, candies and more! I don't know why, but for some reason everything tastes better when it's shaped like Mickey. You can magically transform your treats at home with a Mickey Mouse shaped cookie cutter. How easy is that?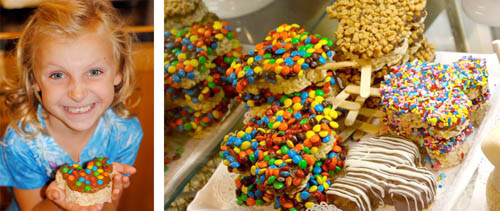 Mouse Mirror
Getting kids excited to go to bed can be tricky. Make brushing teeth more exciting by transforming your kids into mice! Draw Mickey Mouse ears onto your bathroom mirror with a dry erase marker. When the kids stand at the sink to brush their teeth, they will look like Mickey or Minnie Mouse. It wipes right off with window cleaner. You could also leave a secret message on the mirror with your finger that only appears when the bathroom gets steamed up.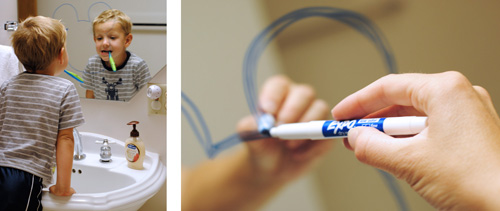 There are so many ways to make everyday moments more magical! It doesn't have to cost any money or take extra time. All you need is some creativity and a bit of imagination! Here are some other magical ideas for you to try at home:
• Put a red plastic table cloth on the ground leading to the car to make kids feel like a Disney Star when you pick them up from school.
• Teach your kids the song, "Whistle While you Work" from Snow White and then take turns whistling while you clean up dinner. Even if they can't whistle, it is still fun to give it a try!
• Give your child a piece of candy on a spoon as a "spoon full of sugar" to make them feel better if they get hurt. Bonus points if you sing like Mary Poppins.
• Set a timer when your children do their nightly reading and pretend that when the timer goes off then it is "midnight" and they turn into a pumpkin. Your kids have to get a certain amount of pages read before they run out of time, just like Cinderella.
• Play Freeze Clean. One person gets to be Elsa and if she catches you not cleaning then you get frozen. The last person cleaning when everyone else is frozen gets to be Elsa next!
• Send a note in your child's lunch box from his or her favorite Disney Character! You can get a bunch of free lunch box printables that I made by clicking here.
I hope these ideas help bring some everyday magic into your home as the school year begins. Of course, another way to keep the Disney magic alive is to look forward to your next vacation. If you don't have your next Disneyland vacation booked yet, let us help. We'll help you find the best hotel for your family at the best price, guarantee the lowest price on tickets and take care of you every step of the way. You can even lock-in your vacation for just $175 down with our easy layaway plans, because we can all use a little more magic in our lives! Book online or call our Disney Experts at 855-GET-AWAY.
Here are some more ways to keep the Disney magic alive and strong in your home:
Turn Your Backyard into Disneyland
Disneyland Vacation Surprise Idea (great for Christmas!)
And some back to school fun, too:
Back to School Mad Libs Round Up