This is a sponsored post written by me on behalf of Stride Rite. All opinions are 100% mine.
How to make shopping for kids' shoes easy…
I don't know about other moms out there, but I do everything possible to avoid shopping with my kids. I don't think I'll ever recover from the epic, triple meltdown my three kids had one time as I tried to grab a couple random items in a trendy little grocery store. There was no sympathy from fellow shoppers and no where to hide. Several young, hip employees descended on us with stickers and lollipops trying to subdue my screaming children, but they weren't having any of it. It was mortifying and maddening all at the same time.
To try and avoid EVER repeating such an experience, I came up with a brilliant mom hack that allows me to shop for shoes for my kids without actually having the kids with me to try the shoes on.
I simply trace my kids' rapidly growing feet, then cut out the outline and throw it in my purse. I label each one with my kids' names and the date I traced their feet. Then if I'm out and about (childless if possible) and see a great shoe sale or an adorable shoe I know they'd love, I can just slip the shoe outline in the shoe to see if it would fit.
So far, this method of proxy shoe sizing has worked great! I'm happy because there are no fits while shopping, and my kids are happy with a surprise new pair of shoes that fit perfectly.
My shoe outline came in handy recently while I was leisurely browsing my way through Target. I noticed a display featuring a new line of Stride Rite shoes called "Surprize."
The Surprize brand has so many cute and affordable styles for my little preschooler. He is obsessed with anything blue, so I knew he'd love these bad boys.
My shoe outline comes in handy, but I sometime have a hard time finding shoes that fit his wide foot and high arch (his dad is to blame for both). His new little Surprize shoes were perfect though! The memory foam footbeds molded to his feet, and I'm impressed by how flexible the outsoles are. The rubber toes are also perfect for my little tree-climbing, sidewalk-chalk-drawing, playground-exploring kid. I have high hopes that these shoes will actually outlast his next growth spurt!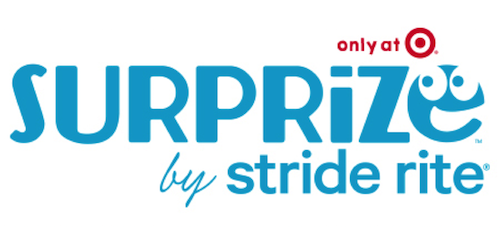 This is the first time that a Stride Rite brand has been featured at Target. Since I'm a regular Target shopper, I'm excited to see the cute shoes that each new season will bring. Surprize brand shoes are available now at all US Target stores. I also appreciate that I can order them online at Shop Surprize by Stride Rite and have them either shipped to me or waiting in the store.
Check out all the cute styles they currently have at Surprize for girls and Surprize for boys. And check out this video for more details on the awesome partnership between Stride Rite and Target that's bringing comfy, affordable and durable (not to mention cute) shoes to moms everywhere.
Tell me about your worst mom shopping experience! How will having Surprize shoes available at Target make your shoe shopping easier?