One of my most favorite things is the Mission Carb Balance tortillas (don't get the wheat, they're yuck)! I talk about them to everyone I see! Probably annoying, but I find them so exciting! Why?? Well, for one…I try to live a mostly low-carb lifestyle (7 net carbs per tortilla, baby)! Except on Sundays, my free day, the day of rest…it's all about cheesecake, bread, bread, lemon bars, and bread. For two…there are…hold on to your pants…11 grams of fiber per tortilla! Holy Heck!
So you can make a myriad of low-carb meals with these puppies.
Turkey, bacon, cheese and ranch dressing wrap.
Grilled chicken pieces, lettuce, Parmesan, and zesty Italian dressing wrap.
Turkey, avocado, Swiss cheese, mustard wrap.
B.L.T
Breakfast burrito with eggs, ham, cheese, and salsa.
Tuna, lettuce, and cheese wrap.
Teriyaki chicken, Swiss cheese, lettuce and pineapple wrap.
Quesadilla
Oh, the possibilities are endless! That is why these are fantastically exciting to me! (Oh, by the way…when you are doing low-carb you don't want the "light" versions of dressings. They are high in carbs. Just buy the regular! Whoo! Fine by me!)
Anyway, so I've had this yummy,
super easy recipe for Baked Chimichangas
and it occurred to me to use my low-carb tortillas…and whoa! Easy, good, healthy, light, low-carb, sexy…you get the drift.
You'll need 2/3 cup of your favorite salsa, 1 tsp. ground cumin, 1/2 tsp. dried oregano crushed leaves, 1 1/2 cups cooked
chicken
, 1 cup shredded cheddar cheese, 2 green onions, and 6 flour tortillas. Preheat oven to 400 degrees.
Mix together the salsa, cumin, oregano,
chicken
, cheese, and green onions in a bowl. Note: I actually used a rotisserie
chicken
(2 if you only like white meat) to make it 10 times easier and faster.
Scoop about 1/3 cup of mixture onto the tortillas and roll 'em up!
Brush some butter on top and stick them in a 400 degree over for about 25 minutes.
I was a little short on toppings, but load these up with lettuce, salsa, sour cream, avocados, black olives, etc. (all low carb choices…including the tortilla and the filling!…feel proud!)
Baked Chimichangas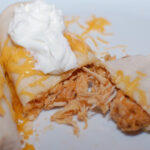 Baked Chicken Chimichangas
Ingredients
2/3

cup

salsa

1

tsp.

ground cumin

1/2

tsp.

dried oregano leaves

crushed

1 1/2 - 2

cups

shredded or cubed chicken

1

cup

cheddar cheese

shredded

2

green onions

chopped

6

flour tortillas

melted butter

*any toppings you want
Instructions
Mix the chicken , salsa, cumin, oregano, cheese, and onion in a bowl.

Place about 1/3 cup on each tortilla and roll up. Place seam side down on baking sheet.

Brush tops with melted butter and bake at 400 degrees for 25 minutes.

Garnish with cheese, sour cream, salsa, avocado, lettuce, olives, etc.