Hey guys! I'm Jen, and I share any and everything baked on my blog, Baked by an Introvert. I'm so happy to be joining Mariel and her team as a contributor here!
Oatmeal is hands down one of my favorite breakfast options. If it's baked it's even better!
These baked peach almond oatmeal cups are so easy to throw together. All that is required is one bowl, a handful of healthy ingredients, and 25 minutes to bake. Of course the largest component of the oatmeal cups is the oatmeal. You will need the old fashioned kind. If you're aiming for gluten free, be sure the label states certified gluten free.
Almond butter is what I used as a binder for today's oatmeal cups. If you don't care for almond butter you can always use peanut butter instead. And you can easily make your own almond butter at home.
The oatmeal cups are sweetened with maple syrup. Make sure to use pure maple syrup. Or you can use honey in place of the syrup. I've made these with both and either way, they are delicious.
For flavor I mixed in frozen diced peaches, almond slivers, and a little almond extract. You can switch up the add-ins to your liking. Any type of fresh or frozen fruit would be tasty. Sometimes I like to use blueberries or bananas. And, of course, omit the almond extract if you are using peanut butter as the binder.
Pour some milk over everything and mix it up well. You want those oats to soak up the milk so that they'll cook through. Refrain from adding extra milk if the mixture looks dry. Too much milk with cause the baked cups to be soggy and difficult to remove from the pan.
Be sure to spray your muffin pan liberally with non-stick cooking spray or line it with paper liners. The oatmeal needs to bake for about 25 to 30 minutes. Once the cups feel firm to the tough, they are ready.
This batch yields 12 oatmeal cups. You can enjoy them right away while they are hot or let them cool completely. These guys are super dense and hearty. They are perfect for breakfast on the go. Or a quick pick-me-up before a workout.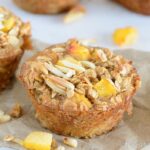 Baked Peach Almond Oatmeal Cups
Ingredients
3

cups

old fashioned oats

1/2

cup

almond butter

1/4

cup

pure maple syrup

2

cups

fresh or frozen diced peaches

1

cup

raw slivered almonds

1/2

tsp

almond extract

1 1/4

cup

milk
Instructions
Preheat the oven to 375F degrees. Spray a 12-cup muffin tin with non-stick spray or line with paper liners.

In a small microwave safe bowl, heat the almond butter in 30 second intervals until it becomes runny.

In large mixing bowl, combine all ingredients. Mix until thoroughly combined. Fill each muffin cup all the way to the top with the mixture.

Bake in the center of the oven for 25-30 minutes or until the oatmeal cups feel firm when touched.

Cool the oatmeal cups in the pan for 5 minutes. Run a knife around the edges to loosen the cups from the pan. Enjoy then oatmeal cups while they are warm or refrigerate for a grab and go breakfast.
Recipe Notes
*If preferred, use peanut butter in place of almond butter and omit the almond extract.
*Honey may be used instead of maple syrup.
*For a complete vegan option, replace the milk with almond milk or soy milk.