Alright, who is going to be the first person to look at my picture and tell me that's not Baked Ziti… it's penne… ?? I know, I know! I kinda just like penne noodles better because they're not so big. But, penne, ziti, rigatoni… whatever you choose, your family will love this. I know mine does! It's man-friendly (plenty of meat), kid-friendly (no onion or tomato chunks), and mom-friendly (easy to make!) And, I'm talking 'in general,' of course. When I ask the kids what to make for our big Sunday dinner, this recipe for Baked Ziti is often at the top of the list.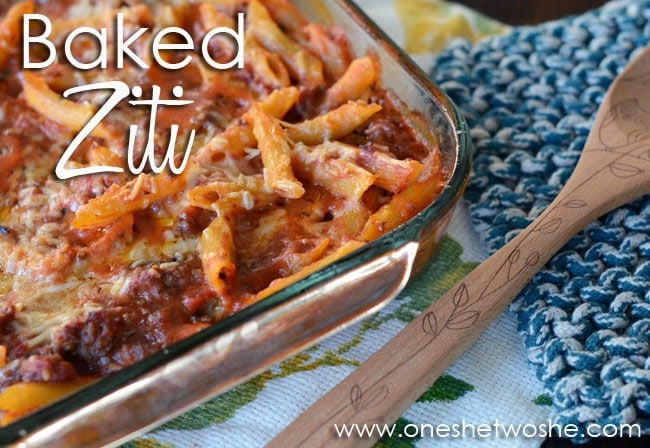 This recipe for Baked Ziti is a combination of several recipes I've tried. I've altered it to just the way my family likes it and it's a keeper! This recipe can feed about 10 adults, so you may have some leftovers, if you're feeding a small family. But, if you're like me, I'm all about having a night off from cooking! Let's get to it…
Baked Ziti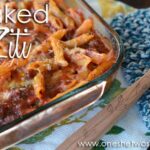 Baked Ziti ~ Kid-Friendly (and awesome!)
Ingredients
4

cups

ziti or penne noodles

1

lb

hot Italian sausage

3

tsp.

minced garlic

1

TBS.

minced

dry onion

4 - 14.5

oz.

cans crushed tomatoes

1/2

cup

pesto

3

cups

mozzarella cheese

shredded

1 1/2

cups

Parmesan cheese

shredded (divided)
Instructions
Heat oven to 375 degrees.

In a medium saucepan, boil water and cook noodles.

In a separate pan, cook the sausage.

After it's cooked through, add the minced garlic and dry minced onions, cook for 1 minute more.

Add cans of crushed tomatoes and pesto, stir and heat until hot, about 5 minutes.

Drain cooked pasta and dump in large bowl.

Add mozzarella and half of the Parmesan to the hot noodles, stir.

Dump tomato and meat sauce over the noodles and stir to combine.

Dump mixture into sprayed/greased 9x13 baking dish.

Sprinkle the rest of the Parmesan on top.

Bake for about 30 minutes, until cheese melts and heated through.
For more Italian style dishes, check out these recipes: Stuffed Italian Shells, Bulk Marinara Sauce for Freezing, Tortellini and Sausage Bake