* This post is sponsored by Cans Get You Cooking. All opinions are 100% mine. *
Since becoming a mom, saving money on healthy meals has been a huge part of my stay-at-home job. The most effective way I have found to save big is through pairing coupons with great deals at my local store – 10 for $10 sales are my very favorite! Most of these sales, are generally on canned goods which has really challenged me to get creative with the things I make; because making healthy things that my family will actually eat is top of the priority list.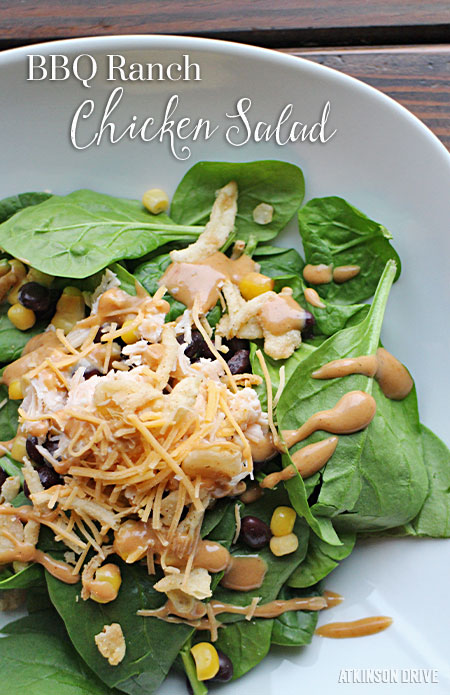 To make sure I'm using up my sale items, I have given myself a goal of creating at least one meal a week with mostly canned pantry items. Generally, I make these meals on Thursday: when my husband works late, and I'm too exhausted after a day with the boys to spend a lot of time cooking!
Did you know February is National Canned Food Month?? Besides getting great deals on canned foods, canned foods make homemade easy!
Canned foods mean less prep and year-round availability, making healthy, homemade meals a reality, more often.
A well-stocked pantry – your "Cantry " – helps you get through the week with creative meals you can feel good about serving your family and friends.
Cans Get You Cooking has a lot of fun things going on this month to celebrate the benefits of canned goods. (Visit Cans Get You Cooking) But, before we get to that, let me share with you a favorite recipe that uses nothing other than… canned goods!
BBQ Ranch Chicken Salad
It's something I can never resist when I go to any restaurant, but I much prefer to make it at home for a lot less money!
BBQ Ranch Chicken Salad
Ingredients
Romaine Lettuce or Spinach

Green Giant Steam Crisp Corn Kernels

KC Masterpiece BBQ Sauce

Hormel Canned Chicken

Bush's Best Black Beans

French Fried Onions

Cheddar Cheese

Ranch Dressing
Instructions
To start, drain and rinse the corn and black beans. Then rinse the chicken and use your hand to shred it into a bowl.

The dressing is simply a mixture of ½ ranch dressing and ½ bbq sauce. My favorite sauce to use is KC Masterpiece Hickory Brown Sugar, which adds a nice hint of sweetness.

Top the lettuce with a handful of bean/corn mixture, some shredded chicken, a sprinkle of onions and cheese, and a drizzle of dressing.
The best thing about this salad is that you can really add any of your favorite items to make it your own! Someone in your family might want to add some avocado, while another might prefer little tomatoes. Either way, you know your family will be getting a fresh and healthy dinner with canned goods from your pantry that you purchased for a great price!
So… here's the scoop on National Canned Food Month!
Cans Make the Meal with Kelsey Nixon 30-Minute TV Special:
Cans Get You Cooking produced a 30-minute special that has been on the Cooking Channel during the month of February. The special features Cooking Channel star Kelsey Nixon as she takes viewers down the canned food aisle and into her kitchen, sharing fun canned food facts, and creating delicious recipes inspired by the canned foods in her Cantry. The next episodes are February 22 and 28th, 2015 10:00 AM EST. Don't miss it!
Cantry Cook-Off Recipe Contest:
In honor of National Canned Food Month, Kelsey Nixon will be judging Cans Get You Cooking's Cantry Cook-Off Recipe Contest! Entrants must create a unique recipe using at least two canned food items and submit the recipe, along with a photo of their dish for a chance to win $5,000! Entrants have until March 31, 2015 to enter!
Enter here: CookingChannelTV.com/cans
Cantry Thursdays:
I didn't realize Cantry Thursdays was a real thing, I just knew that was the day I usually ended up cooking from my pantry! Cantry Thursdays is the perfect name for the day when you're plum out of fresh fruit and veggies or items from the store may have gone bad. So, what do you do… hit up the pantry. Nutritious and flavorful meals are just waiting to be made.
Find more of Cans Get You Cooking here…