Given the opportunity to get messy, dip fingers in and lick the spoon, I think most kids love cooking. Cooking with kids is so important because it not only teaches them important skills, but being involved often gets them more excited to eat meals.
My kids – Gracey aged 8 and Lewis aged 5 – have been making kitchen creations since they were toddlers:
Chocolate crispy cakes – that mysteriously leave them looking like they dipped their whole faces in chocolate.
Fairy cakes – used purely as a vessel for a mountain of smarties, sprinkles and icing.
Pizzas made into faces – leaving me wondering what to do with the huge pile of toppings I prepared that the kids won't allow me to put on for fear of messing up the eyes and the smile.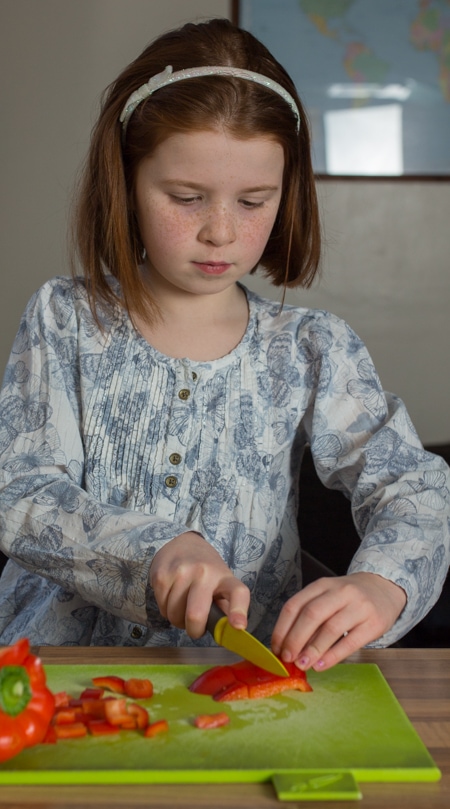 I love the way cooking makes them feel so grown up. The smile on their faces when they get praised for their amazing creations makes the chocolate splashes on the ceiling all worthwhile.
Lewis generally likes the messy decorating bit more than the cooking process at the moment. He does make a brilliant loaf of bread though. The secret is the kneading stage – where he pretends the dough is a 'baddie' and punches the heck out of it. It's slightly disconcerting to see the effort he puts into it, and I'm keeping my fingers crossed that he never decides to show off his home-honed punching skills to any of his school friends!
Gracey on the other hand is getting ever more domesticated. She now has her own cooking night on a Monday, and she's even started her own food blog.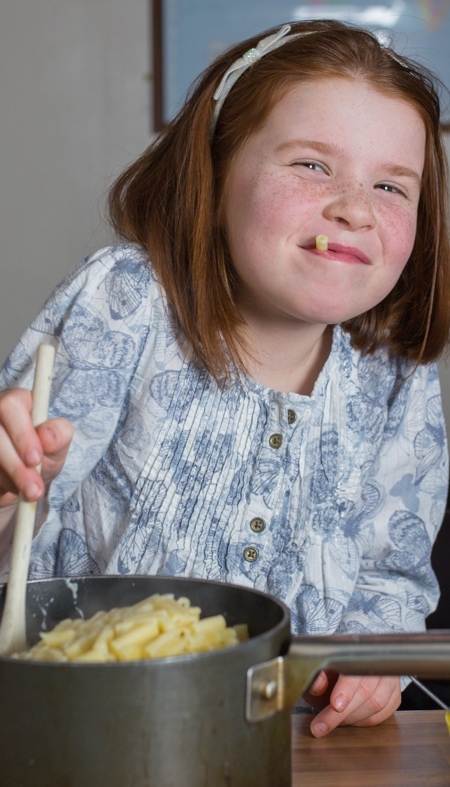 Admittedly I still help her a fair amount, but I'm looking forward to the day she can cook the whole family a lovely roast dinner whilst I sip coffee and read a good book. Is age 10 too early to expect that?
I told Gracey I needed her to help in creating a lovely dinner for 'Or So She Says' and she jumped off the sofa and immediately started rummaging through her growing collection of cook books.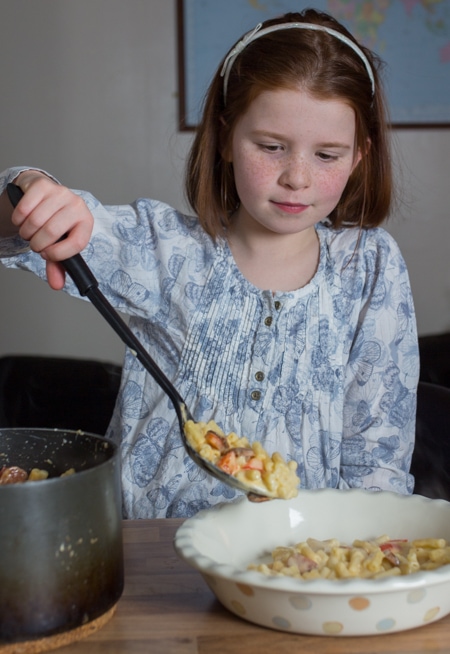 We eventually decided to combine a couple of kids classic favourites – Pizza and Mac 'n' Cheese.
I've written the recipe up divided into adult and child tasks – based on a child who has had some experience in the kitchen with cutting, grating and heat. You know what your child is safely capable of, so please use your own judgement to decide if more adult help is needed.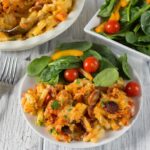 Cooking with Kids: Pizza Mac 'n' Cheese
Cooking with Kids - Pizza Mac 'n' Cheese recipe - split into adult and child activities
Ingredients
500

g/17.5 oz macaroni pasta

Water

150

g/5.5 oz sliced pepperoni or chorizo

1

red bell pepper

2

heaped tbsp. butter

2

heaped tbsp. plain flour

700

ml/3 cups full fat milk

100

g/3.5oz sharp white cheddar cheese

50

g/1.75oz parmesan cheese

50

g/1.75oz orange-colored cheese

such as orange cheddar or red Leicester

1

tbsp

tomato puree

¼

tsp

dried oregano

1

heaped tbsp. panko breadcrumbs

small bunch of fresh parsley

Salad to serve
Instructions
Adult: preheat the oven to 190c/375f and put a large pan of water on to boil for the pasta

Child: when the water is boiling, carefully pour in the macaroni with the help of an adult. Give it a stir and let it cook for 1 minutes less than the time stated on the packet (we cooked ours for 12 minutes).

Adult: When the pasta is cooked, drain in a colander and leave to one side.

Child: slice red peppers into small chunks (if you're worried about your child using a knife, then cut the pepper into large pieces for them, and ask them to cut the peppers into smaller chunks using clean children's scissors)

Child: Place all but 1 tbsp of the pepperoni/chorizo slices in a small frying pan, and with the help of an adult, fry them until they start to release a little oil. Add in all but 1 tbsp of the chopped peppers and cook for a further minute, then remove from the heat.

Child: Carefully grate the three cheeses – adult help may be needed as the grater is sharp

Child: Place the butter in a large pan and melt on a medium heat. Add in the flour.

Adult: Whisk the flour and butter together over the heat for one minute

Child: slowly pour the milk into the pan whilst the adult continues to whisk. Once all of the milk is whisked in, you can have a go at stirring yourself. Add in 2/3rds of the cheese and stir until melted, then turn off the heat.

Child: in a small bowl, mix together the tomato puree, oregano and two tablespoons of the cheesy sauce.

Child: pour the cooked macaroni into the pan of cheese sauce, along with the cooked pepperoni/chorizo and peppers. Give everything a stir, then spoon it out into a large casserole dish.

Child: Spread the tomato puree mixture on top as you would a pizza, then sprinkle with the remaining cheese and decorate with the remaining pepperoni and peppers.

Adult: Place in the oven for 20 minutes until the cheese is melted and golden, then take out and leave to cool for a couple of minutes before serving with a bowl of salad.
I hope you'll have fun in the kitchen with kids!