Hello again all! Kari here with a fun up-cycling craft to keep the kiddos busy this summer. We all need ways to beat the heat, and keep the kids entertained indoors , so why not try this up-cycling craft? Not only is it easy and fun, but the kids will love being involved, and in the end, they'll have fun toys to keep them playing happily all the live long day!
We all have them. Those broken- stained – mismatched- missing lids Tupperware, that we eventually throw out with a wasteful wince. But now you can turn them into a great summer project for you and your little ones!
Here is what you'll need:
1. Old Tupperware
2. Wire cutters
3. Marker
4. Printed Paper
5. Scissors
6. Paint brush
7. Modge Podge (I used homemade modge podge which is super easy, and a fraction of the cost) Check out the tutorial by clicking HERE.
First, use your wire cutters to cut little tunnels on each side of your Tupperware pieces (this should only been done by adults).
Next, have your kiddo(s) help you cut out strips of paper. This is a great fine motor skill activity for younger kids to work on
Then, have your little one place the strips of paper on the Tupperware with the modge podge. If your kiddos are like mine, they will LOVE this step! STICKY STICKY FUN!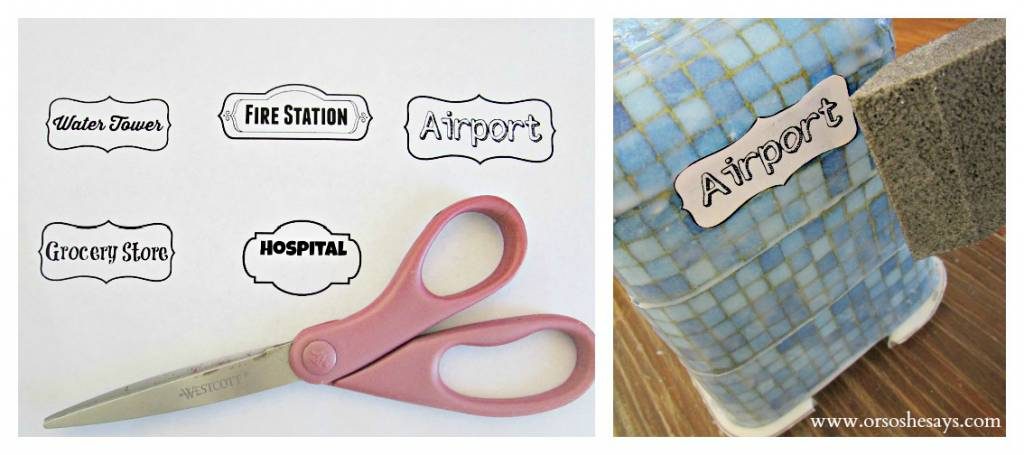 You can then choose to add finishing touches like signs and windows. Be sure and use plenty of modge podge to seal your finished piece. Then let them sit over night to dry.

And there you have it! An easy indoor DIY craft to beat the summer heat!
If you liked this project, check out more DIY adventures on my blog, Paper Wings.
For more kid-friendly crafts, check out these OSSS posts: