My son, Shane, has been on this pasta salad kick. So, we went on the search for exactly the kind of recipe that he would love… and, we found it. Pasta, packed with meat, olives, cheese, green peppers, and drizzled with Italian dressing! We found the recipe on All Recipes, but ended up changing the cheese and eliminating a couple of the ingredients that Shane didn't love… i.e. tomatoes and pimentos. He loved this so much that he decided to add it to the menu of his upcoming cooking class for kids! That Shane… my little chef.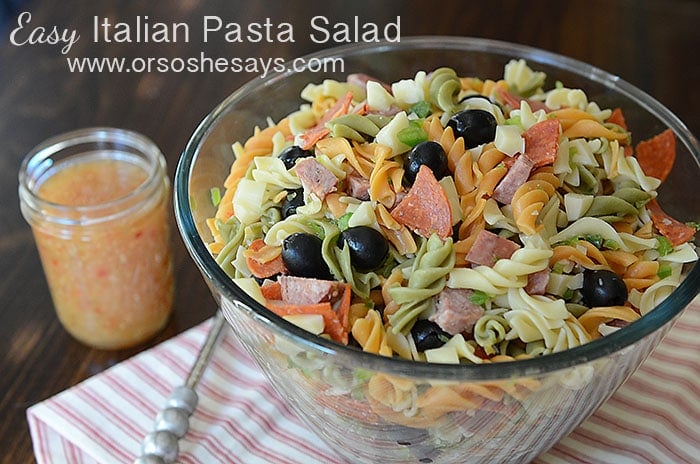 Note: I prefer not to pour the dressing on until right before serving, as dressing can absorb into the noodles and end up being quite flavorless. If the pasta salad will end up being in your fridge for a few days, I would just keep the dressing on the side, permanently.
Enjoy!
Easy Italian Pasta Salad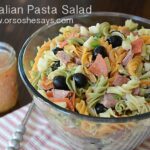 Easy Italian Pasta Salad
Ingredients
16

oz.

package spiral pasta

1/2

pound

mozzarella cheese

cubed (or provolone)

1/2

pound

salami

cubed (or summer sausage)

1/4

pound

pepperoni

cut in half

1

large green bell pepper

chopped

1 10

oz.

can black olives

drained

1

bottle of favorite Italian salad dressing

Optional: cherry tomatoes

pimentos
Instructions
Bring a large pot of water to a boil. Add pasta and cook until al dente. Drain and rinse with cold water.

In a large bowl, combine the pasta with all other ingredients, except salad dressing.

Add salad dressing right before serving.
If you like this recipe, check out these ones!