Hello again OSSS readers! I'm Kristi from making it in the mountains and I'm back again to share another favorite recipe! This quick dish has been an absolute life saver as we trudge through month two of moving (you can check out a sneak peek of our new home here). Yes, you read that right … TWO MONTHS! Ugh! Anyway, all whining aside, this pasta salad has become our go-to side dish simply because it's SO easy to whip up a big ol' batch of it, not to mention it's SUPER yummy and goes with pretty much everything! I just know y'all are going to LOVE it too!

Ingredients
– 1 package (approximately 1 lb) of your favorite bite sized pasta
– 2 cups of frozen peas & carrots (or fresh if you'd prefer)
– 1 1/2 cups of mayonnaise
– 1/4 cup sour cream
– 2 tbsp. sugar
– 2 tbsp. apple cider vinegar
– 2 tbsp. mustard
– sprinkle of salt & pepper to taste
– 1 cup of cheddar cubed
Optional Add-ins
– bacon
– ham
– tomato
– celery
– green onions
Method
Cook up that macaroni al dente, drain and rinse – don't skip the rinsing as that's what will stop your pasta from sticking together in a giant blob as it cools. While you're pasta is boiling away, you can steam your peas and carrots for a few minutes too. Set it all aside to cool in a large mixing bowl.
In a small mixing bowl, stir up the mayo, sour cream, sugar, apple cider vinegar, mustard, salt and pepper. I usually just toss my cheese cubes and any other add-ins to this sauce so that I can just throw it all in together once the pasta is cool.
Once the pasta and veggies are cool, fold the sauce mixture and any extra add-ins to coat thoroughly.
Enjoy!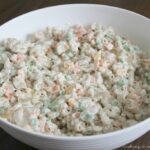 Best Ever Macaroni Salad
PS. If you find that your pasta salad gets a bit dry after storing leftovers in the fridge, just add a little milk to the mixture to make everything creamy again.
I've been on the hunt for the perfect pasta salad recipe for ages and by golly, I think I've finally found it! Winter or Summer, this Macaroni Salad is one of my favorite side dishes – it's SO easy to whip up and it's ALWAYS such a huge hit!
Be sure to check out some of my other favorite recipes like this Thai Steak Salad or my Famous Granola Bars!
Wishing you SUCH a lovely day!