These easy blueberry bars are simple to make, and taste fantastic!
We've had such a fantastically warm Winter here in Utah that I don't know if people will even recognize us approaching Spring. 'Cuz it's kinda been lingering all along. However, then I went and moved myself back to Charlottesville, VA for a few months. Can I say, winter slap in the face? Yeah, it's been cold. Luckily, I still packed a few warm things to hold us over. And since we are heading into March "real Spring" (hopefully) weather, I think that we will survive.
So while everyone else is thinking green, I am thinking BRRRRR. I figured I'd try to look at the bright side. More reasons to have the oven on and bake a tasty treat! Why not celebrate with blueberries of course?
These blueberry crumble bars have been a favorite for ages. They really are quite simple to make and I don't think you can really mess 'em up. And I'll tell you a secret – you can pretend that they are good to eat for breakfast! 'Cuz there's fruit. No seriously, though, I consume way too many of these in the morning.
My favorite way to serve these bars is actually chilled. It's funny, but I realize that with a lot of desserts recently, I don't mind 'em warm, but they taste absolutely fantastic the next day out of the fridge. For example, my strawberry or raspberry cupcakes, my double dark chocolate fudge brownies, lemon blondies….the list goes on. In these desserts, the moisture just seems to settle in better the next day and help hold everything together, if that makes sense.
If you want to make these bars fancier, try adding a thin layer of sweetened cream cheese in the middle, or even better, a cheesecake layer. I have made them all three ways and love them all equally. But when I want quick and simple, I stick to this basic version which never fails me.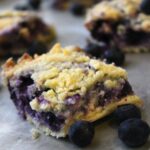 Easy Blueberry Bars
Ingredients
1

cup

granulated sugar

3

cups

all-purpose flour

1

teaspoon

baking powder

1

cup

2 sticks unsalted butter,chilled, and cut into small squares

1

egg

1/4

teaspoon

salt

1

pinch

ground cinnamon

optional

1/2

cup

granulated sugar

3

tablespoons

cornstarch

4

cups

fresh blueberries

or frozen, but do not thaw
Instructions
Preheat oven to 375 F.

Grease a 9x13 pan.

In medium bowl, stir together 1 cup sugar, flour, and baking powder.

Mix in salt and cinnamon, if desired.

Use a fork/pastry cutter/hands and cut in the butter until it resembles the size of peas.

Add egg and combine until it just comes together. Dough will be crumbly.

Pat half of dough into prepared pan.

In another bowl, stir together sugar and cornstarch.

Gently mix in the blueberries.

Spread the blueberry mixture evenly over the bottom pressed dough.

Sprinkle remaining topping over the berry layer.

Bake for 45 minutes, or until top is slightly brown.

Cool completely before cutting into squares.
What's your favorite food to welcome Spring? Let me know in the comments below.
We'd love to have you over at FoodApparel.com. Come see some more of our recipes and follow us on Instagram for Food+Apparel and more!
Want to try some other fruity dessert recipes to usher in Spring? Give these a looksie:
Raspberry Cupcakes with Raspberry Frosting
Lemon Curd Cheesecake Tart with Blueberry Topping